Californians pay final respects to Reagan
(Agencies)
Updated: 2004-06-08 10:13
Nancy Reagan touched her cheek to the flag-covered casket, then made way for Americans by the thousands to pay respects Monday to Ronald Reagan before a cross-country journey to a state funeral in Washington.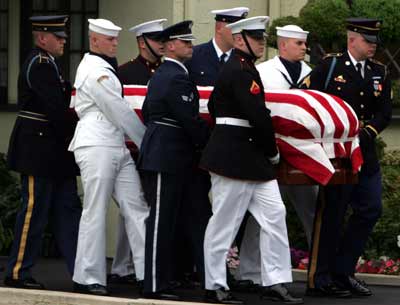 A joint U.S. military honor guard carries the casket bearing the body of former U.S. president Ronald Reagan to be put in a hearse to leave the mortuary in Santa Monica, California, June 7, 2004. The 40th president of the United States died June 5 aged 93 from complications of Alzheimer's disease, at his home in the Bel-Air area of Los Angeles with his wife, former first lady Nancy at his side. [Reuters]
A steady, near-silent stream of people ! some saluting, some praying ! circled through the rotunda of the Ronald Reagan Presidential Library, where the body of the United States' 40th president will lie in repose through Tuesday before traveling to Washington. After Friday's state funeral, the body will return to California for a hilltop burial service at sunset.
A Marine Corps band played "Hail to the Chief" as eight armed forces members carried the casket into the presidential library, past a 10-foot-tall sculpture titled "After the Ride" depicting Reagan as a smiling cowboy with a Stetson in his hand.
The journey began at a Santa Monica funeral home, where the mahogany casket was placed aboard a hearse for a 40-mile drive to the library in Simi Valley.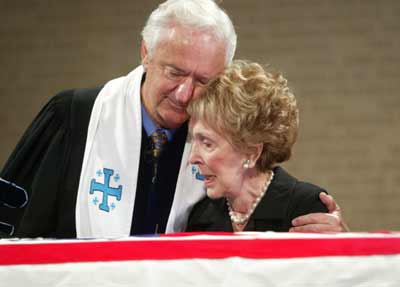 Former First Lady Nancy Reagan (R) is comforted by the Rev. Robert Wenning as they stand near the flag-draped mahogany casket of her husband, former United States president Ronald Reagan. [Reuters]
Clusters of people watched from overpasses and roadsides as the motorcade headed north, then west on the Ronald Reagan Freeway, its path cleared by motorcycle officers. One banner hung along the route declared, "God bless you Ronald & Nancy." Another proclaimed, "God bless the Gipper."
Flags at half-staff fluttered under an overcast sky as the casket was carried into the library rotunda before a brief family service.
"As we were in procession, I couldn't help but think of the love and the outpouring that has begun in the nation for a great president, a great world leader and a faithful servant of almighty God," said the Rev. Michael Wenning, retired senior pastor at Bel Air Presbyterian Church, where Reagan had worshipped.
When the service ended, Mrs. Reagan, dressed in a black suit and pearls, walked to the casket, placing her left cheek against the flag's field of stars. Her daughter, Patti Davis, hugged her tightly and other family members joined them, placing hands on the casket.
Soon after the family departed, the first of many chartered buses arrived, bringing members of the public who had been waiting ! in some cases for hours ! for a chance to pay respects to Reagan, who died on Saturday after a 10-year struggle with Alzheimer's disease.
Between noon and 5 p.m., more than 9,200 people passed by the casket, said Melissa Giller, chief of staff for the library foundation. The library had prepared for 2,000 visitors an hour for 30 hours. Twenty-seven buses shuttled mourners about five miles from a college, which was shut down to provide parking.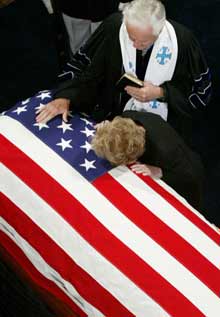 Former first lady Nancy Reagan stands at the flag-draped casket of her husband, former United States President Ronald Reagan, as the casket lays in repose in the atrium of the Ronald Reagan Presidential Library in Simi Valley, California June 7, 2004. [Reuters]
Among the early arrivals were Arnold Schwarzenegger, like Reagan an actor-turned-governor, and California's first lady, Maria Shriver, a member of the Kennedy clan. Both crossed themselves.
Mourners, including many children, stood quietly in line as they waited to enter the library, then moved rapidly past the casket flanked by an honor guard representing all branches of the military. Some people carried carnations or tiny U.S. flags; dress ranged from dark suits and ties to Hawaiian shirts and sunglasses.
Mauchese Franklin, 31, from Laverne, said he had wanted to visit Reagan's library for years and was sad that his trip resulted from the former president's death.
Standing with his 8-year-old son, Franklin recalled that as a boy he stayed up late to listen to election returns from Reagan's presidential campaign.
"I couldn't wait to turn 18 to be able to vote," he said. "I can actually say he's the reason I am a registered Republican, even though everyone else in my family is a Democrat."
Mrs. Reagan, accompanied by Patti and son Ron, had paused earlier on her way into the funeral home as she passed a display of impromptu remembrances. American flags, flowers and jars of jelly beans ! Reagan's favorite treat ! were left along with notes, stuffed animals and candles in the spontaneous shrine.
Mrs. Reagan, 82, read some of the messages.
Roxanne Kubicek, 42, gave officers guarding the mortuary a card for Mrs. Reagan.
"I just wished her lots and lots of love," she said. "I admired the beautiful love that they have. I told her that their love will last for all eternity."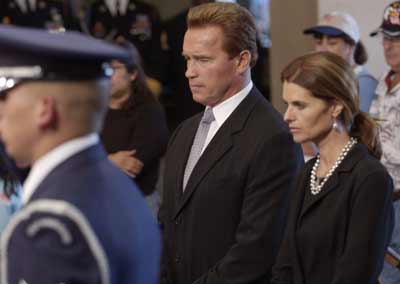 California governor Arnold Schwarzenegger and wife Maria Shriver pay their respects to Reagan. [Reuters]
Peggy Sheffey, 85, said she drove to the funeral home from the nearby Mar Vista area to "just feel closer" to the man she had never seen in person.
"He's a wonderful man," she said, choking back tears. "He was so real, absolutely real. Down to earth. He didn't just think of himself. He thought of everybody else."
Besides Mrs. Reagan, Ron and Patti, others attending the service at the library included Reagan's son, Michael, and his family; Dennis Revell, husband of Reagan's late daughter Maureen; and Merv Griffin, the veteran entertainer and family friend.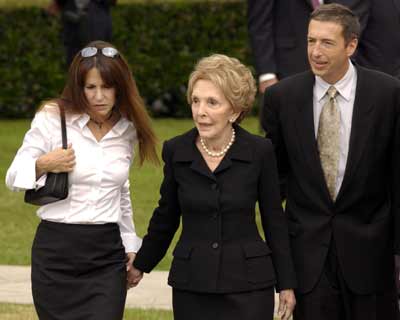 Nancy Reagan is escorted by her children Patti Davis, left, and Ronald Prescott Reagan (R) as they arrive at a funeral home where the body of former President Ronald Reagan was held in Santa Monica, California, June 7, 2004. They were to escort the body to the Reagan Library, where it was to lie in repose for public viewing. [Reuters]
On Wednesday, the former president's body is to be flown to Washington, D.C. Following a ceremony Wednesday night in the Capitol Rotunda, the body will lie in state there.
Friday will be a national day of mourning, with all federal offices and major financial markets closed. The state funeral will be held at Washington National Cathedral; U.S. President Bush will deliver a eulogy and former Soviet leader Mikhail Gorbachev will be among the mourners.
The body will then be returned to Reagan's library in Simi Valley for a private burial service Friday evening. Reagan will be buried in a crypt beneath a memorial site at the library some 45 miles north of Los Angeles.
At the United Nations, Secretary-General Kofi Annan said Reagan "will be remembered for his leadership and resolve during a period of momentous change in world affairs, as well as for the warmth, grace and humor with which he conducted affairs of state."
Today's Top News
Top World News

Summer grain output to rise after years




7 million commit to honesty in college exam




Ample room for fiscal policy manoeuvring




DPRK to increase nuke deterrent




Al Qaeda warns of attacks on western airlines




Minister urges assent to market status