US to cut one-third troops in S. Korea
(China Daily)
Updated: 2004-06-08 09:00
The United States plans to cut its troops in the Republic of Korea (ROK) by a third, or 12,500, by the end of next year as part of a worldwide shift to use of higher technology in defence, the two countries said Monday.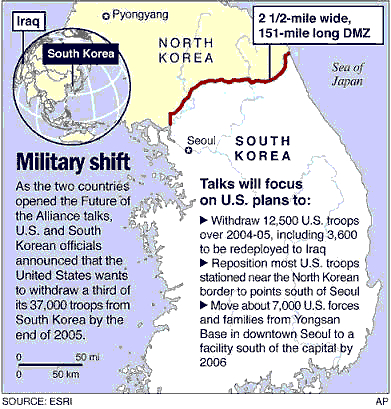 The graphics details a U.S. plan to withdraw troops from South Korea and reposition many of those left, by 2005. [AP Graphic]
"US officials told us last night that under their Global Defence Posture Review they are planning to reduce the number of US troops here by 12,500 by the end of December 2005," Kim Sook, head of the foreign ministry's North America bureau, said.
That would include 3,600 US soldiers already earmarked for deployment to Iraq from the ROK.
A statement released by United States Forces Korea (USFK) confirmed the details of the proposed redeployment plan, although a USFK spokeswoman declined to comment further.
Washington announced late last year that it aimed to transform its forces deployed worldwide using advances in military technology and smaller more mobile units to better respond to different types of security needs.
Kim was briefing reporters after a first day of talks with US officials on moving American troops back from front-line positions near the Demilitarised Zone border with the Democratic People's Republic of Korea (DPRK).
Asked whether the ROK had agreed to the pullout schedule, Kim said: "That is what the United States presented as their plan and we're going to discuss it."
Kim said the US officials had said Washington would pursue the reduction very carefully because of the security conditions on the peninsula.
The ROK had yet to receive notification of which US forces would be moved from which locations under the proposed reduction, Wi Sung-lac, a National Security Council official, told reporters.
No formal discussion on the reduction took place at yesterday's ninth round of talks on relocating US troops within the ROK. Those talks, started last year, cover moving the US military headquarters from central Seoul to the south of the capital as well as the pullback from the Demilitarised Zone area that divides the peninsula.
Kim said the United States welcomed Seoul's plans for a more independent defence and would actively help the ROK as it upgrades its military to be more self-sufficient.
South Korean and US officials have said the redeployment to Iraq and any future changes to the US military in the ROK would not weaken their combined defence.
The United States has earmarked US$11 billion for force upgrades, while the ROK has discussed plans to increase defence spending.
Because the 1950-53 Korean War ended in a truce, the ROK and the DPRK are technically still at war.
Today's Top News
Top World News

Summer grain output to rise after years




7 million commit to honesty in college exam




Ample room for fiscal policy manoeuvring




N. Korea to increase nuke deterrent




Al Qaeda warns of attacks on western airlines




Minister urges assent to market status