GM to invest US$3b in China in 3 years
(Agencies)
Updated: 2004-06-07 12:03
General Motors Corp plans to invest more than US$3 billion in China over the next three years with the introduction of new vehicles and power trains, the building of new facilities and expansion of manufacturing and a new financing joint venture, the automaker announced Sunday.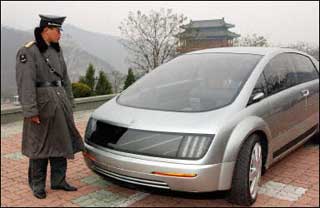 US auto giant General Motors will invest more than US$3 billion in China over the next three years and double capacity to 1.3 million vehicles in the same period. Here a GM model and a Chinese guard on the Great Wall. [AFP file]

The new investment will be funded by profits from GM's China joint ventures, and the company said it is expected to open up jobs and business opportunities in North America and China.

"GM remains highly confident in the long-term prospect of the China market. With the world's fastest-growing vehicle market, success in China is crucial to GM's global success," said Phil Murtaugh, chairman and chief executive of General Motors China Group.

The world's No. 1 automaker and its Chinese partners plan to introduce nearly 20 new and upgraded products, including luxury vehicles, in the next three years, most made in China. Among those will be several Cadillac models, which will be made at Shanghai GM and imported from North America.

GM and Chinese partner Shanghai Automotive Industry Corp. Group plan to build an advanced prototype lab to test noise, vibration and harshness, as well as a kinetics and compliance lab.

The company said it also will more than double its vehicle assembly capacity in China, to 1.3 million units by 2007.

In addition, GM and SAIC have received approval from Chinese banking regulators to establish a joint financing venture, which would be the first foreign automotive financing joint venture in China, GM said in a statement.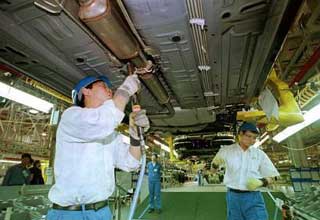 Chinese workers working on an assembly line of Buick at Shanghai General Motors factory in Shanghai, China, in this May 20, 1999 file photo. General Motors Corp. says it plans to invest US$3 billion in China over the next three years in an aggressive expansion despite worries that the fast-growing auto market may be headed for a slowdown. [AP]

The company's announcement on Sunday came after first-quarter earnings released in April showed it was improving in Asia and strong in its financing arm.

GM's automotive operations reported a 12 percent increase in earnings in the first quarter of 2004, from US$546 million last year to US$611 million, despite lower production levels in North America and Europe.

GM Asia Pacific earned US$275 million, up from US$75 million a year ago. Its market share grew from 4.3 percent last year to 4.7 percent in the first quarter, led by gains in China and India.

In the first quarter, GM and its partners sold roughly 178,000 vehicles in mainland China, a 56 percent jump from the same time in 2003.
Today's Top News
Top China News

China's economy: Where will it go from here?




GM to invest US$3b in China in 3 years




Tougher wildlife protection law under way




Weakened Bush seeks luster at G8 summit




Reagan to be honored with state funeral




Survey: Men like radio; women dig television