Consolidation benefits people, ecology
(Xiong Lei)
Updated: 2004-06-07 11:24
Looking back, Chen Mingchun regrets that he did not contract more land with the town government to grow tea in 2002, when local farmers were invited to bid on new farmland set aside out of land consolidation.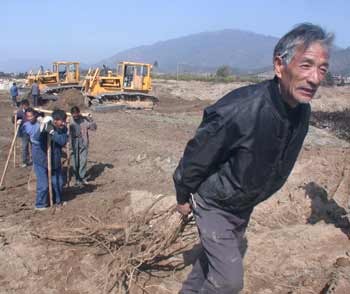 Farmers work in February at one of the three land consolidation projects in Tiantai County of Zhejiang Province. The projects have added a total of 1,790 hectares of farmland to the country. [newsphoto/file]
The 54-year-old farmer from Zhangzhu Town, Yixing City in East China's Jiangsu Province, used to grow sweet potato, pumpkin and soybean on some 4 mu (0.27 hectare) of land he had contracted on a hilly slope.
"My contracted land was dispersed in three parcels and it was not very productive," Chen recalls. "The crops I grew were mainly for our own consumption and generated little cash."
The old land structure is the root cause of problems prevalent in many rural areas in China, according to Lu Zhengfang, deputy director of Yixing's Bureau of Land and Resources.
These problems include too small fragmented parcels, too many field ridges, low or unsustainable productivity, incomplete road and irrigation systems and lots of unused marginal land or wasteland.
As rapid urbanization puts increasingly greater pressure on land, observes Lu, "we feel it is necessary to consolidate our land to economize its use."
Hence a nationwide land consolidation programme was launched in the late 1990s, says Luo Ming, an official with Land Consolidation and Rehabilitation Centre under the Ministry of Land and Resources.
The programme aims to consolidate fragmented and underused land, reclaim wasteland or land damaged by mining or natural disasters, and develop unused land resources with the prerequisite of guarding against desertification and soil erosion.
The Zhangzhu project is among the 731 national projects funded by the Ministry of Land and Resources in the past four years. It involved a total investment of 5.2 billion yuan (US$627 million) from the central government. "This is the first and largest State input in farmland infrastructure since the 1970s," Luo says.
Farmers like Chen Mingchun are primary beneficiaries.
Under the guidance of the ministry and local government, previously hilly parcels on 667 hectares of land in Zhangzhu were leveled, including Chen's land. The once discontinuous land has been turned into a continuous plantation, neatly zoned by irrigation ditches, shelter belts and roads for farm vehicles. In addition, leveling has resulted in a net increase of 77 hectares of farmland. Nationwide a total of 473,876 hectares have been consolidated, producing 171,665 hectares of new farmland.
Chen has contracted 1.33 hectares of tea trees for 30 years and last year he netted 20,000 yuan (US$2,410) out of the produce. Wang Guomo, a fellow villager who has contracted more than 2 hectares in the orchard zone to grow pears, earned a gross income of 120,000 yuan (US$14,460).
But Chen and other farmers hesitated when the bid was first opened in 2002. Initially Chen intended to contract no more than 10 mu, or 0.67 hectares, of tea trees.
"I was not sure if the 500 yuan (US$60) charge per mu to get the contract would eventually pay off," he says.
He finally contracted 1.33 hectares only after the town officials assured him that it would be a good deal to contract more.
"I told him he could count on me if the land failed him," says Tang Yongwei, deputy head of the town who was in charge of the consolidation project. "I was confident because I believed our plan was scientifically solid and would definitely benefit the farmers."
The town government consulted scientists on agriculture, forestry, water conservation and soil throughout the process of consolidation and zoned the 667 hectares into tea gardens, vineyards and orchards.
"The PH value of the soil, and the natural conditions of precipitation, sunshine, and frost-free period here all favour the growth of tea and fruit trees," Tang says. "We introduced a high quality tea variety and had it planted before we invited farmers to bid for contracting."
Chen was among some 300 households out of the 1,000 in his village who were brave enough to take the bid. He says those who contracted more land indeed earned more, adding he would now contract 10 times the land he has contracted if possible.
Concurrently one of the 13 demonstration sites of land consolidation sponsored by the United Nations Development Program (UNDP), the Zhangzhu project is also expected to have community participation in the process and demonstrate the concept of environmental sustainability.
The UNDP's involvement is more concerned with instilling officials with concepts than with money, says Luo Ming, who is in charge of the UNDP projects at the Land Consolidation and Rehabilitation Centre.
"We try to make local officials understand that land consolidation is more than productivity growth and farmland augmentation."
The emphasis on the ecology seems in conformity with market demand - organic tea sells faster than varieties cultivated with pesticide and fertilizer. But production costs are usually higher.
To encourage farmers to apply organic manure instead of fertilizer, the Zhangzhu town government pays an annual subsidy of 200 yuan (US$24) per mu for three years in a row to households with land contracted in the new plantation.
"This is a very good policy," says Professor Wu Cifang, dean of the College of Southeast Land Management at Zhejiang University. "It's more costly to apply organic manure than to use fertilizer, yet organic manure helps improve the soil and is more ecologically friendly. The government subsidy may offset the farmers' losses and encourage them to develop organic agriculture."
While he and other experts hold that community participation at Zhangzhu could be more desirable, another UNDP demonstration site at Fotang Town in Yiwu City, Zhejiang Province, shows greater involvement of farmers in land consolidation.
"Our plan was first discussed at the target villages," says Luo Huayong, chief of Fotang Town. "If a village was short of 90 per cent consent, we'd drop that village. Then we consulted with members of a consenting village on details of how the land should be consolidated, where the irrigation ditches should go, etc. The bidding and engineering of consolidation were also under public supervision."
So far Fotang has consolidated 267 hectares of farmland. The ecological touch of the project is best embodied in the invention of a washboard-like cement structure inside the ditches at intervals of 30-50 metres.
"This is mainly for frogs to get out - the frogs may get into the ditches where there is water but are trapped inside when the ditches are dry," says Jia Huamin, director of Yiwu's Land Consolidation and Rehabilitation Centre. "We used to see dead frogs in the cement ditches. It was a sad scene but we never realized we had anything to do with animals, until the UNDP initiative came and we learned that our land consolidation project should benefit biodiversity as well."
That revelation prompted Jia and his colleagues to find a solution to save the frogs.
"The ditches need to have a cement lining to minimize seepage loss, but it causes problems for creatures like frogs."
Now facilitated by the small stairways in the washboard design, entrapped frogs can get out of the ditches easily. There are also passages beneath the ditches for them to cross from one plot to another. A comparative study shows the devices help preserve 32 more frogs per mu on average.
"And we now have decreased the use of pesticide by half, which used to be 100 yuan (US$12) per mu every year," says Xu Jingqi, a local farmer in his late 40s, attributing less insects to the presence of more insect-eating frogs.
The "frog freeway" device has been extended to other consolidation projects in Yiwu, says Jia Huamin. "And many villages are applying for land consolidation projects eagerly."
Jeffrey Soule, policy director of the American Planning Association and UNDP advisor on China's land consolidation, is more interested in the project at Zoumadi Town in Quanzhou City, Fujian Province, for its "comprehensive and diversified agriculture production and management strategy."
The coastal city has opened numerous granite mines, leaving many hilly slopes bare, says Qiu Genghua, head of the city's Bureau of Land and Resources. While using natural silting to reclaim land from the sea over the years, the bureau is trying to restore vegetation on a total of 1.45 million square metres of naked hill slopes after mining at 187 spots.
Although there is room for more growth in the project, Soule, who has been to seven of the 13 UNDP sites in China, says "all the projects offer benefits to local people" in one way or another. While different areas may have different concerns, farmers' revenues from the land have obviously increased, and people are more conscious of environmental sustainability.
Professor Wu Cifang of Zhejiang University calls the land consolidation efforts "a good governance project" of the Chinese Government. "No single farm holder can afford the cost of up to 2,500 yuan (US$301) per mu to consolidate the land," he says. "It has indeed made farmers happy."
Today's Top News
Top China News

China's economy: Where will it go from here?




Tougher wildlife protection law under way




Weakened Bush seeks luster at G8 summit




Reagan to be honored with state funeral




Survey: Men like radio; women dig television




China expects first unmanned moon mission