Official: Exam cheaters to be punished
(Xinhua)
Updated: 2004-06-07 10:08
Vice Minister of Education Yuan Guiren on Saturday pledged that great efforts would be made to prevent any kinds of fraudulent practices in coming university entrance examination, which will be held from June 7 to 9.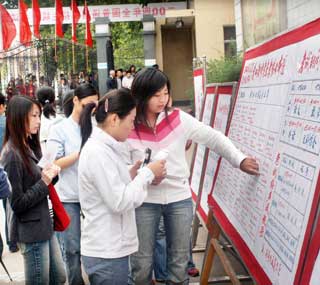 Two students in Wuhan find their seat numbers in a poster. They visited the examination site to familiarize themselves with the environment.[newsphoto]
Yuan said this year saw the largest number of university entrance examinees since the exam was resumed in 1977 after the 10-year-long "Cultural Revolution". All relevant departments must strengthen exam discipline and resolutely crack down on any forms of exam corruption.
He pledged that severe punishment will be imposed on three types of exam cheating, including finding scapegoat to attend exam, sending exam-related tips by telecommunication devices and group fraudulent practice in exam.
"Nowadays, exam cheating means are modern and advanced. Once the examination papers are divulged in one place, it will soon spread widely. Therefore, examination paper must be carefully guarded," he continued.
Statistics from the Ministry of Education showed that about 7.23 million high school students had registered to attend the coming university entrance examination, up 17.9 percent from the last year.
Today's Top News
Top China News

China's economy: Where will it go from here?




GM to invest US$3b in China in 3 years




Tougher wildlife protection law under way




Weakened Bush seeks luster at G8 summit




Reagan to be honored with state funeral




Survey: Men like radio; women dig television