Weakened Bush seeks luster at G8 summit
(Agencies)
Updated: 2004-06-07 10:02
With his re-election prospects clouded by the war in Iraq, U.S. President George W. Bush is seeking to restore luster to his global image by spotlighting the softer side of US power at the Group of Eight summit.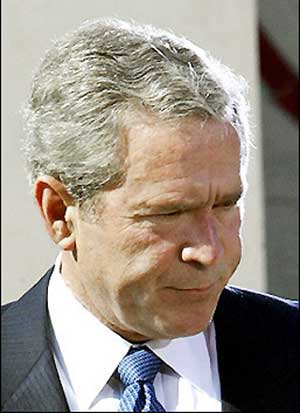 With his re-election prospects clouded by the war in Iraq, US President Bush is seeking to restore luster to his global image by spotlighting the softer side of US power at the Group of Eight summit.[AFP]

Bush, who once warned that the United Nations would be "irrelevant" if it failed to back the invasion of Iraq, hosts the multilateral G8 forum eager to discuss US efforts in the fight against AIDS and efforts to spread democratic reforms in the Middle East.

The war on terrorism will of course loom large, and violence in Iraq could overshadow the gathering, but Bush aides have shifted the emphasis away from divisive issues such as the March 2003 invasion and are focusing instead on consensus building.

Bush arrives Sunday at the posh Atlantic Ocean resort of Sea Island, Georgia, even as his poll numbers have dropped to their lowest point ever, below the 50-point approval rating considered crucial for incumbents seeking a new term.

Most surveys show him running neck-and-neck with his Democratic White House rival, Senator John Kerry, some five months before the November elections, and he faces mounting criticism from lawmakers on Iraq and other issues.

Once seen as invulnerable on national security, a traditional Republican strength, Bush now faces increasing skepticism about his handling of the volatile situation in Iraq, where more than 800 soldiers have died.

A recent Washington Post-ABC News poll found 58 percent of those questioned disapprove of his handling of the situation in Iraq, against 40 percent who approve; and 57 percent disapprove his handling of the prison abuse scandal in Iraq, while 36 percent approve.

Bush still enjoys an edge in the global war on terrorism, with 58 percent of those surveyed giving their approval, against 39 percent who did not.

And the White House hopes that recent positive news about the US economy, especially on the job-creation front, will pay political dividends.

But the violence in Iraq has cast doubt not just on Bush's re-election bid but on the fulfillment of his promise that building a democracy there will help spread reform throughout the Middle East, a key topic at the G8.

The president, 57, has invited a range of Muslim nations to join G8 members Britain, Canada, France, Germany, Italy, Japan, Russia and the United States to discuss what he calls the Greater Middle East Initiative.

The leaders of Afghanistan, Algeria, Bahrain, Jordan, Turkey and Yemen will attend, but Egypt and Saudi Arabia, key US allies in the Middle East, will not.

Seeking global support ahead of the scheduled June 30 handover of power to an interim Iraqi government, Bush will meet individually with each of the G8 leaders, according to White House national security adviser Condoleezza Rice.

"Key discussions will take place on the president's broader Middle East initiative, action against WMD (weapons of mass destruction) proliferation, peacekeeping issues, a secure and facilitated international travel initiative on Africa and on private-sector-led growth and development," she said.

The White House has been stingy on the details of the reform plan, which Bush says will remedy the frustration, poverty and repression which are seen as the root of terrorism.

The president recently promised Muslim nations skeptical of US influence that "we're talking about reform in their image" and stressed that "I don't view it as American democracy, nor do I think it's going to happen overnight."

But he also recently said that even nations now helping to battle terrorism will eventually face pressure to reform.

"In the short term, we will work with every government in the Middle East dedicated to destroying the terrorist networks," he said. "In the longer term, we will expect a higher standard of reform and democracy from our friends in the region."

But one of those friends, Turkey, has warned Bush that reforms imposed from outside "will backfire," while another, Jordan, says that Bush must make ending the Israeli-Palestinian conflict "a key element" of any reform plan.
Today's Top News
Top World News

China's economy: Where will it go from here?




Tougher wildlife protection law under way




Weakened Bush seeks luster at G8 summit




Reagan to be honored with state funeral




Survey: Men like radio; women dig television




China expects first unmanned moon mission