US pushes vote on Iraq UN draft; France hesitates
(Agencies)
Updated: 2004-06-07 08:43
The U.N. Security Council moved closer on Sunday to adopting a resolution on Iraq's future but France proposed that Baghdad should get a virtual veto over major U.S.-led military operations.
No date has been set for a vote on the resolution but the United States hopes will happen on Tuesday after further changes in the draft and a briefing by U.N. envoy Lakhdar Brahimi.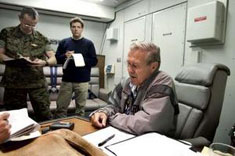 US Secretary of Defense Donald Rumsfeld conducts an interview in his office aboard the Air Force E-4B airborne command and control aircraft during his return to Washington from Bangladesh, June 6, 2004. Rumsfeld held talks on peacekeeping in Iraq with Bangladeshi leaders June 5, but told reporters he had not asked the moderate Muslim country to send peacekeeping troops to Iraq. [Reuters]

The role of the military is a key point for council members, who on Sunday received letters from Iraqi Prime Minister Iyad Allawi and Secretary of State Colin Powell. They call for broad Iraqi control over its own security and pledge to reach agreement over sensitive military operations.

The resolution would endorse an interim Iraqi government to take office on June 30 and authorize a U.S.-led multinational force to "use all necessary means" to keep the peace.

The letters will be attached to the resolution but France, during a closed-door special council session on Sunday, said it wants explicit language, saying that Iraqi agreement "will be required on sensitive offensive operations."

Negroponte said the letters clearly showed "the full sovereignty" of Iraq was being respected.

He said they established a mechanism "to include the fullest possible coordination between Iraqi government on one hand and multinational force on the other, including on policy toward sensitive offensive operations."

Britain's U.N. ambassador, Emyr Jones Parry, was more categorical. He said his government understood that "the policy on sensitive offensive operations will require the assent of a (new Iraqi) ministerial committee."

U.S. PARTICIPATION

Allawi in his letter said he would chair a Ministerial Committee for National Security, in which the U.S. command would participate. He said this group needed to "reach agreement of the full range of fundamental security and policy issues, including policy on sensitive offensive operations."

Powell in his letter said the U.S. command would "work to reach agreement on the full range of fundamental security and policy issues, including policy on sensitive offensive operations" in "partnership" with the Iraqis.

Nevertheless, Algeria's U.N. Ambassador Abdallah Baali, who backed the French amendment, said the intent of the letters "had to be reflected in the resolution itself, in a separate paragraph so we need to have an answer to this last concern."

Germany, China, Chile and Brazil also spoke in favor of the French proposal in varying degrees, diplomats said.

Powell made clear the U.S. military still would have the right to jail Iraqis, despite an outcry in Iraq and around the world over abuse of Iraqi prisoners in American-run jails.

His letter says the U.S. military could intern suspects "where this is necessary for imperative reasons of security, and the continued search for an security of weapons that threaten Iraq's security."

The United States and Britain revised their resolution for the third time in less than two weeks on Friday and are expected to make more changes. The measure gives the interim government the right to order U.S. troops to leave Iraq.

The latest draft also tightened up language making it clear the mandate of the force would expire in January 2006, when a permanent Iraqi government is expected to take office.
Today's Top News
Top World News

China's economy: Where will it go from here?




Tougher wildlife protection law under way




Reagan to be honored with state funeral




Survey: Men like radio; women dig television




China expects first unmanned moon mission




Six-party Korean nuke talks set for June 23