World grieves loss of Reagan
(Agencies)
Updated: 2004-06-07 08:34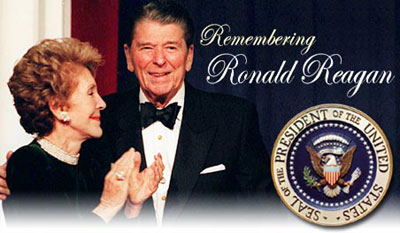 Former U.S. President Ronald Reagan was remembered as "a truly great American hero", for his warmth, for restoring America's greatness after the Viet Nam War.
Reagan died Saturday after a 10-year battle with Alzheimer's disease. He was 93.
"He will be missed not only by those who knew him and not only by the nation that he served so proudly and loved so deeply, but also by millions of men and women who live in freedom today because of the policies he pursued," said former British Prime Minister Margaret Thatcher, Reagan's ideological soulmate and close friend.
Thatcher described Reagan as "a truly great American hero."
German Chancellor Gerhard Schroeder remembered Reagan as a leader who "will always be revered" in Germany.
Elsewhere in Russia, Reagan was remembered for his tough rhetoric and for launching a costly arms race that precipitated the collapse of the Soviet Union.
"Reagan bolstered the U.S. military might to ruin the Soviet economy, and he achieved his goal," said Gennady Gerasimov, who served as top spokesman for the Soviet Foreign Ministry during the 1980s.
Britain's Queen Elizabeth II was "saddened by the news" of his death, a Buckingham Palace spokeswoman said.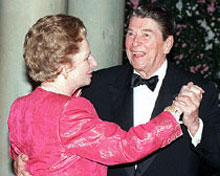 Former British Premier Margaret Thatcher said Reagan was a truly great American hero. [AP]

British Prime Minister Tony Blair wrote to Reagan's wife, Nancy Davis Reagan, and to Bush to express his condolences, his office said.

"At home his vision and leadership restored national self-confidence and brought some significant changes to U.S. politics while abroad the negotiation of arms control agreements in his second term and his statesman-like pursuit of more stable relations with the Soviet Union helped bring about the end of the Cold War," a statement said.

A statement issued by the office of Israeli Prime Minister Ariel Sharon said the government "shares in the grief of the U.S. administration and expresses its condolences to the American people."

"President Reagan, of blessed memory, was a friend of the State of Israel," the statement said. "During his tenure as U.S. President, bilateral relations were based on cooperation and understanding."

The office of Israeli President Moshe Katsav also issued a statement praising Reagan's efforts "to both increase global stability and to preserve universal human values, which are his legacy to future generations."

"President Katsav said that we esteem U.S. President Reagan's friendship and support for the State and people of Israel, which continued during and after his terms in office," the statement said.

Former Canadian Prime Minister Brian Mulroney called Reagan's death "a great loss for the United States and the world."

"He was an absolutely marvelous human being and a great and historic leader who will be remembered very favorably," Mulroney said.

Current Canadian Prime Minister Paul Martin honored Reagan's leadership.

"His wit, warmth and unique capacity to communicate helped to make him one of the most influential figures in the second half of the 20th century," Martin said.

French President Jacques Chirac expressed sadness at Reagan's death.

"He salutes the memory of a great man of state who, through the force of his convictions and his commitment in favor of democracy, will leave a profound mark on history," Chirac's office said.

Former Australian Prime Minister Malcolm Fraser, whose last two years as leaders coincides with the first two years in office for Reagan said Reagan made America "proud" again.

"It wasn't until Ronald Reagan came along that America again felt proud ... He gave America back her pride after the end of the Viet Nam War."

Former Japanese Prime Minister Yasuhiro Nakasone, known for his close ties with Reagan, described the former president him as Japan's best friend.

"He respected Japan and Japanese culture. He was Japan's best friend," said Nakasone in a statement, according to Jiji Press.

"I would like to offer my sincerest prayer," he said. "He was a great president who led liberalism to a victory against communism in the Cold War," Nakasone said.

Singapore's Deputy Prime Minister Tony Tan said Reagan left a global legacy of freedom and democracy.

"On behalf of Singapore... I would like to extend our deepest condolences to his wife and family and to the people of the U.S.," Tan said.

"Mr Reagan was a great president. He restored the faith of Americans in America, in American values and ideals ... He will leave a lasting legacy not only on the U.S. but in his commitment to freedom, liberty and democracy and in his belief in as he said: 'the magic of the free market'."

"He has left an impact not only on the United States but on the whole world."
Today's Top News
Top World News

China's economy: Where will it go from here?




GM to invest US$3b in China in 3 years




Tougher wildlife protection law under way




Weakened Bush seeks luster at G8 summit




Reagan to be honored with state funeral




Survey: Men like radio; women dig television