Mobile phone games thrive in China
(Xinhua)
Updated: 2004-06-06 10:44
With handsets popular enough in China and new devices like Short Message Service (SMS) being made full use of by younger subscribers, China's mobile phone operators are desperate today to find new ways to garner more profits.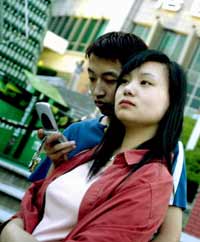 Around 24.5 percent of Chinese will have mobile phones, the Ministry of Information Industry said at an international mobile telecommunication forum held in Beijing Sunday. [Xinhua]

And fortunately for them, they've got one: the mobile phone games.

Although the games are just acquainted with young new-tech enthusiasts, industrial analysts predicted there would be more than 1 million players by the year's end.

Analysys International, a domestic market research firm in Beijing, also forecasts the mobile game market will reach about 600 million yuan (US$72 million) this year, the Beijing-based China Daily reported Saturday.

"Mobile games will become another gold mine for telecom operators and service providers," it quoted Zhang Ying, a senior telecom analyst with Analysys International, as saying.

Zhang said the emphasis of the two Chinese mobile operators -- China Mobile and China Unicom -- on data services will be a big driving force for mobile games. The two companies, both with more than 100 million subscribers, have been seeing a slowdown in both the number of subscribers and the average revenue per user. And atthe same time, the prices of their voice services have also fallensharply due to fierce competition.

"So data services, with stable and high revenues, have become the focus for the operators," he said.

Zhang said SMS, a key data application, have also slowed with alarge basis after more than three years of high growth, so new services like mobile game will become very important for both operators and service providers.

While mobile games based on SMS had the dominant share in the mobile game market last year with 300 million yuan (US$36 million) of revenues, new games on 2.5-generation platforms like WAP, JAVA and BREW, showed strong momentum this year.

Sina Corp, a NASDAQ-listed Chinese Internet portal and the second biggest SMS game provider last year, also gave a lot of attention to new formats of games.

Wang Ning, a mobile game product manager of Sina Corp, said hiscompany partnered with French game developer Gameloft in March to introduce the latter's game to China and enrich its product lines.The average daily downloads for some games from Sina's website reached 10,000 by the end of April, whose revenues from mobile games also exceeded 250,000 yuan (US$30,000) this month.

Ourgame, a Chinese web site, also released four games in January and is planning to transplant more games on its website tomobile phones.

However, Zhang from Analysys, said since mobile games are also heavily dependent on support from mobile operators as well as phone makers, building a healthy industrial chain is critical for the business to prosper.

At present, only some big international mobile phone makers arecapable of designing phones embedded with online games and they are much bigger than mobile service providers like Sina and Ourgame. Fighting for their support is an important work for service providers. Enditem

Every four Chinese to have one mobile phone by 2004

Every four Chinese will have one mobile phone by the end of this year, according to the Ministry of Information Industry.

Around 24.5 percent of Chinese will have mobile phones, the ministry source said at an international mobile telecommunication forum held in Beijing Sunday.

The mobile business has contributed to almost half of the telecom industry's operating revenue in China, the source said.

In the first four months of this year, China's mobile phone users rose by 27.06 million people to 295.75 million.

Short message and wireless Internet service users are soaring and there are hundreds of providers in the market to offer services like downloading phone call rings.

So far 20.8 percent of Chinese have mobile phones.


Today's Top News
Top China News

China's economy: Where will it go from here?




Tougher wildlife protection law under way




Reagan to be honored with state funeral




Survey: Men like radio; women dig television




Six-party Korean nuke talks set for June 23




Stress on politics 'takes toll on economy'