Bush seeks new Iraq cooperation in Europe
(Agencies)
Updated: 2004-06-05 14:39
US President Bush is appealing to a new generation of Europeans and Americans to pull together on Iraq, although his itinerary Saturday in Italy and France represented a fresh reminder of the divisions on this side of the Atlantic.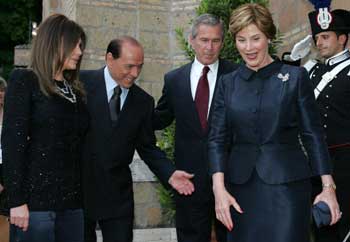 Italian Prime Minister Silvio Berlusconi and his wife Veronica Lario lead the way for U.S. President George W. Bush (2R) his wife Laura (R) as they arrive for dinner at the Villa Madama June 4, 2004. Thousands of armed police lined the streets of the Italian capital on Friday as activists gathered to protest against the visiting President and the U.S.-led occupation of Iraq. [Reuters]

Midway through a quick tour of Europe to honor historic World War II success and sacrifice, Bush began his day in Rome with Italian Prime Minister Silvio Berlusconi. The two appear at a joint news conference before Bush's Saturday afternoon departure for Paris.

Berlusconi has been among Bush's firmest allies in the Iraq war, and the timing of the meeting was carefully choreographed to provide balance to Bush's meeting later with France's president, Jacques Chirac, a leading head of state who opposed the war.

The White House also used Berlusconi as a counterweight to Bush's meeting Friday with another war opponent, Pope John Paul II.

Bush holds formal news conferences only rarely, but in a highly unusual move, he scheduled two Saturday, the second with Chirac. He also planned a formal meeting and working dinner with Chirac.

Aides said issues on the agendas in both Rome and Paris were roughly the same: The international economic summit that Bush hosts next week in Sea Island, Ga.; Iraq; the Israeli-Palestinian conflict; the war against terror.

As they have done each time Bush and Chirac meet, Bush and his advisers said the United States wanted to put past disputes behind the two allies.

"Friends can disagree," Bush said in an interview before he left for his three-day European trip.

Special areas of cooperation remain to be discussed with the French, they said. The French have contributed steadily to U.S. operations in Afghanistan, and both the United States and France have military and other interests in Haiti and Ivory Coast.

"The United States and France continue to work very, very closely together on the war on terror, day to day, on intelligence and other law-enforcement cooperation that is not necessarily apparent in public," said White House spokesman Sean McCormack.

As the United States seeks a U.N. resolution on Iraq that could clear the way for other nations to send troops, France is among nations that have been moving more cautiously than Bush wants.

France, which has a Security Council veto, was unsatisfied with the revised resolution offered by the United States and Britain and wanted more changes and ideas from Iraq's interim leaders and the U.N. envoy, Lakhdar Brahimi.

Chirac said Wednesday the revised resolution was "a good basis for discussion" but needs improvement, "to affirm and confirm the full sovereignty of the Iraqi government" especially regarding the military.

China, which also has a council veto, Algeria, Chile, France and others said the relationship between the multinational force and the interim government is not sufficiently spelled out.

Top Bush aides said the language in the resolution is not the type of issue to be handled on the level of chiefs of government. Rather, they said, it typically would be dealt with by Secretary of State Colin Powell and his counterparts.
Today's Top News
Top World News

China wins praise for bold reforms at APEC meeting




China liberalizes grain trading, pricing




Efforts 'paying off' on market status




Lottery fraud victim win top prize...finally




China to send anti-riot peacekeepers to Haiti




Proposal: Iraqis may send US-led troops home