Proposal: Iraqis may send US-led troops home
(Agencies)
Updated: 2004-06-05 13:54
The United States and Britain on Friday proposed giving Iraq's new leaders the right to send home U.S.-led troops, a concession Baghdad's foreign minister said would speed up adoption of a U.N. resolution on Iraqi's future.
The two countries amended their draft U.N. Security Council resolution, aimed at giving international endorsement to an Iraqi interim government that takes office on June 30 and authorizing a U.S.-led force to keep the peace.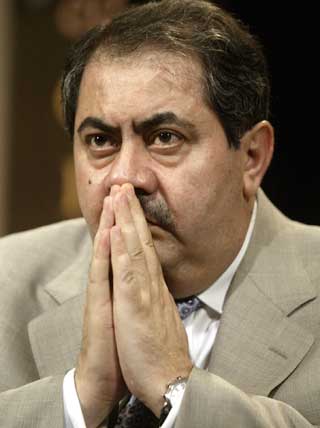 Iraqi Foreign Minister Hoshyar Zebari ponders a question as he talks to reporters during an interview conducted at United Nations headquarters in New York, June 4, 2004. [Reuters]

Previously only a transitional government, expected to be elected by Jan. 31, 2005, would have had the right to ask troops to leave, providing the council approved.

The new revisions, coupled with Foreign Minister Hoshiyar Zebari's broad acceptance of the resolution, prompted critics France, Russia, Germany and others to drop some of the their earlier demands.

The resolution now gives clearer language on the withdrawal of the 160,000 U.S.-led multinational force when a permanent Iraqi government takes office in about December 2005. And Zebari rejected proposals for a veto over operations of the international troops.

"MORE IRAQI THAN THE IRAQIS"

"Many of them have presented their amendments in good faith, and they want really to see Iraq regain its full sovereignty and independence. So we welcome all these efforts," Zebari said in an interview with Reuters.

"But I have told them really, you cannot be more Iraqi than the Iraqis themselves," he said.

He said the changes showed "that the new Iraqi interim government has a say in this resolution."

"It might not be up to what we would like to see ... but it is good," Zebari said.

Diplomats said there are two main issues before the resolution can be adopted.

Russia, China and others want a wider group of nations from the region to give a nod to the resolution and the interim government and "share the burden with the Arab world," said one council member.

The second is a study of letters expected soon on the relationship between the U.S. command and Iraqi government, with envoys saying some of the provisions may get into the main resolution.

The new language in the resolution would, as previously, require a Security Council resolution for a withdrawal of U.S. troops before early 2006, when the mandate would lapse automatically.

But it now says the council "will terminate" the mandate if requested by the "sovereign government of Iraq." Previous language declared the council's "readiness" to end the mandate if asked by an elected transitional government, expected to be in office early in 2005.

The resolution calls for a lifting of an arms embargo against Iraq but makes clear that weapons of mass destruction would still be banned. It also pledges to consider in the future the return of U.N. arms inspectors to monitor sites where Iraq once had unconventional weapons.

Zebari said some of the rights for the new government he and his colleagues wanted were symbolic. For example, he said that there might be a temporary need for an international board to audit accounts for Iraq's oil revenues, even though it would have no control over expenditures.

"We are conscious that there are certain obligations toward international financial institutions, toward fighting corruption; so some monitoring is needed," he said.

"But the impression that the Iraqi people get is different. "This is our money. This is our resource. Sovereignty will have no meaning if you don't have control over your resources," Zebari said.
Today's Top News
Top World News

China wins praise for bold reforms at APEC meeting




China liberalizes grain trading, pricing




Efforts 'paying off' on market status




Lottery fraud victim win top prize...finally




China to send anti-riot peacekeepers to Haiti




Proposal: Iraqis may send US-led troops home