Iraq PM: U.S. departure would be disaster
(Agencies)
Updated: 2004-06-05 13:31
Iraq's new prime minister made his first address to the nation Friday, saying a rapid U.S. withdrawal from the country would be a "major disaster" because Iraqis are not ready to handle their own security.
Iyad Allawi's call for improved Iraqi security and an end to guerrilla attacks came as unknown assailants attacked a U.S. Army patrol in Baghdad near the Shiite district of Sadr City, killing five U.S. soldiers and wounding five others.
Still, there were signs of hope, as an Iraqi official said the U.S. military and Shiite militia loyal to radical cleric Muqtada Al-Sadr agreed Friday to withdraw from areas around holy shrines south of Baghdad and turn over security to Iraqi police in a bid to end two months of fighting.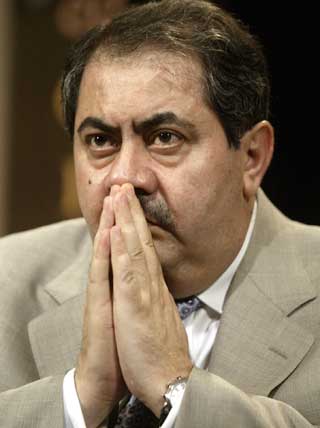 Iraqi Foreign Minister Hoshyar Zebari ponders a question as he talks to reporters during an interview conducted at United Nations headquarters in New York, June 4, 2004. [Reuters]

The televised speech by Allawi - a longtime exile with close ties to the CIA and State Department but with little popular support in Iraq - was the first by an Iraqi head of government since Saddam Hussein fell a year ago.

For the past year, such addresses have come from L. Paul Bremer, the top official in the U.S. occupation authority - or from the president of the U.S.-picked Iraqi Governing Council, a position that rotated every month.

Allawi, appointed last week to head the interim government taking power on June 30, defended the continued presence of 138,000 U.S. troops and thousands of troops from other nations on Iraqi soil even after the handover of sovereignty.

"The targeting of the multinational forces under the leadership of the United States to force them to leave Iraq would inflict a major disaster on Iraq, especially before the completion of the building of security and military institutions," Allawi said.

Nevertheless, Allawi said that Iraq would never accept occupation and looked forward to having the U.N. Security Council adopt "a new resolution regarding the transfer of full sovereignty to the interim Iraqi government."

At the United Nations on Friday, the United States and Britain again revised their Security Council resolution, this time giving Iraq's interim government the authority to order the U.S.-led multinational force to leave at any time. But other key council members still want the Iraqis to have final say in offensive military operations by U.S. and international troops who will remain after June 30.

The agreement to end fighting in the Shiite cities of Najaf and Kufa, in which U.S. forces pledged to stay out of sensitive areas, is broadly similar to the accord that ended the bloody, three-week Marine siege of Fallujah, a Sunni insurgent stronghold west of Baghdad. The Marines struck a deal there to lift the siege and hand over security to an Iraqi force commanded by former officers from Saddam's army.

Local authorities in Najaf and Kufa hope the presence of more Iraqi police will defuse tensions and allow the agreement to take hold where an earlier deal with al-Sadr did not. Many Iraqi police deserted when al-Sadr launched his uprising two months ago, handing the streets over to his al-Mahdi Army.

Najaf Gov. Adnan al-Zurufi announced Friday's agreement, in which he said both sides agreed to withdraw from around the shrines in Najaf and Kufa. The Americans refuse to negotiate directly with al-Sadr and said they agreed to a request by al-Zurufi to reposition forces in the interest of peace.

But by late Friday, militiamen showed no intention of leaving the Imam Ali Shrine in Najaf. They told The Associated Press that they were instructed only to put their weapons up - not to withdraw.

About 15 Iraqi police moved a half a mile from the shrine, but militia officials said they would not withdraw from the area without firm guarantees that American troops would not hunt them down.

The agreement would be a major step toward ending a two-month Shiite uprising in the south and parts of Baghdad.

Al-Sadr's rebellion began after the U.S.-led occupation authority closed his newspaper, arrested a key aide and announced a warrant for his arrest in the April 2003 murder of a moderate cleric in Najaf.

On May 27, Shiite leaders announced al-Sadr had agreed to remove his fighters from the streets and send home any militiamen who lived outside the Najaf and Kufa areas if the Americans pulled back too.

That announcement failed to stop the daily clashes between U.S. soldiers and militiamen, especially in Kufa. U.S. officials accused the militia of firing mortar shells at the U.S. base between the two cities.

On Friday, Col. Brian May, commander of the 2nd Armored Cavalry Regiment, said U.S. commanders agreed to stay away from "sensitive areas" - the Imam Ali Shrine in Najaf and the Kufa mosque where al-Sadr preaches - because al-Zurufi assured them the militia had "been reduced to the point where the legitimate Iraqi security forces can move in to those very sensitive areas."

"It's an Iraqi solution to the problem," he said.

Despite the assurances, militiamen still manned the gates to the shrine and searched visitors well after an afternoon deadline passed for their departure.

Men in yellow shirts and badges identifying them as members of al-Sadr's militia dispersed crowds and urged people to go away. A banner outside al-Sadr's office read: "Al-Sadr doesn't compromise" and "We all resist."

Al-Sadr failed to mention the deal in a statement read on his behalf in the Kufa mosque. The statement denounced the interim Iraqi government and insisted on an elected leadership for Iraq.

"America has taken upon itself to appoint a prime minister and a president of the nation under the cover of the United Nations," al-Sadr's message said. "It has done that with impertinence and domination. The government must be elected, and I will never accept anything less than that."

The interim government will serve until national elections due by Jan. 31.

Adopting rules for those elections, a U.N. advisory team has decided on a system of proportional representation with the whole country as single electoral unit, U.N. elections chief Carina Perelli said Friday. To ensure women are represented in Iraq's future parliament, parties must place the name of a woman in every third place on the candidate list, she said.

In his address, Prime Minister Allawi said that security was a paramount challenge facing the new government and that it would work toward national unity after the divisions created by the war, tyranny and military occupation.

He pledged former Baathists could live with dignity if they had not committed any crimes.

Allawi, a Shiite Muslim, also expressed appreciation to the country's most influential Shiite cleric, Grand Ayatollah Ali al-Husseini al-Sistani, who has given a tacit endorsement of the new government.

He also said the newly appointed president, Ghazi al-Yawer, a Sunni, would attend the coming Group of Eight meeting to improve the country's economy.
Today's Top News
Top World News

China wins praise for bold reforms at APEC meeting




China liberalizes grain trading, pricing




Efforts 'paying off' on market status




Lottery fraud victim win top prize...finally




China to send anti-riot peacekeepers to Haiti




World leaders gather for D-Day anniversary