Award-winning Pakistan woman tagged as al Qaeda suspect
(Agencies)
Updated: 2004-05-27 13:39
An angelic-looking Pakistani woman with a doctorate in neurological science is among seven "dangerous" Al Qaeda terror suspects identified by FBI as planners of new attacks on the United States.
Like the other suspects, Aafia Siddiqui, 32, once an award-winning Massachusetts Institute of Technology (MIT) student, has the ability to "undertake planning, facilitation and attack against the United States whether it be within the United States itself or overseas," FBI director Robert Mueller told a news conference on Wednesday.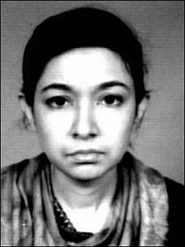 Aafia Siddiqui [AFP]

She is the only woman among the seven named Wednesday and whose photographs were posted on the FBI website.

Siddiqui is a picture of innocence amongst the dangerous-looking male suspects, but Mueller warned she was an "operative and facilitator" of Osama bin laden's al Qaeda terror network.

She is believed to have left Boston in January 2003. The FBI believes she is in Pakistan.

The Washington Post Wednesday linked Siddiqui to Adnan El Shukrijumah, another of the seven suspects who is said to have scouted sites across America that might be vulnerable to attack.

Saudi Arabia-born El Shukrijumah, 28, speaks English well, had lived in the United States for 15 years and has been trying to reenter America using various passports, Attorney General John Ashcroft told reporters.

Shukrijumah's name apparently came up in interrogations of Al Qaeda kingpin Khalid Sheik Mohammed, who was captured in Pakistan last year.

Ashcroft said "credible intelligence from multiple sources" indicated that Al Qaeda planned to attempt an attack on the United States in the "next few months."

Pakistan-born Siddiqui obtained a biology degree in 1995 and a doctorate in neurological science in 2001 and had studied at MIT and Brandeis University in the Boston area, as well as in Houston, local newspaper reports said.

The opposition Democratic party convention is scheduled to be held in Boston at the end of August and could be seen by terrorists as among possible opportunities for attack aside from other key meetings, Mueller said.

Siddiqui and her now estranged husband, Mohammed Amjad Khan, made repeated purchases from US stores selling military equipment, Newsweek magazine reported recently, quoting "suspicious-activity reports" it had obtained.

Khan, a Harvard-trained anesthesiologist and also wanted by the FBI for questioning, reportedly bought body armor, night-vision goggles and military manuals.

Like Siddiqui, ideal Al Qaeda operatives might now be in their late 20s or early 30s and could travel with a family to lower their profile according to intelligence information, Ashcroft said.

Aside from seeking recruits who could portray themselves as Europeans, he said, Al Qaeda was attracting Muslim extremists among many nationalities and ethnic groups, including North Africans and South Asians, as well as recruiting young Muslim converts of any nationality inside target countries.

"The face of Al Qaeda may be changing," said Ashcroft. "Al Qaeda is a resilient and adaptable organization, known for altering tactics in the face of new security measures."
Today's Top News
Top World News

Wen raises 5 proposals to attain global prosperity




China, nations seek Iraq resolution change




Key officials 'knew' of bad milk powder




Official: No ceiling on US film imports




Hospital releases SARS vaccine test result




Local gov'ts told to curb price hikes