US says al-Qaeda ready to hit 'hard'
(Agencies)
Updated: 2004-05-27 11:06
Osama bin Laden's al-Qaeda is poised to stage a new attack on the United States, Attorney General John Ashcroft said as authorities launched a public hunt for seven "armed and dangerous" suspects.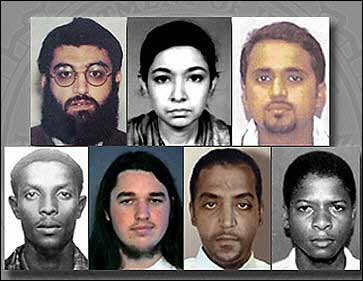 This composite image, courtesy of the FBI, shows people sought for questioning in connction with possible terrorist threats on the US. (Clockwise from upper L) Amer El-Maati, Aafia Siddiqui, Adnan G. El Shukrijumah, Fazul Abdullah Mohammed, Adam Yahite Gadahn, Aberraouf Jdey and Ahmed Khafan Ghailani. [AFP]
"Credible intelligence from multiple sources indicates that al-Qaeda plans to attempt an attack on the United States in the next few months," Ashcroft said at a news conference at FBI headquarters.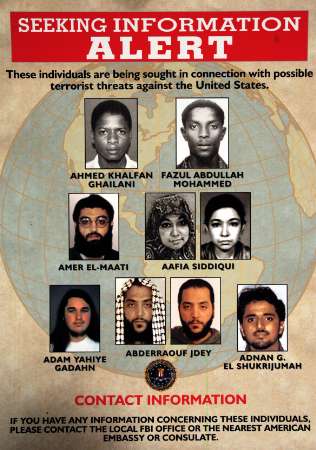 A poster of individuals sought in connection with possible terrorist threats against the United States. [AP]
Ashcroft and Federal Bureau of Investigation director Robert Mueller released the names and photographs of seven suspects, including one woman, who could be part of an attack plot.
"This disturbing news shows a particular intention to hit the United States hard. Beyond this intelligence, al-Qaeda's own public statements suggest that it is almost ready to attack the United States," Ashcroft warned.
He insisted that the accused al-Qaeda associates "pose a clear and present danger" to the security of the United States.
Al-Qaeda had announced it was 90 percent ready to launch a strike against the United States after the March 11 bombings of four Madrid commuter trains that left almost 200 dead, he stressed.
"The Madrid railway bombings were perceived by Osama bin Laden and al-Qaeda to have advanced their cause," said Ashcroft.
"Al-Qaeda may perceive that a large-scale attack in the United States this summer or fall would lead to similar consequences."
The new alert came just ahead of Saturday's dedication of a World War II memorial by President George W. Bush which is expected to draw about 140,000 people to central Washington.
Next month there is the summit of the eight industrial powers in Georgia. The Republican and Democratic party conventions in July and August, the presidential election on November 2 and the presidential inauguration in January could also be targets, authorities fear.

The attorney general said the seven suspects "are sought in connection with the possible terrorist threats in the United States. They all pose a clear and present danger to America. They all should be considered armed and dangerous."
The US government is offering up to 25 million dollars respectively for information leading to the arrests of two of the suspects, Ahmed Khalfan Ghailani and Fazul Abdullah Mohammed.
Both men have been indicted by a New York court for alleged involvement in the August 7, 1998 bombings of the US embassies in Dar es Salaam, Tanzania, and Nairobi, Kenya, that killed hundreds of people.
At least one of the seven suspects, Adnan G. El Shukrijumah, is said to have scouted sites across America that might be vulnerable to attack.
El Shukrijumah, speaks English well, had lived in the United States for 15 years and has been trying to reenter America using various passports, Ashcroft said.
One suspect, Adam Yahiye Gadahn, 25, was born in the United States and may also be using his original name, Adam Pearlman. Officials said he received training at a militant camp in Afghanistan.

There are also two Canadians: Amer El-Maati, 41, and Abderraouf Jdey, 38.
Mueller identified El-Maati as a licensed pilot who is a Canadian citizen of Egyptian and Syrian origin. The FBI website said El-Maati was born in Kuwait.
Mueller said that Jdey is a Canadian citizen born in Tunisia who appears in a video seized in Afghanistan that reportedly portrays the last will and testament of a possible jihad martyr.
The seventh member, a woman, was named as Aafia Siddiqui. Photos and details of the seven have been posted on the FBI's website.
Ashcroft said the seven might seek to travel with a family in order to "lower their profile."
"Let me say that the face of al-Qaeda may be changing," he said.
"Al-Qaeda is a resilient and adaptable organization, known for altering tactics in the face of new security measures.
"Intelligence sources suggest that ideal al-Qaeda operatives may now be in their late 20s or early 30s.
"Our intelligence confirms al-Qaeda is seeking recruits who can portray themselves as Europeans," he said.
Despite the warning, Ashcroft highlighted that there had not been a terrorist strike on US soil since the September 11, 2001 attacks on New York and Washington that killed some 3,000 people.
"We are winning the war on terror," he asserted.
Asked about the timing and location of any attack, Ashcroft and other top officials said they had no "specific information".
"We do believe that al-Qaeda plans to attack the United States, and that is a result of intelligence that is corroborated on a variety of levels. But we are not aware of details of a plan," he said.
Earlier, Homeland Security Secretary Tom Ridge also highlighted the increased threat but said there was no immediate plan to increase the nationwide terrorist alert which is currently "high", the third level on the five-stage alert.
The US authorities this week imposed tougher security on the US railway network which experts said has not had the same amount of attention as airports since September 11.
Today's Top News
Top World News

Wen raises 5 proposals to attain global prosperity




China, nations seek Iraq resolution change




Key officials 'knew' of bad milk powder




Official: No ceiling on US film imports




Hospital releases SARS vaccine test result




Local gov'ts told to curb price hikes