Nuclear scientist to become Iraqi premier
(Agencies)
Updated: 2004-05-27 07:59
The United Nations is expected to pick Hussain Shahristani, a Shi'ite Muslim nuclear scientist who spent 11 years in Abu Ghraib prison under Saddam Hussein, as premier of a new interim Iraqi government, US sources said on Tuesday.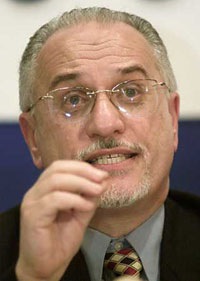 Hussain al-Shahristani, a nuclear scientist who had been tipped to become Iraq's interim prime minister hinted on May 26, 2004 that he might reluctantly take the post but an official in US-led coalition ruled him out of the job. Shahristani is seen at a press conference Feb. 18, 2003. [Reuters]

A State Department official said Shahristani was one of three finalists being considered for the key post but other sources said Shahristani was expected to head the new caretaker government when the United States hands over power on July 1.

Asked if UN Special Envoy Lakhdar Brahimi had made his choices, one source with close ties to the Bush administration said: "Shahristani for prime minister."

The State Department official said: "He is one of about three finalists who was being considered for prime minister. I do not know whether he was chosen and actually asked."

"It's pretty obvious it has to be a Shi'ite. It also has to be someone who is not seen to be beholden any particular faction or party and yet not be so much of a technocrat that he has no standing with the parties," he said.

Shahristani fit that profile, he added.

Another US source said he expected Adnan Pachachi, a Sunni Muslim and one-time Iraqi foreign minister, to be president.

Vice-presidential choices are expected to be Ibrahim Jaafari, a medical doctor who is spokesman of the Dawa Party, and Kurdish leader Jalal Talabani, although it is unclear if Talabani would take the job, the source said.

The slate of leaders to head the interim government that will administer Iraq until elections planned for January 2005 is being put together by Brahimi, special envoy of UN Secretary General Kofi Annan, with the close assistance of Robert Blackwill, President George W. Bush's special adviser on Iraq.

White House spokesman Scott McClellan said: "Mr Brahimi will make an announcement when he is ready. It is my understanding that he has not made a final decision on those recommendations at this time."

US Ambassador to the United Nations John Negroponte, who will be the new US ambassador in Baghdad after June 30, declined comment when asked about Shahristani.

On another hand, comprehensive testing has confirmed the presence of the chemical weapon sarin in the remains of a roadside bomb discovered this month in Baghdad, government officials said Tuesday.

The determination verifies what earlier, less-thorough field tests had found: The bomb was made from an artillery shell designed to disperse the deadly nerve agent on the battlefield, two officials said on condition of anonymity.

The origin of the shell remains unclear. Some analysts worry the artillery shell may be part of a larger stockpile of Iraqi chemical weapons that insurgents can now use.

In another development, US troops captured a key lieutenant of radical Shi'ite leader Muqtada al-Sadr during overnight clashes 24 people were killed and nearly 50 were injured, hospital and militia officials said Wednesday.
Today's Top News
Top World News

Wen raises 5 proposals to attain global prosperity




Key officials 'knew' of bad milk powder




Official: No ceiling on US film imports




Nuclear scientist to become Iraqi premier




Hospital releases SARS vaccine test result




Local gov'ts told to curb price hikes