Key officials 'knew' of bad milk powder
(China Daily)
Updated: 2004-05-26 21:48
Prosecutors are probing alleged malfeasance by two local officials said to have known that milk powder being sold in Fuyang of East China's Anhui Province was substandard.
The fake milk reportedly caused the deaths of 13 infants within the province.
Li Tingjun and Bai Qixiang, both deputy directors of the local bureau of industry and commerce, are suspected of irregular conduct to serve personal interests, while not referring the case to the local prosecutors' office for a thorough investigation.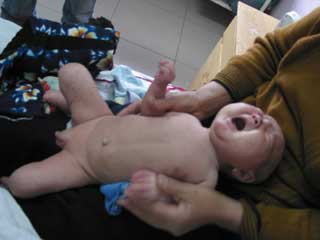 A baby suffers from malnutrition after drinking cheap milk powders. [Xinhua]
The Criminal Code stipulates that law enforcement administrators such as Li and Bai can be punished if they fail to refer suspected crimes found in their law enforcement process.
They were "badly irresponsible'' when they received tips from local residents especially after the mother of one of the victimized babies reported test results of the fake milk powder directly to them, according to Chen Lianfu, director-general of the Prosecutorial Department for Dereliction of Duty and Infringement of Citizens' Rights under the Supreme People's Procuratorate.
Wang Zhenchuan, deputy procurator-general of the Supreme People's Procuratorate, the highest authority for public prosecutors in China, Wednesday quoted the investigation of the case as an example of intensified efforts to crack down on job-related crimes that violate human rights.
He said some major accidents and cases of production and sale of fake medicines and substandard foods are related to the dereliction of duties, abuse of power by civil servants and judicial officers.
Beginning this month, Wang's office has designated an entire year to a national campaign to highlight the effort to reduce crimes that violate people's rights.
Constitutional reforms by the National People's Congress, the nation's top legislature, put forward in March outlined a new emphasis on respect for and preservation of human rights.
The campaign will focus on cases of illegal custody, unlawful search, using torture to coerce a statement and resorting to violence to obtain testimony, infringing upon citizens' democratic rights through undermining elections and mistreatment of people in custody.
Wang pledged that public prosecutors' offices at all levels will seriously scan and analyze and leads to dig out hidden crimes and investigate cases in strict accordance with law to ensure quality and efficiency of investigations.
"We will also find loopholes in current regulations and mechanisms through studying the causes, characteristics and rules of such cases to curb crimes from the source,'' he added.
The Supreme People's Court Wednesday also launched a national educational campaign on judicial fairness among people's courts at all levels.
The campaign aims to establish judicial authority and the image of fair, incorruptible judges among the public, said Cao Jianming, vice-president of the Supreme People's Court.
Xiao Yang, president of the highest court, said the courts at all levels across the country will further strengthen the education of "fairness and efficiency'', "ensuring justice for the people'', "sustainable development'' and "professional ethics'' in the judiciary.
Today's Top News
Top China News

Landing? What landing? It's cruising along




Key officials 'knew' of bad milk powder




Enhanced Russian trade ties explored




2 firms fined for violating missile rules




Checking imbalance in gender ratio




SARS vaccine test results come out today