Landing? What landing? It's cruising along
By Raymond Zhou (China Daily)
Updated: 2004-05-26 08:41
If you were one of China's top leaders, what would keep you from a sound sleep at night?
That was the unexpected topic of a roundtable luncheon attended by two dozen Hong Kong business leaders Tuesday when, officially, it was meant to be a debate on the overheating of the nation's economy.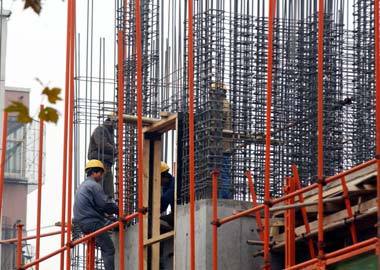 Workers work at a construction site in Zhengzhou, Henan province, May 18, 2004. [newsphoto/file]
Edward Chen, president and chair professor of economics at Lingnan University of Hong Kong, was so optimistic that he felt most people have been "misreading China." He brushed off the notion of "soft landing," "hard landing" or "crash landing" as irrelevant. "The economy is going to cruise quite nicely," said the keynote speaker.
To back up his argument, he compared the current situation with that of the early 1990s. At that time, inflation was running at a 15 to 20 per cent clip, while now the April number, which is a seven-year high, was a mere 3.8 per cent.
Fluctuation is another sign that Professor Chen scrutinized. In the early 1990s, the growth rate was running anywhere from 4 to 14 per cent, but if you look back at the past several years it has been quite consistent at about 8 to 9 per cent, which is the average rate for the past two decades. This, according to Chen, proves that there is no cyclical movement in the economy.
He offered his analysis about the currency: during the Asian financial crisis, people expected the RMB to devalue, wondering how it could sustain its exchange rate when currencies of neighbouring countries were sliding at alarming rates. Now the pressure is on the RMB to revalue upwards. But Chen did not see a revaluation of the yuan any time soon.
The reason, as he pointed out, is in trade balance. True, China has a US$40-50 billion trade surplus with the US, but overall, China is running a trade deficit, especially with other Asian countries. The money China is making from selling to the US is also being spent on buying from its neighbours. In terms of bilateral trade, there is a lot of imbalance, but from a multilateral perspective it is quite balanced. The US has a policy of supporting each ASEAN economy, said Chen, "and it is still doing that by "recycling money through China."
The more fundamental reason, argued Professor Chen, is the discrepancy in the national saving rate. "Americans save almost nothing, but Chinese have a rate of 30-40 per cent, similar to that of Japan in the 1970s." Unless that changes, he did not see any real pressure on the currency.
Major concerns
Professor Chen further tackled the spectre of inflation by getting down to the components of the consumer price index. Much of the recent price rise, he said, comes from food. If you take away food and energy, inflation has a barely noticeable upward tick of 0.5 per cent, but grain has risen a whopping 40 per cent, and the wholesale price in April rose 10 per cent across the board. Commodities like energy, copper and timber have seen the sharpest upsurge.
Government measures to cool down some of the torrid sectors have been working, said Wilfred Wong, vice chairman of Shui On Holdings Ltd. With steel going up 40 per cent in price, some of his contractors for his mainland projects simply quit unless their contracts were renegotiated to take into account the price hike. But lately, with prices easing, they have been offering reimbursement for overcharges.
Wong, whose company invests in the Shanghai property market, has seen sharp rises in that city. But he noticed that last year what was built was all sold, signifying an equilibrium in supply and demand. "I feel a 10 to 15 per cent growth rate is healthy and sustainable for Shanghai," he concluded.
Edward Chen said that he did not see any hidden danger in the economy or any cyclical problems, but acknowledged that there are long-term problems, which are mostly shortages in natural resources. "All the increases in the world production of aluminium have been 100 per cent absorbed by China," he said. "China is the world's fifth largest oil producer, yet it is far from being self-sufficient."
China's demand on the world commodity market will only increase, he said, paraphrasing the saying: "When China sneezes, the whole world will not just catch a cold, but will catch SARS."
Michael Hoer, managing director of Asian Industries Division, Conti Group Companies, pinpointed the rural economy as where the threat lies. The problem is, the rural economy is not as hot as the urban economy because of the reduction of arable land.
He cited the example of a golf course in Beijing. "Beijing has 30-plus courses, but only one is said to have all the required permits for construction. The one I visited recently was submitted as an environmental greening project."
Hoer did not see much problem with government policy, but rather, it was implementation on a local level that worried him. "Local officials tend to do things on their own," he said.
Colin Tam, chairman and CEO of Meiya Power, agreed that agriculture is the No 1 issue facing China, but "energy is a close second". With prices going sky high across the board, from gas to coal, the ripple effect is going to be far and wide.
For example, telecommunications does not seem to be an energy-dependent industry. "China has just reached a milestone in the number of cellphone subscribers. It now has 296 million, surpassing the total population of the US. But that is only a 20 per cent penetration rate. However, with power down, none of our equipment can function," said William Lo, executive director and vice president of China Unicom.
Speaking of government policy, Stephen Wong, president of Greater China Gas Marketing, ExxonMobile Energy, touched on the strategic reserves of oil. "Given the significantly increasing demand, what policy will the government set? It will certainly affect every aspect of the industry, from exploration upstream to widening brownouts."
It was generally agreed that China should build up its infrastructure, especially the energy sector.
But the trick is how to time market needs.
Jennifer Wang, senior director of Asia region of Boeing's aircraft finance department, admitted that the lead time for aircraft manufacturing is so long that it makes her job extremely hard.
But the wisdom and insight of decision-makers like these will hopefully take some of the uncertainty out of the economy. The bubble may be exaggerated or sector-specific, but a vision from the central government as well as concerted efforts by all parties will help guarantee that the giant ship that is the economy of China will be able to weather whatever storm that comes its way.
Today's Top News
Top China News

Landing? What landing? It's cruising along




Enhanced Russian trade ties explored




2 firms fined for violating missile rules




Checking imbalance in gender ratio




SARS vaccine test results come out today




AP: Major terror attack planned in summer