Japanese mustard gas poisons at least 9
(Xinhua)
Updated: 2004-05-25 11:43
Workers building a garden in China's northeast broke open a canister of mustard gas left by Japan's army after World War II, releasing a cloud that poisoned several people, a local government spokesman said Tuesday.
The incident occurred Monday in the city of Qiqihar, where a similar leak of Japanese wartime mustard gas last August killed one person and injured 43.
At least nine people suspected of being poisoned by the mustard gas are receiving medical checkup in a local hospital in Qiqihar.
One person was in serious condition, said a city government spokesman who would give only his surname, Xu. He said the canister was broken open by a construction crew building a public garden in the city's Fular district.

At about 6 p.m. Monday, the Qiqihar City Police Department received a report saying that a cylinder with pungent smell was found in a construction site, but there was no liquid inside.
Primary investigation shows that the poisoning source is mustard gas left by the Japanese troops in the World War II. Chemical weapon experts have gone to the site to make further investigation.
In August 2003, 44 people were poisoned by the Japanese-abandoned mustard gas in the city, including one dead.
In another development, a high court in Japan Monday overturned an earlier ruling by a district court that favored the compensation claims of 15 forced Chinese labourers during World War II, saying a 20-year statute of limitations has expired.
In April 2002, the Fukuoka District Court ordered Mitsui Mining Co. to pay 165 million yen (US$1.45 million) in damages to 14 Chinese men and the family of another man now dead.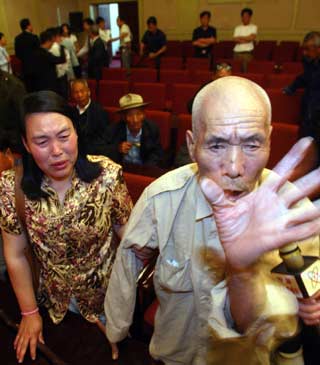 Plaintiff Zhang Wukui was indignant May 24, 2004 after learning that a Japanese court overturned a ruling that favoured compensation claims for Chinese forced to work in a Japanese coal mine during World War Two. He said, "whatever the verdict is, the fact that I was forced to do hard work in Japan during war can never change." [newsphoto]
The Fukuoka High Court overturned the ruling Monday and said the two defendants do not have to pay the damage award..
But the court recognized the injustices both the Japanese Government and the company inflicted on the plaintiffs during the war.
"The plaintiffs were forced to board a ship to Japan and were confined in an area surrounded by a fence in which a high-voltage electrical current ran," local media quoted Presiding Judge Takayuki Minoda as saying.
"The forced labour was based on the government's policy in which the company was deeply involved."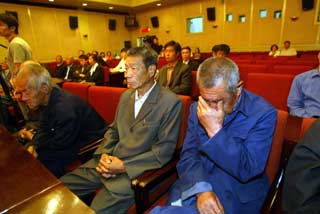 weeping because of disappointment
Moreover, the judge dismissed the government's claim that it is not responsible for paying compensation for any losses caused by war-time officials before the post-war Constitution was enacted.
However, the appeals court determined both the government and Mitsui Mining have no obligation to compensate the plaintiffs because they launched their lawsuit well after the 20-year statute of limitations expired.
The presiding judge pointed out that 55 years have passed since the forced labor ended.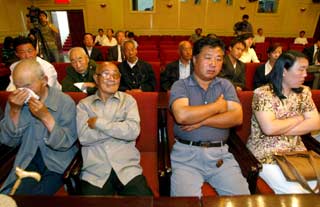 The 15 Chinese nationals were forcibly taken to Japan between 1943 and 1944 and were forced into hard labour in mines in the Fukuoka Prefecture until Japan surrendered to the allies in 1945.
Chinese lawyers and the victims back home Monday voiced their strong protests over the high court's ruling.
"We strongly protest the irresponsible ruling that ignores the facts and justice," Yu Ning, vice-chairman of the All-China Lawyers' Association, told a news conference held at the Chinese People's Anti-Japanese War Memorial in Beijing.
Yu urged the Japanese court to also consider Chinese and international law in addition to Japanese law in their dealings with the case.
"We hope the Japanese statesmen and entrepreneurs will face up to their history and look to the future with a peaceful and constructive attitude," said Yu in a unified statement issued by the lawyers' association and a number of related organizations.
One of the plaintiffs, already 78-years-old and with trembling hands, could not hide his emotions upon hearing the high court's verdict.
"We created fortunes for them with our sweat and blood, and we were often beaten and abused," said Zhang Wukui, as his tearful daughter stood at his side. "Why did they simply dismiss our case with just a few words?"
Besides two plaintiffs present in Japan and one absent for unknown reasons, the other plaintiffs and their families either echoed Zhang or protested in silence. They lingered even after the news conference was finished.
They expressed their deep gratitude to the Japanese lawyers who have been supporting them and who fought for justice for them.
Promising to continue fighting if the plaintiffs decide to appeal the ruling to the Japanese Supreme Court, the Japanese lawyers say they believe they have a case since the high court attributed their decision to a time limit.
"If every time defendants are exempted of responsibility just because time limits lapsed, truth gets covered up," said Onoyama Yuji, who lead the legal team in Japan.
The lawyers are relieved that at least the lawsuit has helped reveal pertinent facts to the Japanese courts and public.
"It is important indeed to win the case, but another important goal for us is to let Japanese know more of the truth about the war with the investigation of the courts themselves," said another lawyer Takahashi Tohoru.
This is the first high court ruling on a damages suit for forced labour during the war. Ten other similar suits are being tried in courts across Japan.
Today's Top News
Top China News

Spokesman: Chen still a threat to Straits peace




Japanese mustard gas poisons at least 9




Monopoly law badly needed, report says




Brazil sees market economy in China




Bush outlines five steps to Iraqi sovereignty




Oil near record, Saudi hike not enough?