Russia's richest man to be tried
(Agencies)
Updated: 2004-05-25 09:10
A top European representative arrived in Moscow to act as an impartial observer of this week's trial of Russia's richest man, Mikhail Khodorkovsky, who founded the country's top oil producer Yukos.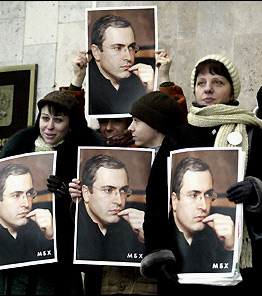 Supporters of Russia's richest man and oil magnate Mikhail Khodorkovsky protest outside the courthouse in Moscow. [AFP]
But she was immediately barred access from Mikhail Khodorkovsky amid cries of outrage from the defense team for Russia's richest man and President Vladimir Putin political opponent.
Sabine Leutheusser-Schnarrenberger, a former German justice minister, said she had not yet been granted permission to meet Khodorkovsky or to attend the trial as her mission -- which has large diplomatic significance -- looked in peril.
Khodorkovsky was arrested by masked security men on October 25 in his private jet while traveling in Siberia after allegedly ignoring a summons from prosecutors.
He has been charged with massive fraud and tax evasion but some Western governments view the case as a political trial and an attempt by Kremlin hawks to win control over the lucrative oil industry.
"I want to meet the defendants," Leutheusser-Schnarrenberger said on arrival in remarks broadcast on NTV television, adding that she planned to meet justice and general prosecutor's office officials on Tuesday.
"I need to see the situation in the detention facilities," she added.
However the Interfax new agency cited a court representative as saying that Leutheusser-Schnarrenberger would not be allowed to meet Khodorkovsky because that would break Russian law. He gave no other details.
A spokesman for Leutheusser-Schnarrenberger said he was aware of the report and had no official confirmation of it from Russian authorities.
"We have not had either a yes or a no. We expect to be officially told tomorrow," Gunter Schirmer said by telephone.
Khodorkovsky's lawyer also said the chances of Leutheusser-Schnarrenberger meeting her client looked slim.
"I am sorry that things are turning out the way they are," Karina Moskalenko told Moscow Echo radio. "She should have been allowed to see him ... as an independent observer."
Khodorkovsky's supporters say the oil tycoon was targeted for prosecution because he financed parties opposed to Putin ahead of the December parliamentary and March presidential elections.
He was estimated to be worth 15.2 billion dollars by Forbes magazine this year.
Khodorkovsky, who made his billions in the economic mayhem of the first years of post-Soviet rule, had begun to openly challenge the Kremlin.
Among other things, he fought the Kremlin over its plans to raise taxes on Russia's oil companies, plans which the Russian authorities now intend to pursue.
Now awaiting trial in the Matrosskaya Tishina jail in Moscow, Khodorkovsky will be tried on seven counts of fraud, tax evasion and embezzlement, facing up to 10 years in jail if convicted.
Preliminary hearings are set to open on Friday in one of the most closely-observed hearings to be staged in post-Soviet Russia.
Leutheusser-Schnarrenberger was appointed by the Parliamentary Assembly of the Council of Europe (PACE) on March 15 to monitor Khodorkovsky's case.
She has been instructed to make five fact-finding missions to Moscow and meet Khodorkovsky and other Yukos officials who are also on trial, including its number two shareholder Platon Lebedev.
Leutheusser-Schnarrenberger had planned to visit Moscow earlier, as the Yukos scandal unfolded, but Russian authorities postponed that trip "with two days' notice", according to a statement from APEC, a consultancy firm employed by Yukos.
Western-based attorneys for Khodorkovsky have also been denied entry visas by Russian authorities at the last minute, and access to the court hearings.
Today's Top News
Top World News

Bush takes the offensive on Iraq, outlines plans




Spokesman: Chen a threat to Straits peace




Japanese mustard gas poisons at least 9




Monopoly law badly needed, report says




Brazil sees market economy in China




Bush outlines five steps to Iraqi sovereignty