Bush outlines five steps to Iraqi sovereignty
(Agencies/CNN.com)
Updated: 2004-05-25 08:40
Bush outlines five steps "to help Iraq achieve democracy and freedom"
Bush: Troop level will remain at 138,000 but "if they need more troops, I will send them"
Bush says Abu Ghraib prison will be demolished after replacement facility built
In a speech at the U.S. Army War College Monday evening, President George W. Bush outlined five broad steps to restore Iraqi sovereignty and get the country back on its feet.
Bush said the five steps are:
Handing over authority to a sovereign Iraqi government.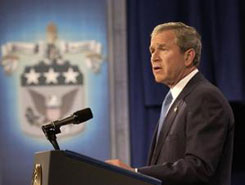 US President Bush addresses the audience at the US Army War College in Carlisle, Pa., May, 24, 2004. Bush sought to reassure Americans Monday night that he has a plan to pull Iraq out of the violence and chaos that have marked the year since he declared an end to major combat. [AP]

Establishing security.

Continuing to rebuild Iraq's infrastructure.

Encouraging more international support.

Moving toward a national election in Iraq that "will bring forward new leaders empowered by the Iraqi people."

The speech at the war college in Carlisle Barracks is the first of a number of planned presidential addresses on the topic in the weeks leading up to the June 30 handover of sovereignty to an interim Iraqi government, the White House said.

With polls indicating growing unease with the situation in Iraq, members of Congress urged Bush not to skimp on details.

Bush said the 138,000 American troops now in Iraq will remain at that level as long as necessary. If commanders need more, Bush said, "I will send them."

Bush has tried to bolster U.S. resolve despite increasing skepticism about his policies in Iraq.

Recent polls suggest that support for the war -- and for Bush's re-election -- have sagged amid ongoing combat deaths and the controversy over the abuse of Iraqi prisoners by their U.S. captors at the Abu Ghraib prison.

The speech came the same day U.S. diplomats circulated the text of a proposed U.N. resolution that would put an international stamp on the new government and give a one-year mandate to a multinational peacekeeping force.

U.N. envoy Lakhdar Brahimi has been holding talks aimed at establishing that interim government, which will hold power until elections scheduled for January.

Congressional advice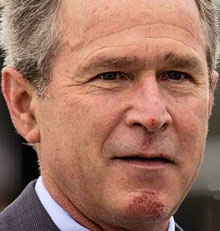 US President Bush received minor scrapes in a weekend bicycle accident May 22, 2004. [AP]

Bush will not identify who will hold positions in that government during his speech, aides said. But over the weekend some lawmakers said they would be looking for specifics.

For example, Democratic Sen. Dianne Feinstein of California told CNN's "Late Edition" on Sunday that Bush needs to provide "hard answers" when he speaks.

"We have gone on now with the sense of 'We will stay the course' for too long," said Feinstein, who voted to authorize Bush to take military action against Iraq. "We need to know precisely what that course is."

Appearing on the same program, Republican Sen. Chuck Hagel of Nebraska warned that Bush has isolated himself from veteran lawmakers from both parties who could help the administration find a solution to the problem of Iraq.

"What I'm saying is that at a time that's as complicated and dangerous as any time in modern history, today, a president of the United States needs to hear other opinions," Hagel said.

"He must reach out. He must understand a bigger view, a wider-lens view of the world. To essentially hold himself hostage to two or three key advisers and never reach beyond that is very dangerous for a president."

David Gergen, who has served as an adviser to both Democratic and Republican presidents, said Bush must offer "a clear, credible plan for success."

"I think he does need to break new ground here," Gergen told CNN Monday. "I don't think he can simply repackage rhetoric and repackage 'Stay the course.' "

Bush's former special envoy to the Middle East, retired Marine Gen. Anthony Zinni, said Sunday that staying the course in Iraq is a bad idea when "the course is headed over Niagara Falls."

In an interview with CBS's "60 Minutes," Zinni -- who served as commander of U.S. forces in the Middle East until 2000 -- said top Pentagon officials "screwed up" by committing too few troops to secure Iraq's borders and stabilize the country after the U.S.-led invasion last year.

"I think it's time to change course a little bit, or at least hold somebody responsible for putting you on this course. Because it's been a failure," he said.

White House press secretary Scott McClellan said the White House disagrees with Zinni's assessment, and noted Zinni's opposition to last year's invasion of Iraq was "well known."

Bush will appear with cuts and scrapes on his chin and nose following a fall from a bicycle over the weekend.

(Courtesy of CNN.com)
Today's Top News
Top World News

Spokesman: Chen still a threat to Straits peace




Monopoly law badly needed, report says




Bush outlines five steps to Iraqi sovereignty




Forced labour case voided in Japan




Russia's richest man to be tried




Oil near record, Saudi hike not enough?