Brazil sees market economy in China
(newsphoto)
Updated: 2004-05-25 08:07
Visiting Brazilian President Luis Inacio Lula da Silva said Monday his country will immediately set about handling issues concerning the recognition of China's status as a market economy.
Lula made his remarks during talks with President Hu Jintao, according to a foreign ministry spokesman.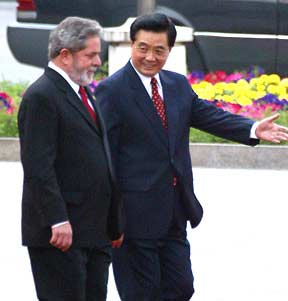 Chinese President Hu Jintao (R) gestures the way for Brazilian President Inacio Lula da Silva at the welcoming ceremony outside the east door of the Great Hall of the People in Beijing, May 24, 2004. Silva is on a five-day state visit to Beijing and Shanghai. [newsphoto]


Chinese President Hu Jintao (R) and his Brazilian counterpart Inacio Lula da Silva shake hands at the Great Hall of the People in Beijing May 24, 2004. Silva is on a five-day state visit to Beijing and Shanghai aimed at boosting exports to Asia's fastest growing economy. [Reuters]


Hu said such recognition will consolidate the strategic partnership between China and Brazil and further enhance bilateral trade ties.

Brazil is China's largest trade partner in Latin America, and China is Brazil's fourth largest trade partner, according to the Ministry of Commerce.

Lula arrived in Beijing on Saturday evening for a six-day state visit to China. Afterwards, he will travel to Mexico to attend the third summit between Latin America and the European Union.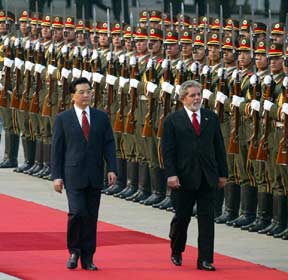 Chinese President Hu Jintao accompanies visiting Brazilian President Luiz Inacio Lula da Silva during a review of honor guards at Beijing's Great Hall of the People, May 24, 2004. [newsphoto]
Lula also told Hu that Brazil supports China's stances on the question of Taiwan and such issues as human rights, according to the spokesman.
Hu and Lula Monday also signed a joint communique.
Hu said the success of Sino-Brazilian collaboration indicates the potential and vigor of co-operation between developing countries.
The first Sino-Brazilian ERJ145 regional jet aircraft made a successful 10-minute test flight in Harbin, capital of Northeast China's Heilongjiang Province, last December.
Two months before that, in October, China successfully launched the second of a series of four scientific research satellites developed jointly with Brazil.
The two countries launched their first Earth Resources Satellite, developed at a cost of US$300 million, in October 1999 to gather information on the environment, agriculture, urban planning and water pollution.
The second satellite also aimed at collecting environment data during its two-year life span.
Lula said Brazi is confident of the prospects of working with China on political, economic and trade and technological areas.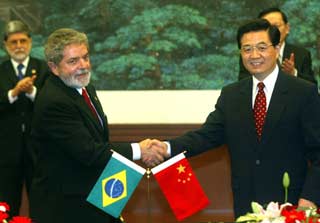 Chinese Hu Jintao (right) shakes hands with his Brazilian counterpart Luiz Inacio Lula da Silva, following a signing ceremony at the Great Hall of the People in Beijing on Monday, May 24, 2004. Silva and Hu signed a joint communique, and presided over the signing of nine agreements to cooperate in sport, science and technology, health, medicine, and commerce. [Xinhua]
An impressive lineup of visitors also made the trip with the Brazilian president.
His entourage includes ministers of foreign affairs, agriculture, planning and finance as well as development, industry and foreign trade.
A delegation of roughly 500 businessmen is also travelling with the president to seek Chinese business opportunities.
Lula said he hoped to enhance bilateral co-operation in agriculture, energy and mineral resources, science and technology, space and information technology, as well as infrastructure construction.
Brazil's petroleum giant Petrobras set up a representative office in Beijing on Sunday, and the visiting Brazilian president attended the inauguration ceremony.
Petrobras, as Brazil's biggest state-owned enterprise, plays an important role in Brazil-China economic and trade ties, Lula said, adding there is huge potential in energy co-operation between the two countries.
The Brazilian president will also attend the Global Conference on Poverty Reduction in Shanghai during his visit.