US strip clubs uniting to oust Bush
(Agencies)
Updated: 2004-05-24 16:45
U.S. strip club owners are putting a little bada-bing in the presidential campaign by asking patrons to turn their eyes away from the stage for a moment to fill out a voter registration form - and then vote against President Bush.
"It's not to say our industry loves John Kerry or anything like that," said Dave Manack, associate publisher of E.D. Publications, which publishes Exotic Dancer magazine. "But George Bush, if he's re-elected, it could be very damaging to our industry."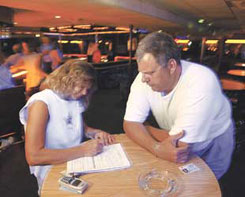 Jim Halbach, owner of the strip club Isabella Queen, helps Beverly Fischer with a voter registration form in Beloit, Wis. [AP]

Fearful that conservatives might turn off the colored lights for good, a trade organization for adult night clubs is asking owners to register customers and employees and then encourage them to cast their ballots against the president. Micheal Ocello, president of the Association of Club Executives, said the group believes the president's brand of conservatism is bad for business.

"We must do everything within our power to help ensure that Bush and his ultraconservative administration are removed from the White House," Ocello wrote in a letter to nearly 4,000 club owners. "If we are to survive, we must act now."

Heather Layman, spokeswoman for the Republican National Committee, said she doesn't know why the businesses would consider the president unfriendly to their industry. In its own voter-registration drive this year, the GOP has registered more than 1 million people.

"I have to admit that the strip club owners are not a group we targeted," Layman said.

Adult night clubs rake in an estimated $15 billion annually and employ 500,000 to 750,000 people, Manack said.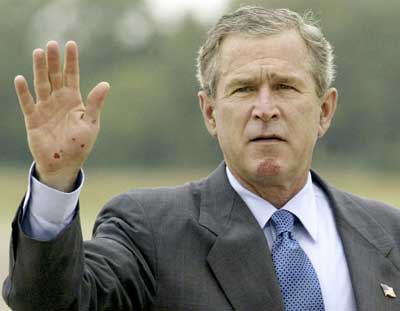 US President Bush received minor scrapes in a weekend bicycle accident May 22, 2004. [AP]

In southern Wisconsin, more than 200 people have registered in the past month at the bar Diamond Jim's and the strip club Isabella Queen, both located between Janesville and Beloit. They are the first of Wisconsin's 80 strip clubs to provide voter registration services.

"I'm actually fighting for my survival," said Jim Halbach, who owns the establishments. "That's the way I look at it."

ACE members in Ohio have registered about 2,000 people in just a few weeks, said chapter president Luke Liakos, who calls Attorney General John Ashcroft "the American Taliban." Liakos also is trying to form a coalition in Cleveland between strip clubs, other adult businesses such as adult bookstores, and gay clubs.

In North Carolina, ACE chapter president David Baucom said he plans to distribute registration forms in his 16 clubs to encourage voting but won't be putting down the president - his business hasn't had any problems since Bush took office.

"We just want people to vote," Baucom said. "Every state chapter is different."

On a recent night at the Isabella Queen in Wisconsin, Halbach made the rounds among customers and employees, asking them to register to vote and expressing his negative opinion about the president. A few picked up a pen and filled out the one-page form.

Shalyn Kay, a 21-year-old dancer, said she's afraid of losing her job if strip clubs are outlawed.

"I used to be a Republican, but now with all this, it's changing my views," Kay said.

Christopher Ness, a 35-year-old patron, also filled out the registration form, although he hasn't voted in 10 years. He said if he goes to the polls in November, he'll probably vote Republican.

"I like the way it is right now," Ness said.

Halbach said he just hopes people exercise their rights.

"That's what makes America great," he said.
Today's Top News
Top World News

Spokesman: Chen still a threat to Straits peace




Japanese mustard gas poisons at least 9




Monopoly law badly needed, report says




Brazil sees market economy in China




Bush outlines five steps to Iraqi sovereignty




Oil near record, Saudi hike not enough?