Bush to lay out sovereignty plan for Iraq
(Agencies)
Updated: 2004-05-24 14:04
Deflecting political discord over the war in Iraq, U.S. President Bush is seeking to reassure voters that hundreds of Americans have not died in vain, and tell the world that he has a blueprint to create a democratic nation.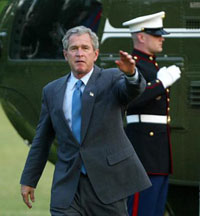 US President Bush arrives on the South Lawn of the White House, May 23, 2004, in Washington. Capping a busy family weekend, President Bush celebrated the graduations of his daughter Barbara from Yale University and Jenna in Texas on Saturday. [AP]

Five months before the election and just five weeks before the June 30 hand-off of political power in Iraq, Bush travels late Monday to the Army War College in Carlisle, Pa., to give the first in a series of speeches about the future of Iraq.

Worldwide attention is focused on the transfer of sovereignty next month, but the president is expected to lay out a timeline in Iraq that extends until elections are held early next year.

With an eye on the future, Bush's prime-time speech will address two issues dominating U.S. efforts in Iraq: The creation of a new Iraqi interim government, whose leaders are to be announced within days, and ways to improve security in areas of Iraq still rife with violence.

Bush reviewed drafts of his speech over the weekend while traveling in Texas and Connecticut to attend parties celebrating his daughters' college graduations.

White House spokesmen said the president would present a "clear strategy" on moving forward on political, security, humanitarian and infrastructure fronts, but they provided few details.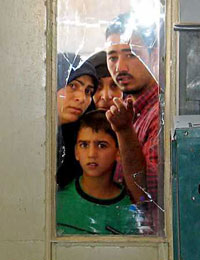 Members of an Iraqi family look at a damaged house through a shattered window after an air strike in the town of Kufa, May 23, 2004. The air strikes between US troops and Shi'ite militia around the Iraqi shrine city of Najaf killed at least 34 people overnight and wounded dozens. [Reuters]

"He needs to demonstrate an appreciation for the hole we're in," said Ivo Daalder, a foreign policy analyst at the liberal-leaning Brookings Institution. "He shouldn't minimize the problems that we are confronting. He can't give the same speech that everything is going fine and `I'm committed to seeing it through.'"

In his speech, Bush will talk about the new unelected, interim Iraqi government that will guide the country until elections can be held by Jan. 31, 2005. He has lauded the work of U.N. envoy Lakhdar Brahimi, who is hand-picking an Iraqi prime minister, president and two vice presidents who will work with a cabinet of ministers in running day-to-day operations until elections can be held.

Bush will also discuss work on a new U.N. Security Council resolution, expected to be offered hours before the speech, that among other things is likely to recognize the new interim government in Baghdad and an end to the occupation and address ongoing security challenges.

An earlier U.N. resolution gave legal authority for a multinational force to stay in Iraq after June 30.

It's a pivotal time in Iraq and the president's re-election campaign. Bush's approval ratings have sunk, according to some polls, to the lowest point of his presidency. Skepticism, mixed with fear of moving down an untraveled path in Iraq, is rising among Iraqis and Americans.

As in most cities Bush visits these days, he was welcomed in New Haven, Conn., on Sunday by flag-waving residents as well as anti-war protesters, including one who carried a sign that read "Iraq Vietnam."

The setbacks in Iraq keep stacking up:

_U.S. troops continue to have deadly clashes with insurgents. Nearly 800 American servicemen and women have died since the beginning of military operations last year.

_The president of the U.S.-backed Iraqi Governing Council was assassinated last week.

_A suicide car bomber killed four people and wounded a deputy interior minister in charge of security Saturday in Baghdad.

_U.S. lawmakers on Sunday vowed to investigate allegations that Ahmad Chalabi, a Shiite member of the governing council who was once a darling of Pentagon officials, gave Iran sensitive information about U.S. activities in Iraq.

_Abuse of inmates at a U.S.-run prison in Iraq continues to provoke outrage in the Arab world.

"He (Bush) needs to reassure people, or convince people again, not so much that the war was a good idea, but that he's got a plan to win the war," said Tom Donnelly, a national defense and security expert at the conservative American Enterprise Institute.

"The basic strategy of trying to convert it from a dictatorship to a democracy is fundamentally a sound one," Donnelly said, but the administration underestimated how difficult the task would be.

That sentiment is being expressed by increasing number of Bush's fellow Republicans.

Sen. Chuck Hagel, R-Neb., who has urged Bush to get the United Nations more deeply involved in Iraq, criticized the president on Sunday, saying he was running Iraq policy in a vacuum.

"At a time that's as complicated and dangerous as any time in modern history today, a president of the United States needs to hear other opinions," Hagel told CNN's "Late Edition."

"He must reach out. He must understand a bigger view, wider-lens view of the world. To essentially hold himself hostage to two or three key advisers and never reach beyond that is very dangerous for a president."
Today's Top News
Top World News

Chinese TV makers moving overseas




Four Beijing volunteers test SARS vaccine




Chengdu axes 16 ineffective officials




Guangzhou delays metro launch




Koizumi returns with abductees' 5 kids




Morgue records shows 5,500 Iraqis killed