Morgue records shows 5,500 Iraqis killed
(Agencies)
Updated: 2004-05-24 08:58
More than 5,500 Iraqis died violently in just Baghdad and three provinces in the first 12 months of the occupation, an Associated Press survey found. The toll from both criminal and political violence ran dramatically higher than violent deaths before the war, according to statistics from morgues.
There are no reliable figures for places like Fallujah and Najaf that have seen surges in fighting since early April.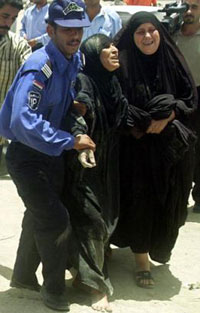 An Iraqi woman reacts as she hears of the death of her son in Basra, southern Iraq, Sunday, May 23, 2004. [AP]

Indeed, there is no precise count for Iraq as a whole on how many people have been killed, nor is there a breakdown of deaths caused by the different sorts of attacks. The U.S. military, the occupation authority and Iraqi government agencies say they don't have the ability to track civilian deaths.

But the AP survey of morgues in Baghdad and the provinces of Karbala, Kirkuk and Tikrit found 5,558 violent deaths recorded from May 1, 2003, when U.S. President Bush declared an end to major combat operations, to April 30. Officials at morgues for three more of Iraq's 18 provinces either didn't have numbers or declined to release them.

The AP's survey was not a comprehensive compilation of the nationwide death toll, but was a sampling intended to assess the levels of violence. Figures for violent deaths in the months before the war showed a far lower rate.

That doesn't mean Iraq is a more dangerous place than during Saddam Hussein's regime. At least 300,000 people were murdered by security forces and buried in mass graves during the dictator's 23-year rule, U.S. officials say, and human rights workers put the number closer to 500,000.

"We cannot compare the situation now with how it was before," Nouri Jaber al-Nouri, inspector general of the Interior Ministry, said recently. "Iraqis used to fear everything. ... But now, despite all that is happening, we feel safe."

Still, the morgue figures, which exclude trauma deaths from accidents like car wrecks and falls, highlight the insecurity Iraqis feel from the high level of criminal and political violence, and underline the challenges that coalition and Iraqi forces face in trying to bring peace.

In Baghdad, a city of about 5.6 million, 4,279 people were recorded killed in the 12 months through April 30, according to figures provided by Kais Hassan, director of statistics at Baghdad's Medicolegal Institute, which administers the city's morgues.

"Before the war, there was a strong government, strong security. There were a lot of police on the streets and there were no illegal weapons," he said during an AP reporter's visit to the morgue. "Now there are few controls. There is crime, revenge killings, so much violence."

The figure does not include most people killed in big terrorist bombings, Hassan said. The cause of death in such cases is obvious so bodies are usually not taken to the morgue, but given directly to victims' families.

Also, the bodies of killed fighters from groups like the al-Mahdi Army are rarely taken to morgues.

Morgue records do not document the circumstances surrounding the 4,279 deaths — whether killed by insurgents, occupation forces, criminals or others. The records list only the cause of a death, such as gunshot or explosion, Hassan said.

It is the police's responsibility to determine why a person dies. But al-Nouri, the official at the Interior Ministry, which oversees police, said the agency lacks the resources to investigate all killings or keep track of causes of death.

U.S. forces have records for the numbers of claims for compensation from Iraqis for personal injury, deaths of family members, or for property damage caused by U.S. military action in "non-combat" situations. Some $3 million has been paid to about 5,000 claimants, American officials said last month. About 8,000 claims had been rejected and 3,000 were pending, they said.

The officials declined to provide a breakdown of the figures to show how many claims were for deaths. They also said a single incident involving U.S. forces could lead to multiple compensation claims.

Brig. Gen. Mark Kimmitt, the U.S. military's deputy director of operations, said U.S. forces do not have the capacity to track Iraqi civilian casualties. To highlight the complexity of the task, he pointed to the March 17 bombing of the Mount Lebanon Hotel in Baghdad where a U.S.-announced death toll dropped from an initial 27 to 17 and later to just seven.

"There are always discrepancies any time you have a situation as chaotic as the aftermath of a bombing," he said.

The death toll recorded by the Baghdad morgue was an average of 357 violent deaths each month from May through April. That contrasts with an average of 14 a month for 2002, Hassan's documents showed.

The toll translates into an annual homicide rate of about 76 killings for every 100,000 people.

By comparison, Bogota, Colombia, reported 39 homicides per 100,000 people in 2002, while New York City had about 7.5 per 100,000 last year. Iraq's neighbor Jordan, a country with a population a little less than Baghdad's, recorded about 2.4 homicides per 100,000 in 2003.

Other Iraqi morgues visited by AP reporters also reported big increases in violent deaths.

In Karbala, a province of 1.5 million people 60 miles south of Baghdad, 663 people were killed from May through April, or an average of 55 a month, said Ali Alardawi, deputy administrator of Alhuien Hospital, which runs the morgue in the provincial capital, Karbala. That compares with an average of one violent death a month in 2002, he said.

Tikrit, a province of 650,000 people 90 miles north of Baghdad, recorded 205 people killed from May through April, or an average of 17 a month, said Najat Khorshid Sa'id, statistics director at the morgue in the provincial capital, Tikrit, which was Saddam's hometown. He said no one died from violence in 2002.

In Kirkuk, a northern province of 1.5 million people, 401 people were killed from May through April, or an average of 34 a month, said Fadhillah Ahmed Rasheed, head of the morgue in the provincial capital, Kirkuk. The province averaged three violent deaths a month in 2002, he said.

Officials at the main morgue in Najaf city, the capital of southern Najaf province, said they didn't have casualty figures. Officials in Baqouba, the capital of northwest Diyala province, and Ramadi, the capital of western Anbar province, declined to release their numbers.

In Fallujah, where U.S. Marines launched an offensive against Sunni militants on April 4, the city's hospital director, Rafie al-Issawi, reported 731 people killed during the month. However, the Iraqi health minister, Khudayer Abbas, had called Issawi's numbers highly exaggerated.

The human rights organization Amnesty International, based in London, estimated in March that more than 10,000 Iraqi civilians had been killed "as a direct result of military intervention in Iraq, either during the war or during the subsequent occupation."

"This figure is an estimate as the authorities are unwilling or unable to catalogue killings," the group said in a statement.

There are no precise estimates for deaths during last year's invasion.

The Associated Press conducted a major investigation of wartime civilian casualties, documenting the deaths of 3,240 civilians from March 20 to April 20, 2003. That investigation, conducted last May and June, was based on a survey of about half of Iraq's hospitals, and counted only those deaths for which hospitals had good documentation. The report concluded the real number of civilian deaths was sure to be much higher.

The deaths of foreign soldiers in Iraq are documented.

As of May 17, 783 U.S. military personnel had died since the beginning of military operations in Iraq last year, according to the Department of Defense. Of those, 571 died as a result of hostile action and 212 died of non-hostile causes.

The Pentagon says 645 of the deaths have occurred since May 1, 2003 — 462 as a result of hostile action and 183 from non-hostile causes, such as accidents or illness.

The British military has reported 58 deaths; Italy, 20; Spain, eight; Bulgaria, six; Ukraine, five; Thailand, two; Denmark, El Salvador, Estonia and Poland, one each.

The Brookings Institution counts 84 non-Iraqi civilian deaths since the occupation began through May 14, a figure that includes non-military employees of the U.S. government.
Today's Top News
Top World News

Four Beijing volunteers test SARS vaccine




Chengdu axes 16 ineffective officials




Guangzhou delays metro launch




Koizumi returns with abductees' 5 kids




Juveniles fall under new prosecution rule




Documents: Abuse was to punish and amuse