Paris airport terminal collapses; 6 dead
(Agencies)
Updated: 2004-05-24 08:39
The vaulted roof of the new, showcase terminal at Paris' Charles de Gaulle airport — touted as a jewel of design, safety and comfort — collapsed early Sunday, killing at least six people and forcing authorities to revisit problems that preceded the fanfare opening of Terminal 2E less than a year ago.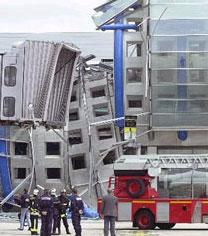 The terminal opened 11 months ago following delays because of construction problems. [AP]

There were some cracking sounds and some dust, and then tons of concrete, steel and glass came crashing down on a waiting area inside the gleaming terminal. The 98-foot section of roof fell just before 7 a.m. as passengers were starting to arrive.

Officials said there was no sign a terror attack caused the collapse. Of those confirmed dead, one was Chinese and the other four also were apparently foreigners, said Michel Clerel, chief doctor of Aeroports de Paris, which runs the airport.

Rescue workers sent dogs to sniff for victims buried under the pile of twisted steel, boulders of concrete and shattered glass. Officials said there might also be a sixth person killed, and that the victims were probably passengers.

The chief doctor also said three people were injured — all of them police called to the scene when signs of trouble appeared.

"Witnesses heard a cracking and noticed cracks in the ceiling and saw dust falling," said Pierre Graff, president of Aeroports de Paris. "They, of course, ran away. Police arrived and began evacuating people."

Within about two to three minutes, the roof collapsed, said Rene Brun, director of Charles de Gaulle.

An Air France flight had arrived from Newark, N.J., just ahead of the collapse and another from Johannesburg, South Africa. A third plane was taking off for Prague. Michel Sappin, prefect for the Seine-Saint-Denis region, where Roissy is located north of Paris, said there was only a moderate number of passengers in the terminal at the early hour.

"It looks pretty bad out there," said Amy Haight, 30, arriving later from Houston with her husband, Nelson, for a friend's wedding. She said she saw the collapsed building and dozens of rescue vehicles as her plane landed. "It's so sad, it's so scary. My God, we're so lucky."

The futuristic, cylindrical terminal sits on pylons, and when the roof fell it pulled down outer walls and crashed through a boarding ramp onto several parked cars below.

President Jacques Chirac asked that investigators quickly determine the cause of the collapse. Two separate probes were being opened. Transport Minister Gilles de Robien said there was nothing to indicate a terrorist attack.

The terminal, a tunnel-shaped construction that is hundreds of yards long, was evacuated and immediately shut down, delaying scores of flights. The terminal mainly serves Air France.

"The consequences are obviously grave for us since we have to manage the movement of planes with one less terminal, grave in terms of image since this was our showcase jewel," said Pierre Graff, president of Aeroports de Paris, which runs Paris' airports.

The tragedy comes as France braces for the influx of summer tourists.

The $890 million terminal, with slots for 17 aircraft, opened to the public last June 25 after at least two construction delays. The French television station LCI said the delays were caused by safety issues.

Also, a huge light fixture fell in the departure area as inspectors were checking the facility before its opening, and there were leaks in the ceiling, said Brun, the airport director.

Still, he and other officials said the problems were not structural. "There were never signs of cracks or other major abnormalities," Brun said.

The terminal was designed for a capacity of 10 million passengers per year. Its distinctive vaulted ceiling is honeycombed with hundreds of square windows that bathe the area inside with sunlight.

Hundreds of rescue workers rushed to the scene and temporary hospitals were set up on the tarmac and inside the terminal.

"We're working in extremely difficult conditions," said Interior Minister Dominique de Villepin, adding that earthquake-style rescue operations were used in combing through rubble for victims.
Today's Top News
Top World News

Four Beijing volunteers test SARS vaccine




Chengdu axes 16 ineffective officials




Guangzhou delays metro launch




Koizumi returns with abductees' 5 kids




Juveniles fall under new prosecution rule




Documents: Abuse was to punish and amuse