Koizumi returns with abductees' 5 kids
(China Daily)
Updated: 2004-05-24 07:56
Opening the way for an emotional reunion, Japanese Prime Minister Junichiro Koizumi returned from a whirlwind summit with the Democratic People's Republic of Korea (DPRK) leader Kim Jong-il on Saturday with a major political trophy the five children of two Japanese couples who were kidnapped and taken to the North decades ago.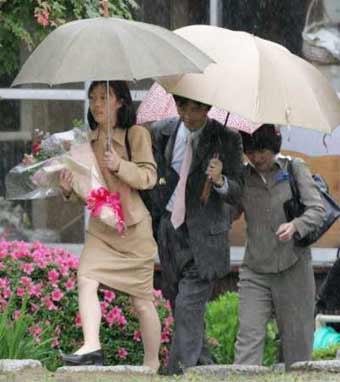 Pak Yong-hwa (L), one of five North Korean-born children of Japanese citizens abducted by Pyongyang, and her parents visit her grandparents' house in Kashiwazaki, northern Japan, May 23, 2004. Five North Korean-born children of Japanese abducted by Pyongyang began new life with their parents in Japan on Sunday but Prime Minister Junichiro Koizumi got faint praise for the summit at which he won their release. [Reuters]
The parents of the five, who range in age from 16 to 22, met them with tears and hugs as they climbed down from the government plane that followed Koizumi's official jet home from his one-day trip to the DPRK capital, Pyongyang. The families then went to a Tokyo hotel to rest and prepare for their new lives together.
"They seem nervous about what's going to happen from now on," Yasushi Chimura said of his three children, but added they seemed well.
The reunion offers some closure to a bizarre saga that has captivated and outraged the Japanese public since Kim acknowledged in his first summit with Koizumi in 2002 that DPRK agents had systematically abducted Japanese citizens in the 1970s and 80s to train their spies in the Japanese language and culture.
One month after that summit, the DPRK allowed the two couples and Hitomi Soga whose husband is an American accused of deserting his Army unit in 1965 to return to Japan. Their relatives, however, had to remain behind.
"I think my summit here was very meaningful," Koizumi told reporters before flying back to Tokyo after just nine hours in Pyongyang. "The most beneficial thing for both countries would be to change from hostile relations to friendly relations, and from opposition to co-operation. That's why I came."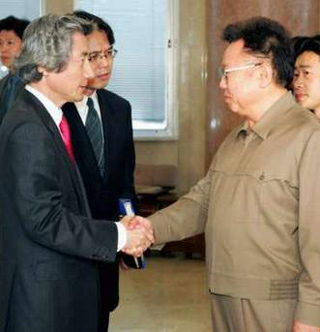 Japanese Prime Minister Junichiro Koizumi (L) shakes hands with North Korean leader Kim Jong-il as they meet for talks in Pyongyang May 22, 2004. [Reuters]
Saturday's summit left many issues unresolved, however.
In return for the families' release, Koizumi promised to provide 250,000 tons of food aid to the DPRK, along with US$10 million worth of medical supplies. He vowed to resume talks towards establishing formal diplomatic relations, but set no date.
Kim also vowed to respect a moratorium on long-range missile launches. Virtually all of Japan is within range of the North's missiles, and a 1998 test that sent one over Japan's main island deeply shocked the nation.
But the two sides made no significant breakthroughs on the North's development of nuclear weapons. Officials said only that the discussions were "frank" and "meaningful."
Today's Top News
Top World News

Four Beijing volunteers test SARS vaccine




Chengdu axes 16 ineffective officials




Guangzhou delays metro launch




Koizumi returns with abductees' 5 kids




Juveniles fall under new prosecution rule




Documents: Abuse was to punish and amuse