Four Beijing volunteers test SARS vaccine
By Liang Chao (China Daily)
Updated: 2004-05-24 07:47
China started its first human trials for a new SARS vaccine on Saturday with four volunteers, the first batch of the 30 selected, being vaccinated in a hospital in Beijing.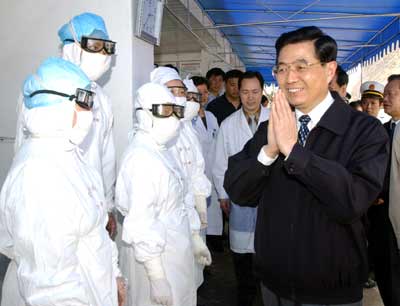 President Hu Jintao visits doctors and nurses in a Sichuan hospital during last year's SARS outbreak. [newsphoto/file]
"The four volunteers calmly received vaccination against severe acute respiratory syndrome (SARS) in the heavily guarded second-floor of the China-Japan Friendship Hospital," Xinhua reported.
The vaccine used for the volunteers was produced by Beijing-based Sinovac Biotech Co Ltd, a company authorized by the State Food and Drug Administration (SFDA).
The vaccine was found to be safe and effective in experiments on animals, including the rhesus monkey, which has a more similar immune system to humans than other animals.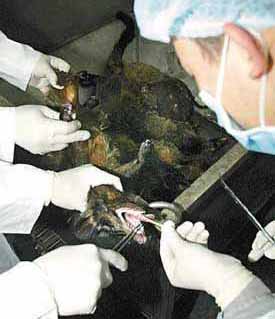 Medical workers obtain a saliva sample from a dead civet cat at the Guangzhou Sanitarian Treatment Factory in South China's Guangdong Province January 7, 2004. [newsphoto/file]
The first phase of the test is to determine if it is safe and effective for humans. There were still risks, experts said.
A special committee has been set up to protect the rights of the volunteers, who may participate or withdraw from the test at will.
Researchers will provide medical treatment if the volunteers suffer any adverse effects.
The second phase of clinical testing will involve more participants.
In February, the SFDA authorized Sinovac to select volunteers for China's first clinical testing of the vaccine. It only sets the standard number of volunteers needed for the first clinical testing, but does not select the actual volunteers.
The first phase of the testing will last three months in Beijing, South China's Guangdong Province or the Guangxi Zhuang Autonomous Region.
Today's Top News
Top China News

Four Beijing volunteers test SARS vaccine




Chengdu axes 16 ineffective officials




Guangzhou delays metro launch




Koizumi returns with abductees' 5 kids




Juveniles fall under new prosecution rule




Documents: Abuse was to punish and amuse