Child shot in Gaza as incursion continues
(Agencies)
Updated: 2004-05-23 14:33
A 3-year-old Palestinian girl was shot dead Saturday as a senior U.N. official toured a battle-scarred refugee camp where Israeli troops continue the hunt for weapons-smuggling tunnels and militants.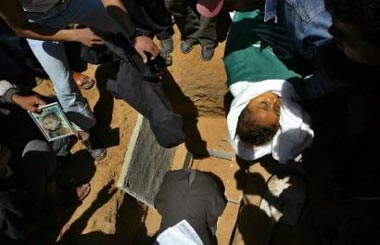 A mourner, left, holds a picture of the Palestinian 3-year-old girl, Rawan Abu Zeid, while a man lowers her body to her grave during the funeral procession in Rafah's refugee camp, southern Gaza Strip, Saturday May 22, 2004. [AP Photo]
The United Nations condemned the "completely unacceptable" destruction of houses, which has left 1,650 Palestinians homeless in the last 10 days.
In the West Bank, four people were wounded by a Palestinian suicide bomber near an Israeli army checkpoint.
On Friday, Israeli troops pulled back from the Brazil and Tel Sultan neighborhoods of Rafah, leaving behind dozens of damaged or destroyed buildings, torn-up roads and flattened cars. The army said it was redeploying forces and that its offensive ¡ª aimed at capturing militants and uncovering tunnels that stretch across the nearby Egyptian border ¡ª would continue.
Peter Hansen, head of the U.N. agency for Palestinian refugees, visited the two areas Saturday. A few shops opened so residents could stock up, and people ventured tentatively outside, waving white flags and strips of cloth.
Despite the partial withdrawal of troops, bursts of machine-gun fire could be heard as Hansen toured a street littered with clothes, mattresses and the collapsed corrugated tin roofs of devastated houses.
"The human price has been extremely high for this operation," Hansen said.
He said 1,650 Palestinians had been made homeless over the past 10 days of the operation, including a brief Israeli incursion into Rafah last week. More than 11,000 Rafah residents have been made homeless by Israeli demolitions since 2000.
Municipal officials said at least 43 homes were demolished and dozens more damaged in the camp this week. The army said five houses were destroyed after they were used as cover by militants to attack troops.
"I think that the destruction is probably even worse than I've seen ... and is indeed completely, completely unacceptable," Hansen said.
In Tel Sultan, where workers struggled to restore water and electricity supplies and clear sewage from the streets, some angry residents refused to speak to the U.N. envoy.
"People want actions and not words," said resident Sami Khateeb. "We don't want food, all we need is to live like human beings, the world should feel our suffering, they should act to end this aggression."
Forty-one Palestinians have been killed since "Operation Rainbow" began Tuesday, including gunmen and eight demonstrators hit by a tank shell during a protest march.
A 3-year-old girl was killed Saturday in the Brazil neighborhood while Hansen's delegation was in the area. Relatives said Rawan Mohammed Abu Zeid was killed by a gunshot to the head as she walked to a shop to buy candy.
"We were playing in the house when she told me she wanted some candy," said her brother Diyab Abu Zeid, 19, crying uncontrollably on the telephone. "The older kids in the neighborhood were going to the store so I let her go with them.
"There was no one in the street but the kids, not even other adults," he added.
The army said it had no reports of shots being fired in the area.
Israel says its offensive has resulted in the arrest of dozens of militants and the killing of a local leader of the armed group Hamas. The army also said it had discovered one arms-smuggling tunnel during the operation.
Overnight, tanks, jeeps and bulldozers moved into a sparsely populated area on the outskirts of the town of Rafah, next to the camp, witnesses and Palestinian security forces said. Farmer Barakat Abu Halaweh, 40, said armored vehicles flattened greenhouses and chicken coops and ordered him and his family of 15 to leave their house for three days.
Mahmoud Zahar, a Hamas leader in Gaza, said the Israeli offensive "will escalate the resistance and will increase the commitment of the Palestinian people to pursue the path of Jihad and steadfastness."
Palestinian officials said Egyptian intelligence chief Omar Suleiman would meet Palestinian leader Yasser Arafat on Monday, presumably to discuss the crisis in Rafah. Israel has accused Egypt of not doing enough to halt the smuggling across its border with Gaza.
In a message to a summit of Arab leaders in Tunis, Arafat urged the international community to pressure Israel back to the negotiating table. He said military force "will not provide peace, security and stability for Israelis, but peace will, for a flourishing future for our children and theirs."
Israel is under intense diplomatic pressure to end the offensive and refrain from the sweeping demolition of Palestinian homes.
A key objective of the military operation is the widening of an Israeli patrol road between Rafah and the Egyptian border, which would make it more difficult for weapons smugglers to dig tunnels. Widening the road would require the demolition of dozens of Palestinian houses, a plan criticized by the United Nations, the European Union and the United States.
Israeli officials said Attorney General Meni Mazuz believed the road-widening plan would not hold up in local and international courts, and that he told the army to come up with alternatives that would cause less destruction.
A suicide bomber blew himself up at an Israeli army checkpoint east of the West Bank city of Nablus on Saturday, wounding four people, the Israeli military and paramedics said. Military sources said one soldier was slightly wounded and three Palestinians hurt, one seriously.
The Popular Front for the Liberation of Palestine militant group claimed responsibility for the bombing in a call to The Associated Press, saying it was a response to the Rafah incursion.
Today's Top News
Top World News

Economists: Year-long trade deficit possible




Documents: Abuse was to punish and amuse




Powell reiterates US one-China support




Bush suffers cuts, bruises in bike fall




DPRK to let Japan abductee relatives leave




Single children growing up, marrying