Gadhafi storms out of Arab summit
(Agencies)
Updated: 2004-05-23 10:22
Arab leaders convened their annual summit Saturday to discuss condemning terrorism, reiterating calls for Arab-Israeli peace and putting Arab nations on the road to political and economic reforms advocated by the United States.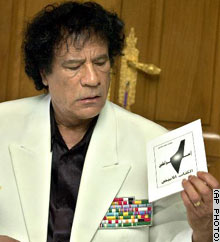 Western relations with Libyan leader Moammar Gadhafi have been improving in recent months. [AP Photo]
But the opening session was overshadowed by the walkout of Libyan leader Moammar Gadhafi, who criticized peace efforts and threatened to pull his country out of the 22-member Arab League.
"What's the significance of this Arab gathering?" Gadhafi said before packing up and leaving Tunis. "How can this summit convene while there are two Arab presidents in jail? I am disgusted."
Gadhafi was referring to Saddam Hussein and Palestinian leader Yasser Arafat, who has been holed up in his West Bank headquarters for more than two years, besieged by Israeli forces.
Gadhafi left while Arab League head Amr Moussa was speaking. Diplomats said the Libyan leader apparently was irked by Moussa's criticism of Arabs who act unilaterally -- a veiled reference to Libya's decision to renounce programs pursuing weapons of mass destruction.
Gadhafi also skipped Saturday's closed-door session, where Arab leaders reviewed resolutions addressing the turmoil in their region.
One of the strongest proposals denounced the abuse inflicted on Iraqi prisoners by U.S. forces at the Abu Ghraib prison as "crimes and inhuman and immoral acts." It said the abuse constituted a "flagrant violation of human rights and international conventions" and demanded trials and punishment for those responsible.
Reports of degrading treatment, sexual abuse and torture have caused widespread outrage in the Arab world and damaged American credibility throughout the region.
Reform ambitions and accusations of U.S. meddling
The leaders' commitment to political, economic and social reforms is a response to a Bush administration plan for Mideast reform that has been criticized as brazen interference in internal Arab affairs.
Washington's Greater Middle East Initiative, which will be unveiled at the G-8 summit of major industrial countries next month in the United States, urges Arab states to promote democracy, human rights and economic liberalization.
While the plan has sparked Arab complaints of American meddling, it also has inspired them to draw up their own brand of reform.
The Arab reform proposal is short on specifics but pledges to respect human rights and freedom of expression, enhance the position of women in society and promote tolerance, according to a preliminary copy obtained by The Associated Press.
The proposal binds the greater participation to laws already in place, including Islamic law in some countries -- an indication it likely will not require any nation to overhaul its system.
Strong opposition to calls for reform from Arab governments -- which are mostly autocratic and long have been criticized for giving their 270 million people with little or no voice -- was cited as a reason for Tunisia's decision to postpone the March 29-30 Arab League summit 48 hours before it was scheduled to begin.
Jordan's King Abdullah II left after Saturday's closed session. His delegation issued a statement calling for a "permanent and comprehensive truce" between Israel and the Palestinians and a halt to attacks against civilians on both sides.
Silence for Palestinian dead
Tunisian President Zine El Abidine Ben Ali opened the two-day summit by asking delegates to stand in a moment of silence for the Palestinian victims of Israeli actions.
He condemned the assassination of Palestinian political leaders and the killing of civilians, and called for more international efforts to reactivate the U.S.-backed "road map" peace plan that envisages a Palestinian state by next year. He also called for international protection of the Palestinian people and a halt to Israeli "violations."
Arafat, who did not attend for fear Israel would bar him from returning, addressed the conference for the third year via video from Ramallah. He accused Israel of waging a "war of annihilation" against the Palestinian people but reiterated that the Palestinians were committed to "the peace of the brave" with Israel.
"I declare from the heart of the (Israeli) siege that occupation and military solutions will not bring peace, security and stability for the Israelis," he said.
Hamas, the Damascus-based Palestinian militant group responsible for scores of suicide attacks against Israelis, called on the Arab League to sever all contacts with the Jewish state.
In a faxed statement, Hamas also urged Arab leaders to declare that the peace process "has flagrantly failed despite the Arabs' sincerity and their continuing efforts on behalf of peace."
It said Arabs also should stand by Iraqis "in their right to get rid of American occupation and to self-determination."
Meanwhile, demonstrators at the league's Cairo headquarters urged Arab leaders to help the Palestinians and Iraqis or step down. The demonstration dispersed peacefully.
Today's Top News
Top World News

Economists: Year-long trade deficit possible




Documents: Abuse was to punish and amuse




Powell reiterates US one-China support




Bush suffers cuts, bruises in bike fall




DPRK to let Japan abductee relatives leave




Single children growing up, marrying