Spanish Prince marries anchorwoman, hits the jackpot
(Agencies)
Updated: 2004-05-22 20:06
Spain's Crown Prince Felipe married former TV anchorwoman Letizia Ortiz before a sea of dignitaries on Saturday, putting a commoner in line to be queen for the first time in Spanish history.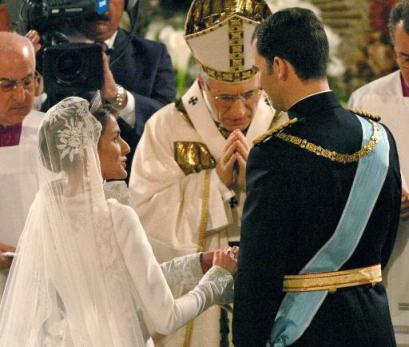 Spain's Crown Prince Felipe and Letizia Ortiz stand at the altar of Madrid's Almudena cathedral, during their wedding ceremony Saturday May 22, 2004. [AP]

The archbishop of Madrid, Cardinal Antonio Maria Rouco Varela, pronounced the couple husband and wife at Almudena Cathedral in what was Spain's first royal wedding in 98 years. Previous weddings took place in exile.

Just one year after she started dating the prince, Ortiz, a 31-year-old divorcee, now has the title of Princess Letizia of Asturias.

In his homily, Rouco Varela urged the couple not to be intimidated by the enormous responsibility of being heirs to the Spanish throne.

"Fear not these extraordinary demands," he said. "You are not alone in your path. Their majesties the king and queen of Spain, the royal family, your relatives and loved ones, the good people of Spain, are with you."

The congregation of some 1,400 royals and other dignitaries included Britain's Prince Charles, former South African President Nelson Mandela and Jordan's Queen Rania.

Torrential rain fell as Ortiz entered the church, wearing an off-white gown with a flowing silk veil and a 15-foot train embroidered with heraldic symbols. On her head, she donned the same diamond and platinum tiara that Greek-born Queen Sofia wore at her wedding to King Juan Carlos in 1962 in Athens.

Ortiz's bouquet was an arrangement of white lilies of the valley.

Prince Felipe, 36, wore a crisp blue uniform reflecting his status as a Spanish army major, with braided epaulets, a light blue sash and medals of honor from the army, navy and air force.

A symphony orchestra and 70-member choir performed behind the altar.

There were a couple of slip-ups, mainly in the re-enactment of a centuries-old custom in which the bride and groom exchange coins as symbols of the possessions they will share.

Rouco Varela dropped a few of the 13 gold coins — some 500 years old — as he handed them to the prince. The prince then forgot his lines as he addressed Ortiz, and had to look down at notes on a stand in front of him.

Thunder rolled through the skies during the wedding Mass.

Outside in the pouring rain, thousands of police lined streets chosen for a post-wedding procession in which the couple was to ride in a 1948 Rolls-Royce Phantom IV inside a bulletproof glass box.

"I've come here just for the wedding," said Manuela Lopez, who was draped in a the blue and yellow flag of the northern Asturias region from where the bride hails.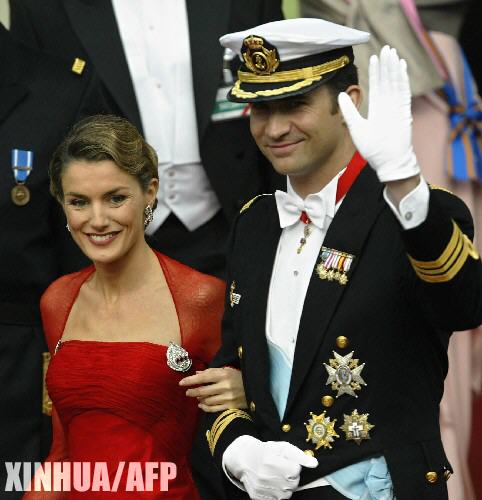 "I've spent between 200 and 300 euros getting here but it doesn't matter. I'm 60 and I wouldn't miss this for the world," she said.
Security for the wedding has been described as the tightest since Madrid hosted a Mideast peace conference in 1991. An estimated 20,000 police patrolled the streets, and F-18 fighter jets and two AWACS planes on loan from NATO monitored the skies.
The city was festooned with Spainish flags and thousands of geraniums, tulips and other flowers. It was welcome relief for a country still mourning the 191 people killed in the March 11 terrorist attacks.
At a state funeral at Almudena Cathedral following the bombings, Prince Felipe and Ortiz went from pew to pew, trying to comfort sobbing mourners.
The ceremony was the first royal wedding in Spain since that of the prince's great grandfather, King Alfonso XIII, in 1906. The prince's father, King Juan Carlos, and grandfather, Juan de Borbon, married in exile during the dictatorship of Gen. Francisco Franco.
The prince met Ortiz at a dinner party in late 2002 and they started dating secretly the following spring. Word of their engagement in November took the country by surprise. Polls suggest Spaniards don't mind that Ortiz is a divorcee and has no royal blood.
Wedding gift a big surprise
AS if having a fairy tale wedding was not enough luck for one day, Spain's Prince Felipe and new wife Princess Letizia have hit the jackpot with a lottery ticket given to them as a wedding present, state radio has reported.
The happy couple — who wed in a glittering ceremony attended by the world's royalty on Saturday — won 12,000 euros (US$1,000) on a ticket given to them by a Barcelona pensioner, National Spanish Radio said.
The retired employee of state television — where Princess Letizia worked until she became engaged — gave the couple 10 tickets. One ticket won 12,000 euros and another, the number of which corresponded to the date of the wedding, won a 60 euro prize, the radio reported.
The state lottery company's Web site confirmed those ticket numbers had won.


Today's Top News
Top Life News

Four Beijing volunteers test SARS vaccine




Chengdu axes 16 ineffective officials




Guangzhou delays metro launch




Koizumi returns with abductees' 5 kids




Juveniles fall under new prosecution rule




Documents: Abuse was to punish and amuse