Three-year-old Palestinian toddler shot dead
(Xinhua)
Updated: 2004-05-22 17:22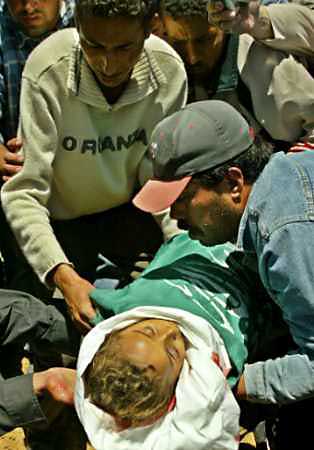 Palestinians lower the body of 3-year-old Palestinian girl Rawan Abu-Zeid into a grave during her funeral in Rafah refugee camp southern Gaza Strip May 22, 2004. Israeli soldiers shot the girl in the latest bloodshed in the Rafah refugee camp, Palestinian medics and witnesses said. [Reuters]

The Israeli troops shot dead a three- year-old Palestinian girl in the outskirts of al-Barazil neighborhood in the southern Gaza Strip town of Rafah Saturday, medics and witnesses said.

The girl named Rawan Abu Zeid was shot by two gunshots in the neck and abdomen, Ali Musa, chief of Abu Yousef Al Najjar Hospital in the town, told reporters.

Dozens of Israeli army tanks, armored personnel carriers and bulldozers redeployed its forces in Tal al Sultan and Al Barazil neighborhood in Rafah Friday.

During four days of the large-scale Israeli army operation in Rafah and its refugee camp, codenamed "Operation Rainbow", at least 45 Palestinians were killed and dozens of others were injured.

Musa said that most of the casualties were civilians and some were children under the age of 16. Dozens of houses were demolished, which rendered hundreds of local residents homeless.
Today's Top News
Top World News

DPRK to let Japan abductee relatives leave




Report: US soldiers fondled Iraqi prisoners




US warned of Chen's deception




Lula to boost Brazil-China alliance




Alarm sounded against possible floods




Spanish Prince marries ex-TV anchorwoman