Lula to boost Brazil-China alliance
(Agencies)
Updated: 2004-05-22 10:00
Brazilian President Luiz Inacio Lula da Silva headed for China aiming to boost their alliance at the forefront of developing nations.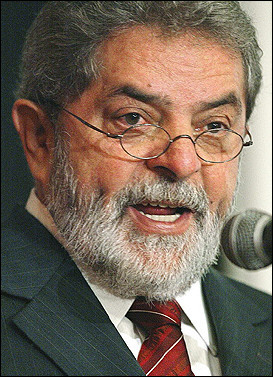 Brazilian President Luiz Inacio Lula da Silva is headed for China for talks aimed at boosting their alliance. [AFP]

The left-wing Brazilian leader was due in Beijing late Saturday after brief stops in the Cape Verde Islands and Kiev.

Lula, accompanied by a large business delegation, will start what he has said could be the most important visit of his presidential term Sunday.

He will go to the Summer Palace and attend the opening of Beijing offices of the Brazilian state oil firm Petrobras.

Petrobras and China's Sinopec are to sign an accord on joint oil exploration, production and refining in Latin America, Africa and the Middle East.

He will meet President Hu Jintao Monday after attending a Brazil-China trade seminar.

Lula will be in Shanghai, China's business capital, from Tuesday to Thursday.

"Last year, the government made the strategic decision to draw closer to China," Lula said recently, adding that his visit would "consolidate strategic relations" across the board, including trade, scientific, cultural and military ties.

As two key developing nations, Lula said, Brazil and China "share similar interests regarding their social needs, imperatives of growth and communal thinking in the United Nations and World Trade Organization.

"We will form a broad alliance," he added.

The have already had some success against the rich world.

They joined forces last year to launch the G-20 group of developing nations that brought WTO talks in Cancun, Mexico, to a standstill over demands that rich countries eliminate farm subsidies.

They also opposed the US-led invasion of Iraq.

Lula said Brazil and China agree on the need to "democratize the United Nations." Brazil is seeking support for its efforts for a permanent seat on the UN Security Council alongside China.

Foreign Minister Celso Amorim said Thursday that Brazil had set itself apart from other Latin American countries that have aligned themselves with Taiwan.

"It is important that Latin America and South America in particular see China not as a strategic threat, but as an opportunity for all," Amorim told AFP.

Likewise, "China's sights were not set on Latin America, except maybe for Brazil and Pacific countries.

"Of course in some things, they are competitors; that is part of doing business. But if we can take advantage of those niche opportunities, which are much greater, I think opportunity will prevail."

Amorim said Lula's trip would strengthen the relationship between China and Mercosur, which groups Brazil, Argentina, Paraguay and Uruguay.

Those ties were likely to be further strengthened when Argentine President Nestor Kirchner visits China from June 28 to July 2 at the head of a major business delegation.

Many Latin American and Caribbean countries including Paraguay recognize Taiwan and receive economic aid from Taipei.

Lula is accompanied by seven cabinet ministers and 400 businessmen, especially in the farming sector.

Twenty-nine percent of Brazil's 4.5 billion dollars in trade with China in 2003 came from soy beans. Brazil last year ran a 2.39 billion dollar trade surplus with China, an increase of 246 percent from 2002.

Minister of Development, Industry and Foreign Trade Luiz Fernando Furlan estimated Chinese investment in Brazil in the next few years could reach five billion dollars, above all in infrastructure development such as port facilities, railways and gas pipelines.

During a three-hour stopover in Kiev Saturday, Lula was to have a breakfast meeting with President Leonid Kuchma. In 2003, Brazil and Ukraine signed an agreement to use the Alcantara base in northeastern Brazil to launch satellites on Ukrainian rockets.

Lula also was to visit key historical sites in Kiev, as well as the World War II monument and Saint Michael and Saint Sophia cathedrals.
Today's Top News
Top China News

Report: US soldiers fondled Iraqi prisoners




US warned of Chen's deception




Alarm sounded against possible floods




4 die in climbing Mt. Qomolangma




US human rights hypocrisy attacked




Invasive species costly to ecology