Iran, a peaceful land, embraces visitors
By Zhu Yinghuang and Wang Hao (China Daily)
Updated: 2004-05-21 08:48
"Why Iran at this time?" asked a border officer at the Shanghai Pudong International Airport. Somewhat taken aback, we guessed he must be wondering why we would risk our lives to visit a dangerous place near Iraq, where there is bombing and killing almost every day.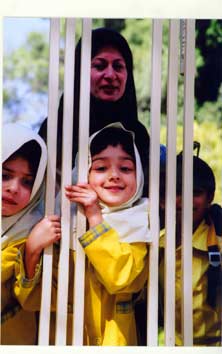 Baz, a kindergarten pupil, is perhaps the youngest friend we made in Iran. She and her little friends were visiting the mausoleum of Hafiz, a great Iranian poet. [Wang Hao]

But Iran is not Iraq. As soon as we got to Teheran, we found we began a process of repeatedly negating our preconceived notions.

Wherever we went in Teheran, Esfahan and Shiraz, we found ourselves among very friendly people. They smiled at you when passing in the streets. Boys clustered around us, asking us to take another photo. Girls, all wearing black or dark-blue scarves and gowns, gazed at us with their big, beautiful and curious eyes. Our friends had told us Iran is, in fact, a safe and peaceful country, and we did certainly get that feeling.

Downtown Teheran is often a scene of hustle and bustle, with streets packed with cars, motorcycles and pedestrians. We were surprised to find that Teheran seems to have more private cars than Beijing. If there is any chaos in the country, then it has to be the traffic jams on the city's busy streets, especially at rush hour, which confront drivers with a tense test of their real driving skills. Teheran drivers must be among the toughest and most skillful drivers in the world, as all of them believe they have the right of way.

But despite this, you don't feel that tense driving the wild streets, as people are friendly to each other. The car in front of you may suddenly stop and open the door to pick someone up. But don't assume it's a taxi, or that the driver knows the stranger. We were told that it's quite common to pick up hitch-hikers in Iran. And don't assume it's to save energy: people simply trust each other. Do we often see scenes like this in Beijing today?

One evening we were in a Chinese friend's car and got lost on our way to the hotel. We had to stop and ask for directions. An Iranian man, finding it difficult to communicate because of the language barrier, offered to lead us in his own car all the way to the hotel. That was again very common in Teheran, said our friend.

The only thing that we saw that reminded us of the somewhat tense regional situation was a huge billboard on a street, with the slogan "Down with the United States and Israel!"

Teheran was not as we had imagined it to be - a Middle Eastern city surrounded by desert. To the north of the city there is a snow-capped mountain. When we climbed a small hill near the city and took in a bird's-eye view of its night lights, we realized how vast and spread out the city is.

"Yes, you can ski now," said Reza Alizadeh, our local guide, "The ski resorts are only one or two hour ride from the city by car. They are as good as those in the Alps, but not many people in the other countries know about this."

"In Iran," Alizadeh said, "you can find the four seasons at any time of the year."

After all, this is a country three times the size of France.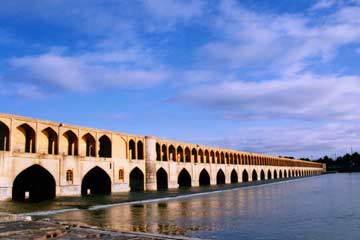 The lower part of Khaju Bridge, on the Zayande River in Esfahan, turns into a bustling teahouse in the evening. [Wang Hao]
Before we really had a clear picture of Teheran, we embarked on a two-day trip outside the capital - to Esfahan and Shiraz in the south. We thought it might be a better idea to first learn something of the country's long past.
One thing we had learned about Iran was its long history. But our knowledge obviously lacked depth and breadth. Geographically situated in the area linking Europe and Asia, this land has long been regarded by European and Asian empires as one of great strategic importance. The country has had a long history of ups and downs, conquering and being conquered.
Esfahan was once the capital of the Safavid Dynasty (1502-1722). Persians first drove away the Mongols and then the Ottoman Turks, who occupied a large area of Persia, before building their own dynasty. The famous half-rhyme "Esfahan nesf-e jahan" - Esfahan is half the world - reminds one of the city's grandeur and prosperity in the 16th century.
The centre of Esfahan is no doubt the huge Emam Khomeini Square. Built in 1612, this huge square, 500 metres long and 160 metres wide, is still one of the largest in the world and regarded as a great example of urban planning. Many of the most interesting sights in Esfahan are gathered within a closed rectangular complex surrounding the square.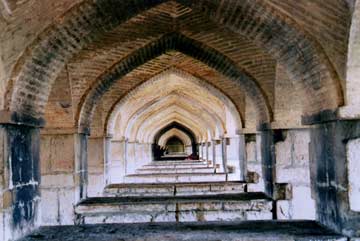 Si o Se Bridge (33 Arch Bridge) is the scenic and leisure centre of the ancient city of Esfahan. [Wang Hao]
Masjed-e Emam mosque sits south of the square facing in the direction of Mecca. It dominates everything around it, not only because of its 54-metre-high dome, but also because of its shining blue tiles, inside and out. On the western side of the square is the Ali Ghapu Palace, a six-storey building once used as the seat of government. Now it affords a magnificent view of the square. The rest of the complex is devoted to shops and bazaars. The area is so vast that it is impossible to see all the brassware, carpets, tablecloths, jewellery and all kinds of souvenir shops in a day.
Despite the square's magnificence, the spirit of Esfahan lies in its Zayande River and the Chahar Bagh (Four Gardens) Street, which cross at right angles. At the heart of the crossing is the Si o Se Bridge (33 Arch Bridge). Here you can enjoy a relaxed and leisurely atmosphere that is a marked contrast to the traffic jams in Teheran.
Walking on Four Gardens Street with its rich greenery, or sitting on a garden bench, we felt like scrapping the rest of our sightseeing schedule and just staying there, but our guide urged us to go on to the next site.
Before long, we came to the Zayande River and 33 Arch Bridge. Many of the great cities of the world are located on rivers. Esfahan is one of them. And bridges are indeed one of the city's must-sees. They are not just bridges to walk over. One is a sightseeing spot, another a historical relic, another a dam regulating the flow of the river and another offers a tea house by the water.
The 400-year-old 33 Arch Bridge has two levels overlooking the river. The upper terrace is for walking and the lower level is the local people's favourite place for drinking tea.
Esfahan is a leisure city. It is a delightful experience to sit under one of the arches of the bridge, gazing at the crystal clear water flowing below while sipping a cup of tea.
"Iranians are picnic people," said our guide. They know how to enjoy life, as we noticed. On our way back to the hotel, we saw an Iranian family picnicking under a lamppost by the bridge, at 11 pm!
The next morning, we got up early so that we could see the bridge again. As it links the upper and lower parts of Chahar Bagh Street, 33 Arch Street looked much busier at 8 am, with people hurrying to work, making us, the only foreign picture-takers, look very out of place.
"Speak English?" asked two secondary school boys in not so fluent English. After they heard we were from China, one of the boys took out a notebook, and asked us to write down their names, Masoud Feroji and Mhedi Gorby, in Chinese.
They obviously wanted to talk more, but their vocabulary was limited. They told us they studied English at school.
Interestingly enough, many of the people we met were school students. On all of our visits to the historical sites, we always saw groups of students or kindergarten children led by their teachers, mostly women. The boys and girls are always in separate groups. They visit the sites there to learn about their history. Iranians do have a lot to feel proud of in their history.
At an ancient imperial palace later that day, we met a group of girls in their 20s, all wearing black coats and scarves. We smiled at each other for a while, and then we moved closer to start a chat. Since we had a woman, Ma Jun, in our group, we felt a bit easier about starting a conversation. We thought it better to let her initiate the discussion with the shy but curious students.
"What do you study?" Ma asked.
"We are sophomores majoring in psychology," a girl answered.
"Are you a Muslim? Do you like Muslims?" she asked Ma.
"No, I am not. I do not know much about Muslim people, but I respect them," Ma answered.
We had a very good chat, and took some pictures with them, but always with Miss Ma. Before parting, they gave us their e-mail address so that we could send them copies of the pictures.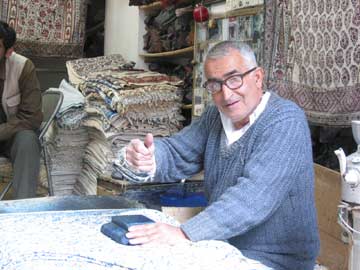 Hasan Seddighifard, 69, gives a thumbs-up gesture at his shop in the Esfahan bazaar after finishing one of the hand-printed tablecloths his family has made for seven generations. [Zhu Yinghuang]
Actually, to learn about the history of Iran, any visit to the country should start with Shiraz. The city, about 1,000 kilometres south of Teheran is where the Persians first settled and the great empire of Achaemenians (559-330 BC) had its capital there.
Iranians revere the ancient Persepolis Palace in much the same way that the Chinese revere the Great Wall. The huge complex was built during the reign of Darius I (522-485 BC) on a vast platform 450 metres long and 300 metres wide. All the buildings were burned by Alexander the Great in 331 BC. Now only columns, arches, stairways and the door jambs of the palaces are left to remind people of the past glory.
Against the blue sky and bright sunshine, Persepolis was a real visual shock. No modern buildings were to be seen anywhere and only about 30 visitors were paying their respects at the grand ruins. One cannot help trying to imagine how the place must have looked in ancient times.
At about the same time that Persepolis was built, our ancestors in China started the construction of the Great Wall during the Warring States period (475-221 BC). And cultural and economic exchanges between the two peoples can be dated to that time. It is said that the four great inventions of the Chinese - gunpowder, the compass, printing and papermaking - were introduced to the West by Persians when the Mongol Empire stretched from the central plains of China to Persia. The two civilizations had close contact via the Silk Road.
"Where are you from?" a group of secondary school students asked us.
"Qin," we answered. Some historians say "Qin" as a name for China probably stems from the Qin Dynasty (221-206 BC).
We could not help thinking of the "dialogue among civilizations" theory advocated by Iranian President Mohammad Khatami as a solution to the "clash of civilizations."
"Actually the dialogue between Persian and Chinese civilizations has never stopped over the centuries," said Iranian cultural minister Ahmad Masjed Jamei when meeting our delegation.
Jamei's ministry is sparing no effort to put President Khatami's idea into practice. Jamei proposed a tripartite cultural coalition with his Chinese and Indian counterparts on the sidelines at the cultural ministers' annual meeting of International Network on Cultural Policy.
"Iran, China and India as the inheritors of three great civilizations can provide all Asian states with an opportunity to play a more decisive role in cultural affairs," Jamei was quoted as saying.
Iran has been very much cut off from the rest of the world as a result of factors both within the country and outside. But our trip has convinced us there is a strong consensus for reform and opening up in this country.
Returning to the Azadi Grand Hotel in Teheran, we were astonished to find that the previously almost empty lobby was packed with guests. An international gas conference was being held, attended by 60 foreign companies, aimed at developing the country's rich natural gas resources.
The country is looking outward as it pushes forward a massive economic development plan.
As we drove past the huge "Down with..." billboard again, we asked our tour guide Alizadeh for his comment. "Americans are very nice people. I have many good American friends. But I don't like their government's policy," he said.
"Iran is often described as a secretive and closed country by some Western countries. But shouldn't they open their doors to Iran?" he asked.
Today's Top News
Top World News

Spokesman: Chen still a threat to Straits peace




Japanese mustard gas poisons at least 9




Monopoly law badly needed, report says




Brazil sees market economy in China




Bush outlines five steps to Iraqi sovereignty




Oil near record, Saudi hike not enough?