Experts: Chen Shui-bian on road to instability
By Xing Zhigang (China Daily)
Updated: 2004-05-20 22:55
Taiwan leader Chen Shui-bian's inaugural speech was described Thursday as a meticulously-designed "separatism roadmap" that fully testifies his obstinate insistence on pursing independence for the island.
Mainland researchers on Taiwan studies said the speech, though full of conciliatory rhetoric, would only fuel distrust and uncertainty across the Straits.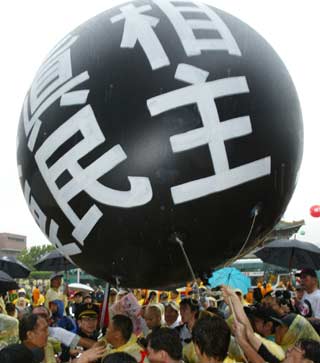 Supporters of Taiwanese presidential candidate Lien Chan, who lost in a controversial election by just thousands of votes, confront police as they release a black balloon reading "want truth and democracy" during a rally in Taipei May 20, 2004. [Reuters]

Chen promised that he will lead the Taiwanese down a "middle road" and seek peace and stability in the Straits after he was sworn in for a second term.

"Chen has seemingly tried hard to present his policies on almost all key issues in vague and ambiguous terms and in a low profile way," said Professor Fan Xizhou of the Taiwan Research Institute of Xiamen University.

"But his pro-independence stance can be sensed everywhere within his 5,000-word inauguration address."

The professor stressed that the Taiwan leader failed to show any sincerity to improve across-Straits ties although he vowed to formulate a new relationship of cross-Straits peace, stability and sustainable development.

"Behind all the soft words is his hard will to cling to a separatist stance and forge ahead with his pro-independence agenda," he said.

During his speech, Chen repeated his pledge to rewrite the island's "constitution" before finishing his four-year term in 2008 despite his assurance that the "constitutional" re-engineering project will not touch on the sensitive sovereignty issues.

But he did say that the final document should be approved by a referendum as had long been advocated.

"That suggests Chen is still bent on using the new 'constitution' to pursue a de jure independence for the island to formalize its independent status," Professor Fan said.

In a strongly worded statement issued on May 17, the Taiwan Affairs Office of the State Council warned Chen against moving the island towards independence in any form.

As a major sign for Chen's lack of sincerity, the Taiwan leader did not even bother to reiterate the "four nos" pledge he made in his 2000 inaugural speech.

The vow required Taiwan to refrain from declaring independence, change the "national title," include the concept of "state-to-state" relations between the island and the mainland in its "constitution," or promote any referendum on changing the status quo in regard to independence.

Chen just noted that his commitments at that time have not changed over the past four years nor will they change in the next four years.

'Chen lies again' and fails in promises

"It is again a big lie and all empty talk because he himself has never put his words into action in the past four years in office," said Li Jiaquan, a senior researcher with the Institute of Taiwan Studies under the Chinese Academy of Social Sciences.

"Can anybody believe that such a man of bad faith will honour his commitment in the next four years?"

The researcher also accused Chen of covering up his advocacy of "one country at each side (of the Straits)" with the so-called peace and stability framework for cross-Straits interactions.

In the speech, Chen vowed to continue to promote the island as a sovereign country at the international arena while rejecting the one-China principle that both the mainland and Taiwan are part of China.

"All in all, Chen is managing to feed an illusion about bright cross-Straits prospects based only on his deceitful remarks," Li said.

Both Li and Fan predicted that cross-Straits relations face more uncertainty and instability in the coming years as Chen is expected to phase in his pro-independence moves.

"The potential danger and crisis are always there because 'Taiwan independence' leads to no peace and stability," Fan said.

Chen's inauguration ceremony was held amid a shadow over the legitimacy of his victory in the hotly disputed March "presidential" elections, which were marred by numerous voting irregularities and an unexplained election-eve shooting.

Hundreds of Taiwan opposition supporters Thursday defied rain and held a protest near the "presidential" office.

The protesters released a huge balloon outside the headquarters of the leading opposition Kuomintang (KMT) facing the presidential office bearing the slogan "No truth, no president."

"Without truth, Chen will be living under a shadow over the next four years," Taipei Mayor Ma Ying-jeou, a KMT vice chairman, said while speaking to the rally outside the Sun Yat-sen Memorial Hall.

Also Thursday, Foreign Ministry spokesman Liu Jianchao told a regular news conference in Beijing that the Bangladeshi Government has shut down the "Taipei Representative Office" in Dhaka.
Today's Top News
Top China News

Experts: Chen Shui-bian on road to instability




Consumers need more on altered products




China condemns US human rights report




Worst is over for sandstorms




Meeting smoothens China-Viet Nam problems




US to investigate Iraqi inmate's death