Manmohan Singh named next Indian prime minister
(Agencies)
Updated: 2004-05-20 16:41
India's prime minister-elect, Manmohan Singh, laid out his vision for the new government on Thursday, promising to balance raising living standards for India's billion people while promoting business and investment.
"The priority... will be to do everything needed to wage the battle against poverty," he said at his first major news conference since President Abdul Kalam asked him on Wednesday to form a government.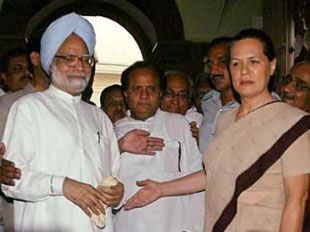 Indian prime minister-elect Manmohan Singh listens as Congress party chief Sonia Gandhi(R) speaks at Parliament House in New Delhi May 19, 2004. India's Congress party choose former finance minister Singh to be prime minister on Wednesday after the Italian-born Gandhi rejected fresh appeals to take the job. [Reuters]

Singh's economic vision appeared deliberately non-confrontational and designed to appeal to wide sections of society.

It broadly follows the reforms he initiated as finance minister more than a decade ago and which were carried forward by the Bharatiya Janata Party-led coalition ousted in last week's national election.

But promising reforms with a human face, Singh is softening the BJP's privatisation program, pledging not to sell state banks or energy giants Oil and Natural Gas Corp and GAIL India.

India's stock market, which took a battering during the election and the chaos that followed as Singh's Congress party built its coalition and searched for a premier, fell at the opening but then recovered slightly.

The benchmark index was dragged down as much as one percent in early trade by steep falls for ONGC and GAIL.

"We believe India needs a strong private sector, India needs a strong public sector," Singh said, adding his government would also create an investor-friendly environment.

Touching on foreign policy, Singh, who expects his government to take power on Sunday, said continuing the BJP's peace process with nuclear rival Pakistan would also be a priority. Members of the Congress-led coalition are jockeying for key ministries ahead of the swearing in, with markets anxiously watching who the 71-year-old former bureaucrat and central bank governor will choose as his finance minister.

Singh had been favorite for that role himself before being catapulted into the top job by the shock withdrawal of Congress chief Sonia Gandhi.

KEY POST

The new finance minister will drive economic policy and have the difficult job of ensuring that reforms are not derailed while keeping pivotal left-wing allies of the coalition on board.

Two former finance and trade ministers, Pranab Mukherjee, a commerce graduate from Calcutta, and P. Chidambaram, a Harvard-educated lawyer-turned-politician, are front-runners.

Bimal Jalan, another former central bank governor, is also in the running.

The rise of Singh, a Sikh and India's first non-Hindu prime minister, ended days of uncertainty that panicked investors, who feared the new coalition would be unstable and could row back on the reforms that have brought an industrial boom in India.

Markets firmed on Wednesday as it became increasingly clear Singh, seen as able to keep his communist allies under control, would take the helm of Asia's third largest economy and one of the world's fastest-growing.

And despite the early market falls on Thursday, economic analysts said the general response to Singh was positive.

"We have an intellectual and an economist, and a man with a clean image for prime minister, and that is a big positive for the markets and the economy, and for foreign investments," said Dharmesh Mehta, head of broking at Enam Securities.

"Also, the process leading up to his selection has only strengthened the coalition and expectations are that it will be a stable government," he said.

Earlier, markets had worried over anti-reform comments by the leftists and doubts about Gandhi's ability to control her partners.

The 57-year-old Italian-born Gandhi, the torch-bearer of the Nehru-Gandhi political dynasty, shocked her colleagues and tens of millions of grassroots supporters on Tuesday when she gave up her claim to the top job after her surprise ousting of the BJP.

Gandhi said she wanted to spare her coalition from damaging attacks over her foreign birth, although local media speculated fears that she would become the target of militant nationalists also played a part.

Friday is the 13th anniversary of the day her husband, former prime minister Rajiv Gandhi, was assassinated by a suicide bomber in the town of Sriperumbudur in southern Tamil Nadu state. Singh and Sonia Gandhi will travel to the town to mark the day.

Rajiv's mother, India's "Iron Lady" Indira Gandhi, another former prime minister, was assassinated in 1984.
Today's Top News
Top World News

Authorities to monitor price shifts before rate decision




Official: China can feed its own people




Shanxi mine blasts kill 24, trap 23 others




Experts: Mainland has seen through Chen




US attacks wedding party, kills 41 Iraqis




New photos depict Iraqi prisoner abuses