Bomb found near Greek Games site
(Agencies)
Updated: 2004-05-20 09:27
Greek Police demolition experts have destroyed a small time bomb found along one of Athens' main roadways and near a major complex for the Olympic Games, officials say.
The device -- blown apart in a controlled explosion -- appeared similar to the alarm clock-triggered bombs that damaged an Athens police station May 5, police said.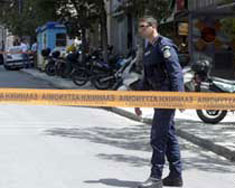 A Greek police officer secures an area in central Athens after a bomb threat on May 6. [AP]

The triple blasts were claimed by a Greek radical group, Revolutionary Struggle, in a declaration that denounced the stringent security measures for the August 13-29 Games and said multinational companies, Western tourists and others were "undesirable."

The bomb squad carried out the explosion in the lot of a Land Rover dealership, where an employee noticed a "suspicious box," police said.

"It was a small bomb," said Vassilis Tsiatouras, head of the crime squad.

An anonymous caller late Tuesday claimed a bomb was set to go off in the area, but police found no devices following hours of searching.

A second anonymous tip about a bomb was made Wednesday, Tsiatouras said.

Authorities have been on high alert since the bombings earlier this month but claim that local extremists pose no serious security threat for the Olympics.

The area where police conducted the controlled blast is within a kilometer (a half mile) of the second-largest Olympic sports complex, built on the site of the city's old seaside airport.

Also Wednesday, the army presented two new remote-controlled bomb demolition robots that will be used during the Olympics by the military.

The German-made robots will be deployed with a special bomb disposal unit of 15 army officers.

"The specific robots are expected to contribute significantly in the security of the Olympic Games," the army said in a statement.

About 70,000 police officers and soldiers will patrol Athens and Olympic venues during the games.
Today's Top News
Top World News

Authorities to monitor price shifts before rate decision




Official: China can feed its own people




Shanxi mine blasts kill 24, trap 23 others




Experts: Mainland has seen through Chen




US attacks wedding party, kills 40 Iraqis




New photos depict Iraqi prisoner abuses