Kitchen hand scores high in TOEFL
(Shenzhen Daily)
Updated: 2004-05-20 09:10
It would not be easy for an outstanding student at a prestigious university to score as high as 630 in the Test of English as a Foreign Language (TOEFL). But a young chef at Qinghua University, one of the top 10 universities in China, scored 630 the first time he took the test.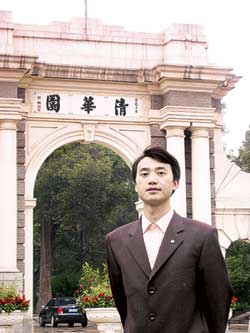 Zhang Liyong

The maximum TOEFL test score is 670. How did a chef who prepared three meals a day for university students manage to get such a high score. It's a long story but it was no miracle. Like all success stories, this one is also the fruit of perseverence, hard work and a strong will.

Learning English from packaging boxes

Zhang Liyong, 29, is from a remote mountainous village in East China's Jiangxi Province and has worked as a migrant worker in Guangzhou and Beijing for 10 years.

Like many country boys, Zhang dreamed of going to college when he was a senior high school student.

But, in 1994, he had to quit high school because he could not afford to continue, even though he had just one more year left before graduation.

He made a bold decision to move south to make money to support his family.

When he left his village, his mother put a dozen high school textbooks in his travel bag, saying: "Mom and Dad are so sorry we were unable to support you in finishing high school and going to college."

"Don't be upset, Mom," Zhang replied. "I just want to put off my dream of going to college until later."

On arriving in Guangzhou, Zhang first entered a bamboo artifact factory and then moved to an export-oriented toy factory.

Almost everything in Zhang's workshop was printed in English. The order was written in English, and the toys and packaging boxes were all printed in English.

Zhang took out his English textbooks and bought a small English-Chinese dictionary to find out the meaning of English words on the boxes.

One day, the factory received a number of foreigners and he saw a young Chinese interpreter in a neat suit talking freely with them.

Although he did not understood a single word, Zhang perceived his ambition was stirred.

A special student on campus

With the help of his uncle, Zhang, 21, moved north in June 1996 to work as a chef in the No. 15 dining hall of Qinghua University.

When he first arrived at the university, Zhang felt the university's students were lucky.

But after walking around the campus, he began to understand that it was not too late for him to improve himself.

He decided to pursue English studies. He bought some teaching materials and began to teach himself English.

On a low salary, he could not afford a teacher but he did buy a second-hand radio.

He had to get up at around 4 o'clock every morning to prepare food for the students and worked at least eight to nine hours a day.

He stayed up late to study. Since there was only a bulb light in the dormitory, the 10 roommates had to get used to sleeping with the light on.

After a while, he decided he did not want to disturb them so he rented a five-square-meter room in a flat.

It was not easy to stay awake after a day's hard work. Zhang tried different ways to keep awake and finally decided the most effective way was to drink hot water.

On the wall in front of his desk, there is his written motto: "In a young man's dictionary there is no such word as failure."

For the past eight years, Zhang has spent almost all his spare time studying English, setting aside his other interests playing cards and watching TV.

There was no heating in his room in winter and no air-conditioning in summer.

When he first entered a classroom at the university to read books, he was worried about being recognized, but was later able to feel comfortable mingling with other students.

After about six months of learning by himself, Zhang still did not feel confident about speaking English.

One evening, he decided to try at the English corner on the campus.

One boy student approached him and said hello. However, Zhang found he had no control over his tongue. He could not speak a complete sentence but only one word after another.

"Well done, I can understand what you're trying to say," the student said. "Never give up, and you'll become fluent little by little."

With the student's encouragement, the migrant worker became a frequent visitor to English corners at different universities in Beijing.

He made it a habit to go to English corners at least once a week. He grasped every chance to speak with native or non-native English speakers.

"Like brushing teeth, speaking English has become second nature for me," Zhang said.

"When you want to brush your teeth, you must first open your mouth. It is the same with speaking English."

Speaking English as second nature

Creative young people often like to collect things that others ignore.

Zhang had a sense of the more unusual. He kept things such as wrappers, bags, and boxes or other containers. To him, these things looked cool.

Zhang does not make the slightest attempt to pretend that these collected materials are art. He instead uses the collection in his quest to improve his English and tries to memorize everything in English.

"To study English you have to be really crazy." This is Zhang's observation of someone who knows how to learn a couple of words from a bag of instant noodles while he's waiting for the noodles to boil.

Zhang made a name for himself in 2001 when he started using English to sell food to students in the dining hall.

On that day, the window where Zhang served was packed with many hungry students because they had been dismissed from class rather later than usual.

"Would you please wait a while?" was the heavily-accented, bookish, overly-polite expression that greeted students.

That seemed to stun the students, especially when they themselves found English a headache.

Calming down, the students began to line up in a queue although many still wondered how a chef from the countryside could speak English with some kind of authority.

"Thank you for your patience," Zhang said with a smile.

From that day, Zhang's service window was called the English Service Section.

Once, when two students were arguing about why there was the word "bread" in English vocabulary but no equivalent for the Chinese word "mantou," Zhang interrupted them saying: "Hi, guys! It is 'steamed bun' in English."

Another time, students waiting at the window were discussing whether the word "bean" could stand for the Chinese word "wandou" (pea).

Zhang jumped in saying: "No, the English word 'bean' is a collective noun for any plants bearing seed in long pods while the Chinese word 'wandou' is called 'pea' in English."

With Zhang starting to serve food in English, the queue in front of his window became longer each day. Even students who usually did not eat steamed buns joined the queue because they wanted to practice spoken English with Zhang.

Some students went so far as to recommend the university's English Department offer Zhang a position as a teaching aid.

Zhang had no chance to become an assistant teacher in the university but many high school students began to ask him to be their private teacher at home.

Last summer, the university's catering center decided to offer English training courses to all its employees. Zhang was designated as the sole English teacher.

Zhang's high TOEFL score prompted him to pursue a Bachelor's degree in International Trade at Beijing University.

After he finishes his studies, he plans to continue his studies abroad.

"English is more than a language," Zhang said. "It has provided me with more opportunities, more information, more friends and a will to overcome difficulties."


Today's Top News
Top Life News

Experts: Chen Shui-bian on road to instability




Meeting smoothens China-Viet Nam problems




Soldier: Abu Ghraib prison abuse normal




China condemns US human rights report




Iran, a peaceful land, embraces visitors




Shanghai property mogul stands trial