New photos depict Iraqi prisoner abuses
(ABCNEWS)
Updated: 2004-05-20 09:03
ABCNEWS has obtained two new photos taken at the Abu Ghraib prison in Iraq showing Spc. Charles Graner and Spc. Sabrina Harman posing over the body of a detainee who was allegedly beaten to death by CIA or civilian interrogators in the prison's showers. The detainee's name was Manadel al-Jamadi.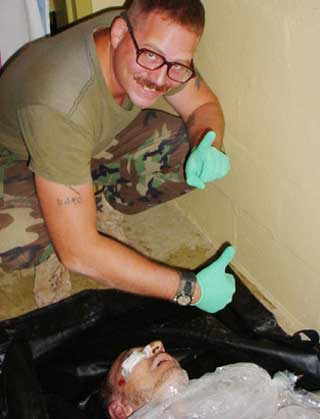 Spc. Charles Graner of the 372nd Military Police Company smiles as he poses by the body of Manadel al-Jamadi, an Iraqi who died in U.S. custody at Abu Ghraib prison. [Reuters/ABCNEWS]

According to testimony from Spc. Jason Kenner, obtained by ABCNEWS, the man was brought to the prison by U.S. Navy Seals in good health. Kenner said he saw extensive bruising on the detainee's body when he was brought out of the showers, dead.

Kenner says the body was packed in ice during a "battle" between CIA and military interrogators over who should dispose of the body.

The Justice Department opened an investigation into this death and four others today following a referral from the CIA.

The photos were taken by Staff Sgt. Ivan "Chip" Frederick , who in e-mails to his family has asked why the people responsible for the prisoner's death were not being prosecuted in the same manner that he is.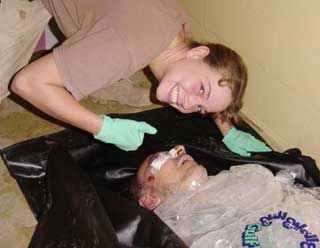 Spc. Sabrina Harman, also of the 372nd Military Police Company, gives a thumbs-up sign by the body of Iraqi detainee Manadel al-Jamadi. [Reuters/ABCNEWS]

Frederick, Graner, and Harman are among six reservists from the 372nd Military Police Company who are facing charges in the abuse scandal.

A lawyer for Graner, Guy Womack, told ABCNEWS the photo of his client represents inappropriate "gallows humor." Womack questioned why U.S. officials have not opened a criminal investigation into alleged murders at Abu Ghraib, while the investigation of his client has proceeded at a rapid pace.

A seventh member of the unit, Spc. Jeremy Sivits, pleaded guilty today to four counts for taking pictures of naked Iraqi prisoners being humiliated.

Sivits received the maximum penalty of a year in prison and a bad conduct discharge.

Today's Top News
Top World News

Authorities to monitor price shifts before rate decision




Official: China can feed its own people




Shanxi mine blasts kill 24, trap 23 others




Experts: Mainland has seen through Chen




US attacks wedding party, kills 41 Iraqis




New photos depict Iraqi prisoner abuses