US soldier sentenced for role in Iraq abuse
(Agencies)
Updated: 2004-05-20 00:55
U.S. soldier Specialist Jeremy C. Sivits received the maximum penalty Wednesday — one year in prison, reduction in rank and a bad conduct discharge — in the first court-martial stemming from mistreatment of Iraqi prisoners at the Abu Ghraib prison.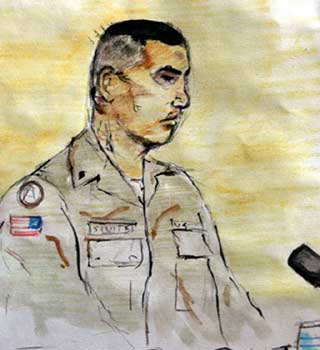 A sketch handed out by a U.S. military court artist shows Specialist Jeremy C. Sivits in a court room in the "Green Zone" in Baghdad, May 19, 2004. [Reuters]
Sivits, who pleaded guilty to four abuse charges, broke down in tears as he expressed remorse for taking pictures of naked Iraqi prisoners being humiliated.
"I'd like to apologize to the Iraqi people and those detainees," he said in his statement. "I should have protected those detainees, not taken the photos."
During the hearing, Sivits, 24, told the court he saw one U.S. soldier punch an Iraqi in the head and other guards stomp on the hands and feet of detainees. He also recounted that prisoners were stripped and forced to form a human pyramid.
His testimony and sentencing mark a beginning in efforts find justice in the Abu Ghraib abuse scandal, a process expected to stretch to the highest ranks of the U.S. military.
Within hours of Sivits' plea, the two top military commanders of U.S. forces in Iraq Gen. John Abizaid and Lt. Gen. Ricardo Sanchez, appeared to testify before a Senate committee in Washington.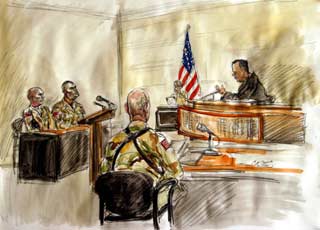 A sketch by the British court artist Richard Cole shows U.S.Army specialist Jeremy Sivits (2-L), sitting with Defence Attorney First Lt. Stanley l. Martin, presided over by judge Colonel James Pohl (R) in the courtroom at coalition headquarters in Baghdad, May 19, 2004. [Reuters]
Sanchez said the mistreatment will be investigated thoroughly up the chain of command, "and that includes me." He also said U.S. personnel who have received relatively light punishment in the scandal may yet face criminal charges.
Next, Sivits will likely testify at the court-martials of three others from this Reserve unit, the 372nd Military Police Company, based in Cresaptown, Md. The three appeared for arraignment Wednesday in the same courtroom as Sivits, at the Baghdad Convention Center in the heavily guarded Green Zone. Their next hearing is June 21.
Sivits was found guilty of two counts of mistreating detainees; dereliction of duty for failing to protect them from abuse and cruelty; and forcing a prisoner "to be positioned in a pile on the floor to be assaulted by other soldiers," a military briefer said after the court-martial.
His lawyer had asked for leniency, and Sivits pleaded with the judge, Col. James Pohl, to allow him to remain in the Army, which he said had been his life's goal.
"I have learned huge lessons, sir," he said. "You can't let people abuse people like they have done."
Sivits had been expected to get a relatively light sentence, but prosecutors asked for the harshest penalty — despite Sivits' willingness to testify against others — saying Sivits knew abuse was banned by the Geneva Conventions.
U.S. military officials said Sivits had agreed to testify against others under a plea agreement, and that he will be taken to an undisclosed facility to serve his sentence. They added that Lt. Gen. Thomas Metz, commander of Multinational Corps Iraq, can approve, reduce or dismiss the sentence. The conviction and sentence also will be automatically reviewed by the U.S. military appeals court.
Arab television stations appeared deeply skeptical of the proceedings, with reporters from the Al-Jazeera and Al-Arabiya satellite networks questioning why audio and video recordings were not permitted. Others demanded that higher ranking American officials be punished.
"Those who are executing the laws and the orders are not the problem ... Punishment of the officials who gave the orders is what matters," Samer al-Ubedi, who claimed his brother died in U.S. custody, told al-Jazeera. "The punishment must be as severe as the crime."
Human Rights Watch also complained about the controlled hearings, saying U.S. occupation authorities refused to allow Iraqi and international human rights groups to attend the court-martial.
Brig. Gen. Mark Kimmitt, the chief military spokesman in Iraq, said a fair trial "will go a far way in demonstrating to people that, yes, these pictures did happen, yes, these acts did happen, but we're taking the right corrective action to investigate prosecute and bring to trial those accused of these crimes."
While Sivits faced what the Army calls a special court-martial, similar to a misdemeanor trial, the six others who have been charged will probably face general courts-martial, which can yield more severe punishments.
The three in court Wednesday — Sgt. Javal Davis, Staff Sgt. Ivan L. Frederick and Spc. Charles Graner Jr. — waived their rights to have charges read aloud, and their pleas were deferred pending another hearing June 21. The defense complained it was denied access to two victims of abuse who were government witnesses, and the judge asked prosecutors for an explanation.
The abuse scandal broke last month with the broadcast and publication of pictures of prisoners suffering sexual humiliation and other brutality at the hands of American MPs serving as guards at Abu Ghraib.
One photo showed a naked, hooded prisoner on a box with wires fastened to his hands and genitals. Another picture showed a female MP holding a leash attached to the neck of a naked prisoner on the floor.
In an emotional description of events on the evening of Nov. 8, Sivits said he was asked by Frederick to accompany him to the prison. Sivits said he agreed, and took a detainee with him.
When he arrived at the scene where the crimes took place, there were seven other detainees.
"I heard Cpl. Graner yelling in Arabic at the detainees," Sivits told the judge. "I saw one of the detainees lying on the floor. They were laying there on the floor, sandbags over their heads."
Davis and another soldier, Pfc. Lynndie England, 21, were "stamping on their toes and hands."
"Graner punched the detainee in the head or temple area," Sivits said. "I said. 'I think you might have knocked him out.'"
Sivits added: "Graner complained that he had injured his hand and said, "Damn, that hurt."'
Sivits said all prisoners were then stripped and forced to form a human pyramid.
He quoted one of the other six accused soldiers, whom he did not identify, as saying guards were "told to keep doing what they were doing by military intelligence." He added, however, that he did not believe the soldier.
Graner's lawyer, Guy Womack, said Wednesday his client was following orders, and that U.S. military intelligence, the CIA and civilian contractors were directing the abuse.
"The photographs were being staged and created by these intelligence officers and, of course, we have the two photographs that prove that they were present and supervising," Womack told ABC's "Good Morning America."
He said Graner sought clarification of his orders and complained to his superiors and to military intelligence officers about what he was being asked to do.
"All of them consistently said that he was to follow the order and not question it. So he didn't," the lawyer said.
Womack added that Sivits also was simply following orders.
"Spc. Sivits ... should have gone to trial and been acquitted like the others," the lawyer said. "I feel sorry for the young specialist pleading guilty."
In Sivits' tiny home town of Hyndman, Pa., more than 200 residents wore yellow ribbons and clutched small American flags during a candlelight vigil to support him.
His father, Daniel Sivits, made a brief statement.
"I want to make explicitly clear, Jeremy, no matter what, is still my son. We still love him," Daniel Sivits said. "I am veteran of the Vietnam war and I want to say one thing — Jeremy is always a vet in my heart and in my mind."
Today's Top News
Top World News

Authorities to monitor price shifts before rate decision




Official: China can feed its own people




Shanxi mine blasts kill 24, trap 23 others




Experts: Mainland has seen through Chen




US attacks wedding party, kills 41 Iraqis




New photos depict Iraqi prisoner abuses