Beijing to open RMB business to foreign banks
(Xinhua)
Updated: 2004-05-19 16:10
Foreign banks will be allowed to run RMB business in the Chinese capital from December 11 this year, announced Mayor Wang Qishan in Beijing on Wednesday.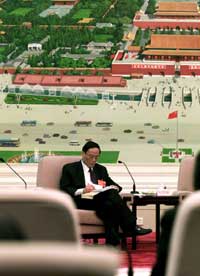 Beijing Mayor Wang Qishan attends a panel meeting during the National People's Congress session in this March 7, 2004 file photo.[newsphoto]

After China's accession to the World trade Organization (WTO), globalization has become a crucial topic in the country's reform and opening-up. According to the commitments made by the Chinese government to the WTO entry, foreign banks will be permitted to go in for RMB-dominated business in some Chinese cities including Beijing beginning Dec. 11 this year, signifying the advent of a new era for China's financial industry.

The city of Beijing has been registered fast economic growth since the reform and opening-up policy was launched over two decades ago, Wang told the one-day Beijing International Financial Forum, which opened in Beijing Wednesday.

Statistics show that Beijing's gross domestic product (GDP) totaled 361.1 billion yuan (approximately US$43.7 billion)in 2003, a rise of 10.7 percent year on year. Of the total figure,the added value of local financial sector reached 51.38 billion yuan (about US$6.2 billion), accounting for 14.2 percent of the city's GDP for 2003.

This indicated the vital role the financial sector had played in the municipality's economic growth as well as potential for development, Wang told the forum, which was attended by 28 financial moguls from China and overseas and over 400 participants who were heading China operations of foreign financial institutions.

Wang said his municipal government would work still harder to improve local development environment by stepping up infrastructure construction and upgrading local transportation and production facilities.

The one-day event was sponsored jointly by People's Bank of China, China Banking Regulatory Commission, China Securities Regulatory Commission, China Insurance Regulatory Commission and Beijing Municipal People's Government.

More than 30 overseas media units including the Economist and the Financial Times from Britain and Dow Jones Newswire of the United States have come to cover the event.
Today's Top News
Top China News

Report: Trade firms face more barriers




Beijing to open RMB business to foreign banks




IMF: China's GDP ranks No.7




WHO: China's SARS outbreak contained




X-plicit sex flick shocks Cannes




Experts: Mainland has seen through Chen