India's Congress drums up support for Singh as PM
(Agencies)
Updated: 2004-05-19 15:12
India's Congress party sought support from its members on Wednesday for former finance minister Manmohan Singh's candidature as prime minister after the Italian-born party chief Sonia Gandhi turned down the top job.
The unassuming Singh, who started India's free-market reforms in 1991, has been the front-runner to lead the world's most populous democracy after Gandhi stepped aside to protect the Congress party from a damaging campaign over her foreign birth.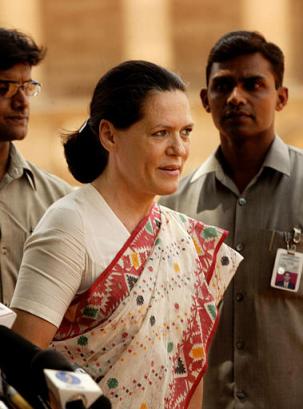 Sonia Gandhi leaves after addressing the media following meeting Indian President A.P.J. Abdul Kalam at the forecourt of Presidential Palace in New Delhi, India, Tuesday, May 18, 2004. [Reuters]

"I am told individual members are being asked to support a resolution for Manmohan Singh," a Congress leader told Reuters. "He is the automatic choice if Sonia does not accept."

India's markets, spooked by anti-reform comments by left-wing parties supporting the Congress without formally joining its coalition, welcomed Singh's possible rise to power. He would become India's first Sikh prime minister.

Indian shares, which went into a free fall on Monday, rose 2.6 percent in early and crossed the psychologically key 5,000-level on hopes he would get the job and maintain the pace of economic reforms.

The scholarly Singh commands respect for his integrity and intellect, but will need sharp political skills to manage party leaders -- who have looked only to the Nehru-Gandhi dynasty to lead -- and a disparate crew of allies with their competing demands.

"The father of India's reform program rising to the prime ministership would be very positive from the standpoint of the market," said P.K. Basu, head of Robust Economic Analysis.

"But I would caution against excessive euphoria since Doctor Singh as an economic reformer is well regarded, but his abilities as a political manager are untested."

The main Communist Party India (Marxist) which has pledged support to a Congress-led government coalition said the overriding concern was to stop Hindu nationalists from returning to power and it would support even Singh, who launched the free-market reforms in 1991.

"He is one of the most decent persons, a knowledgeable economist and I will opt for him any time over any person in the Bharatiya Janata Party," said communist Somnath Chatterjee.

Once Singh wins the support of Congress MPs, he is expected to meet President Abdul Kalam to formally stake claim to power.

Kalam's approval is considered a formality because more than 320 members of the new 545-seat parliament have pledged their support to a Congress-led government.

SONIA SOARS

But hundreds of Congress workers continued a vigil outside Gandhi's heavily guarded New Delhi home urging her to disregard, what they said was a "racist" campaign against her by Hindu nationalists, and lead the nation.

"It is a difficult situation, Congress workers are not in a mood to listen," said Ambica Soni spokeswoman and a Gandhi adviser. "But Sonia is equally adamant."

Newspaper pundits said Gandhi's decision to step aside had sent her stock sky-high, and the Hindu nationalist BJP which had been attacking her foreign birth was looking foolish and petty.

"Amazing Grace" said a headline in the Hindustan Times about Gandhi's decision, adding it would be rare to find an Indian politician turn away from power.

"By choosing to humbly decline to take up the prime minister's post she has played a masterstroke, " the Indian Express said. "She has neatly disarmed her political opponents of the one weapon they had opted to use against her."

The BJP, stunned by its election defeat, renewed a campaign against Gandhi after the election, saying her foreign birth disqualified her from holding the office of prime minister.

The Indian constitution does not ban a foreign-born individual from holding the office.

"She got the people's mandate to become prime minister. This is not part of our country's culture to dishonor a woman in this manner," said coffee vendor Mohan in financial capital Bombay.

Gandhi would have been India's first foreign-born prime minister and the fourth from the Nehru-Gandhi clan after Rajiv, Indira and Indira's father, the country's founding Prime Minister Jawaharlal Nehru. "I request you to accept my decision and to recognize that I will not reverse it," Gandhi, 57, told a Congress meeting in parliament's central hall on Tuesday night lined with life-size portraits of former prime ministers, including her husband Rajiv and mother-in-law Indira Gandhi who were both assassinated.

A close ally said Gandhi's children, son Rahul and daughter Priyanka, encouraged her to drop out, fearing she would become a target for Hindu extremists.

"Her children say they have lost their father and do not want to lose their mother," said senior communist leader Jyoti Basu. "This is a violent country. It is a family affair now."
Today's Top News
Top World News

WHO: China's SARS outbreak contained




Taipei urged not to misjudge Beijing's resolve




US witness: 'Cover-up' at Iraq Abu Ghraib




Gandhi walks away from Indian PM post




US delegation to Taiwan opposed




Soldier on trial for Iraq prisoner abuse