X-plicit sex flick shocks Cannes
(Agencies)
Updated: 2004-05-19 10:03
The most sexually explicit mainstream British movie ever made has been premiered to shocked audiences at the Cannes film festival.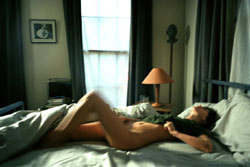 Scene from Nine Songs

The two main characters in Nine Songs have real sex on screen and there close-ups of oral sex and ejaculation.

Critics were stunned when they saw the film for the first time this week.

But its male lead, former child actor Kieran O'Brien, 31, insisted it was not shocking. He said yesterday: "It's only f*****g."

His co-star, a 20-year-old American with no previous acting experience, asked to be left out of the credits, but she is believed to be Margo Stilley.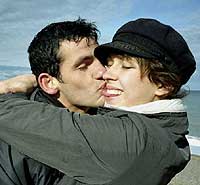 Kieran with girl

Director Michael Winterbottom is now hoping British censors will pass it for public viewing here.

He has even offered to cut some of the most raunchy scenes.

He said: "Most cinematic love stories miss out on the physical relationship.

"If it is indicated at all, everyone knows it is fake. Cinema has been extremely conservative and prudish.

"I wanted to go to the opposite extreme and show a relationship only through sex.

"Part of the point of making the film was to say, 'What's wrong with showing sex?'" The couple are seen in bed at their London flat, taking only occasional breaks to go to nine concerts including the Super Furry Animals and Primal Scream.

Winterbottom said: "We went to a local hotel for a day to see what would happen and those scenes actually ended up in the film. We just took things step by step. In general you are asking actors to be quite intimate, anyway.

"From everyday acting to having sex isn't as big a leap as it might be for someone else."

O'Brien starred in 1980s BBC children's sitcom Gruey, and was in Winterbottom's last movie 24 Hour Party People.

He said: "There is no film like this, it is so graphic. People who have seen it, even though they are forewarned about how explicit it is, come out of the cinema saying, 'F****** hell, I can't believe that, it's so explicit'.

"People who say they find it offensive are liars. If they say they find it shocking, I don't believe them. It's only f*****g.

"The only thing I wouldn't do was have sex with a man."

He said of his co-star's wish to be anonymous: "It's not that she's not proud of the film - she saw it last week and really liked it. There was one particular scene which she wasn't comfortable with because it is so explicit because of the camera angles. Overall she's happy with it."

He added: "I didn't fancy her - I felt protective towards her. On set she was the only woman with a crew of four lads. You can't get away from the fact she's a young girl."

The British Board of Film Classification must approve it for the public to watch here. It passed Intimacy which had a real oral sex scene.

A spokesman said: "It would not be out of the question to pass a film with unsimulated sex scenes. We will have to view the film and then make our decision."
Today's Top News
Top Life News

Authorities to monitor price shifts before rate decision




Official: China can feed its own people




Shanxi mine blasts kill 24, trap 23 others




Experts: Mainland has seen through Chen




US attacks wedding party, kills 41 Iraqis




New photos depict Iraqi prisoner abuses