Pop diva Stefanie Sun shares sunshine life
(Shenzhen Daily)
Updated: 2004-05-19 09:24
Pop singer from Singpore, Stefanie Sun, recently announed that she will be spending her summer on a concert tour in China. This will be her first concert tour in China. The tour will open on June 5 in Guangzhou. Other stops on the four-city tour include Beijing, Chengdu and Changsha.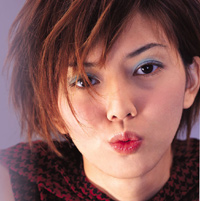 Stefanie was interviewed on a Chinese Web site recently. Following are some excerpts from the interview.

Host: You were a student of the Nanyang Technological University. What was your major?

Stefanie Sun: Sales and marketing.

H: How did you become a singer?

S: I learned singing in Singapore. Then the Warner boss met Li Weisong and Li Sisong (songwriters) from Singapore in Taiwan. They introduced me to the Warner boss, who thought I was pretty good. That's why I became a singer.

H: You became popular quickly. What changes have you had since you became a pop diva from an ordinary little girl?

S: Great changes have taken place in my life. Who knew me walking in the street when I was a student? Also, I'm financially stronger now. But still I'm reluctant to splash out on expensive things. I treasure the true value of something.

H: Your relatives, teachers and schoolmates have seen you become a pop star. What changes have they found in you?

S: They think I'm very different now. I became more open after I entered the music profession. I was really pessimistic before.

H: How would you describe your music? What's your favorite music?

S: I listen to a lot of things. It depends on my mood. Sometimes I listen to classical music. Sometimes I tune in to very noisy ones. My music is the music I like, the music I want to do. I also like the music that I want to do. There's not a definite type. But I sing all the songs with my mind.

H: What are you like in your life?

S: I think I have dual personalities. Sometimes I'm very vivacious and sometimes I'm quiet, like an old lady.

H: Many people like you because you are fresh, lovable and have a distinctive personality. But can you tell us some of your drawbacks?

S: Let me think. I should say sometimes I'm too direct. Sometimes I don't think before I speak. So my words could possibly make others unhappy.

H: How do you relax after work?

S: I go out with friends. I like to eat sweet things. So I will buy them. I'll also go to the cinema.

H: Why are you so slim? Do you do sports often or are there other reasons?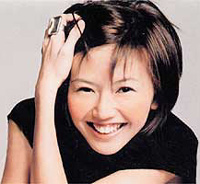 S: I don't have a strong stomach. I'm not on a diet. Actually I eat a lot. Maybe I don't digest well. I don't know. Some people just are that way.
H: How do you keep yourself healthy and happy?
S: I believe good health can help you live better. So you can pay full attention to what you do. You can even play with full attention. It's better to do a lot of exercise and eat as much as you can. Do your best to have an eight-hour sleep every day. I personally think it's good if you can eat, sleep and work on a regular basis.
H: What would you do if you have a period of time when you are free to choose what to do?
S: I may feel bored. Then I may learn something that has nothing to do with music. I've done a lot of things in the past three years. I want to do something different.
H: What would that be?
S: Like painting, sculpture, home design. They are all interesting.
H: What do you like or dislike most?
S: I like writing and thinking. I hate cockroaches and small spaces like inside an elevator.
H: Many people have asked how to contact you. Do you have an e-mail address or QQ? How can people give you gifts if they want to?
S: The best way is to log onto www.yanzi.com.tw. There are a lot of comments on me there. I can also learn what has happened to other people from the Web site. I respond to my fans every month. So it's the best way.
Today's Top News
Top Life News

Gandhi walks away from Indian PM post




Taipei urged not to misjudge Beijing's resolve




WHO: China's SARS outbreak contained




US delegation to Taiwan opposed




US witness: 'Cover-up' at Iraq Abu Ghraib




Soldier on trial for Iraq prisoner abuse