Kerry daughter heats up Cannes red carpet
(Agencies)
Updated: 2004-05-18 16:35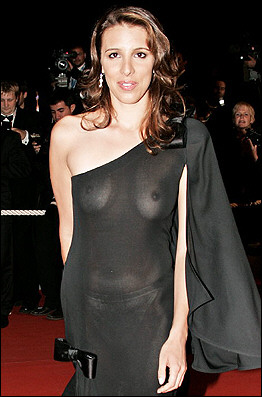 US film director Alexandra Kerry, daughter of US presidential candidate John Kerry, arrives for the official projection of the film 'Kill Bill 2' during 57th Cannes Film Festival in the French Riviera town. [AFP]

Alexandra Kerry, 30-year-old daughter of US Democratic presidential candidate John Kerry, walked up Cannes' celebrated red-carpet for the premiere of Quentin Tarantino's "Kill Bill 2" wearing an off-shoulder black number that turned transparent under the flashes.

Kerry, who is showing a short film at the festival, was tailed by the press during her stay at Cannes but French newspapers reported that her staff had warned journalists off questions concerning her famous father.

Her film entitled "The Last Full Measure" is being presented in the Short Film Corner section and describes the ravage wreaked on a US family by the Vietnam war.

"The characters are fictional", she said. "I wasn't born when my father came back from Vietnam."

Kerry has also been seen about town with her French cousin, Brice Lalonde, a former environment minister and Greens leader.
Today's Top News
Top Life News

Authorities to monitor price shifts before rate decision




Official: China can feed its own people




Shanxi mine blasts kill 24, trap 23 others




Experts: Mainland has seen through Chen




US attacks wedding party, kills 41 Iraqis




New photos depict Iraqi prisoner abuses