US lawmakers told of POW abuse months ago
(Agencies)
Updated: 2004-05-17 15:18
Two months before pictures of Iraqi prisoner abuse became public, the family of one accused soldier wrote to 14 members of US Congress that "something went wrong" involving "mistreatment of POWs" at Abu Ghraib prison.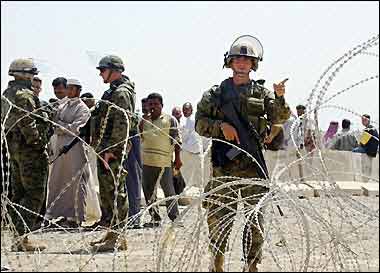 US soldiers stand guard at the entrance of the Abu Ghraib prison, 30 kms west of Baghdad, as Iraqis wait to have information about their loved ones held by US forces at the detention center. [AP Photo]
Separately, a suspended Army officer in Iraq wrote to Republican Sen. Arlen Specter of Pennsylvania that he was being unfairly punished after "pictures of naked prisoners" were discovered. He sent the letter six weeks before the CBS program "60 Minutes II" first broadcast photographs of the prisoners on April 28.
The strongest reply any of them got was a note saying what they already knew ¡ª that the Army was investigating, according to documents released last week by Specter's office and the family of Army Reserve Staff Sgt. Ivan L. "Chip" Frederick.
Frederick, of the Maryland-based 372nd Military Police Company, faces a general court-martial on charges of conspiracy to maltreat detainees, dereliction of duty, maltreatment of detainees and wrongfully committing an indecent act.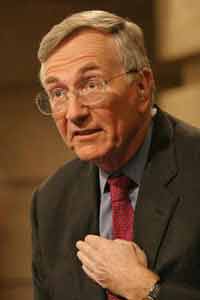 Journalist Seymour Hersh talks about the Iraqi prisoner abuse scandal during the taping of 'Face the Nation' at the CBS studios in Washington Sunday, May 16, 2004. [AP Photo]

In late February, his family sent letters or e-mails to 11 Democrats on the Senate Armed Services Committee, plus three of their local congressional members and Virginia Gov. Mark Warner, seeking information on Frederick's status, said Frederick's uncle, William W. Lawson, of Newburg, W.Va.

A Feb. 23 letter from Lawson to Sen. John D. Rockefeller IV of West Virginia said Frederick was relieved of prison-guard duty without explanation Jan. 14, two days before the Army publicly announced a criminal investigation of alleged prisoner mistreatment.

"At some point, something went wrong at the prison related to mistreatment of POWs," Lawson wrote.

Rockefeller responded on March 2 that the Army could not act on the request unless it came from Frederick's wife or mother.

Mark Ferrell, a spokesman for Rockefeller, said the letters sent on behalf of Frederick were "consistent with what had been in the news about a Pentagon inquiry into prisoner abuse but gave no indication that widespread abuse existed."

Still, he said, several people on Rockefeller's staff have had telephone conversations with Lawson since receiving his letter in February.

"The senator is eager to talk to Mr. Lawson and tried to call him ... but didn't reach him," Ferrell said.

Warner's spokeswoman, Ellen Qualls, said Sunday that the governor's office has found no record of a letter written by Frederick's family about the former corrections officer. "I'm unaware of it," Qualls said.

Frederick's mother, Jo Ann Frederick, wrote on Feb. 24 to Sen. Paul Sarbanes, D-Md., and Rep. Roscoe G. Bartlett, R-Md.

Sarbanes replied on Feb. 27 that he had "written to the appropriate officials" and would contact her when he received a reply.

Bartlett forwarded to her a response he received from the Army, saying that "inquiry into this matter has been initiated."

On March 18, Lt. Col. Jerry Phillabaum, formerly second-in-command at Abu Ghraib, wrote an e-mail to Specter mentioning "digital pictures of naked prisoners," The Philadelphia Inquirer reported Saturday. At the time, Phillabaum had been suspended as commander of the 320th Military Police Battalion while Army investigators probed the alleged abuse. He has since been reprimanded and relieved of command.

In the letter, Phillabaum sought Specter's help in expediting the investigation so he could return to his family in Lansdale, Pa.

Specter's office released copies of its electronic correspondence with Phillabaum and his family last week. In a statement accompanying the e-mails, Specter's office said it paid little attention to the Abu Ghraib references because "Phillabaum stated an investigation was underway," the Inquirer reported.
Today's Top News
Top World News

Experts: China may raise interest rates




Taiwan leaders at crossroad: peace or war




Nine die in wine poison case, 12 arrested




Divorces rise as rules more flexible




US Embassy issues new visa schedule




Crime stories disappear from prime time