`Lottery syndrome' triggers trust crisis
By Xing Bao (Shanghai Star)
Updated: 2004-05-17 08:50
While the media heaped criticism on Yang Yongming, the main suspect in the lottery fraud case in Xi'an, scholars and legal experts expressed their worries that the scandal might lead to increased distrust of the government.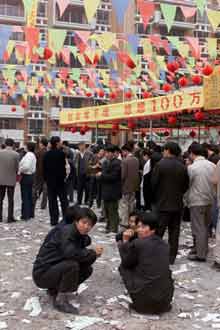 "It is awful when trust evaporates from society, since this cannot be purchased with money," said Yang Tuan, a sociologist from the Chinese Academy of Social Sciences.
"It is closely connected with culture, social environment and people's habits. If a society loses it, it may take decades or even generations to foster trust again," she said while having an interview with CCTV.
According to Yang, Chinese people had long been confident of the government's honesty, but the current problem meant that a trust crisis loomed between ordinary people and the government.
"Although Yang Yongming was only a contractor," she said, "lottery ticket buyers considered him to be a representative of the government."
To eradicate any similar cases, legal experts suggested that legislative work was critical.
Liu Wujun, a researcher from the Ministry of Justice, said that lotteries catered to people's speculative mentality, but they were a win-win measure for ordinary people and the government.
In his article published in the Wenhui Daily on May 10, Liu warned that lotteries, if they lacked the necessary administration, were prone to degenerate into gambling. The emergence of underground lotteries in some places were the best proof of this.
"Legislative work should be put on the government agenda as soon as possible, in a bid to put the development of lotteries onto a healthy track," he said in the article.
"The government had already endorsed lottery development in China, and also offered some support, but lotteries had still not acquired solid legal foundation."
Currently, there were only a few regulations issued by relevant government departments stipulating rules on the matter, which was far from sufficient.
"The lag in legislation will definitely lead to poor administration, market disorder and infringement upon lottery buyers' rights and legal disputes, which together could be called the 'lottery syndrome'," Liu said.
If there was to be a lottery law, he proposed that the law should make clear its support for and protection of public lotteries. In addition, the law should define the body in charge of the issuing of the lottery tickets, market administration, the distribution of funds, and lottery buyers' rights and also their responsibilities.
"Since many teenagers have joined the lottery market, to avoid any negative influence on children, the law should stipulate that lottery tickets cannot be sold to minors," he said.
Moreover, the legal expert argued that the current Criminal Law needed some revisions, adding certain crimes related to lotteries such as the illegal issuance, selling and fabrication of lottery tickets.

Today's Top News
Top China News

Taiwan leaders at crossroad: peace or war




Nine die in wine poison case, 12 arrested




Divorces rise as rules more flexible




US Embassy issues new visa schedule




Crime stories disappear from prime time




US trade approves duties on Chinese TV sets