Sonia Gandhi 'clears last hurdle' for PM
(Agencies)
Updated: 2004-05-17 08:42
Coalition supporters of India's Congress Party have unanimously agreed to back Sonia Gandhi in her bid to become prime minister of a multi-party government, Congress Party leader Manmohan Singh told reporters.
That means Gandhi faces no more hurdles in her quest to form a government, Singh said.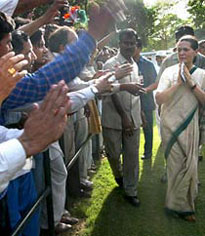 Sonia Gandhi greets Congress supporters following her stunning electoral victory. [AP]

She is likely to meet with President APJ Abdul Kalam Monday or Tuesday and be sworn in afterward, he added after a meeting between the Congress Party and its potential allies.

The Congress Party's coalition was unanimous in its support for Gandhi as the prime minister, he said.

In last week's general election, her party and its allies won 220 seats in Parliament, shy of the 270 needed for a majority.

But the support of left-wing parties and other allies puts Gandhi comfortably into the majority she needs to govern.

The communists had said they did not oppose a foreign-born person becoming prime minister, but had to decide if they would join the proposed coalition government.

Gandhi Saturday invited the Communist Party of India-Marxist, the largest leftist party, and three other smaller communist parties, to join the government, hoping their participation would make the coalition more stable.

The leftist parties won 62 seats in parliament.

India's Congress party Saturday re-elected Sonia Gandhi as its leader, taking her one step closer to leading the world's largest democracy.

In a closed meeting, the Congress party selected the Italian-born heir to an Indian political dynasty as its leader in the Lok Sabha, or national parliament.

The move was seen as making it more likely that potential allies would not object to her Italian birth or try to prevent her from becoming the latest in the Nehru-Gandhi dynasty to lead India.

While Gandhi won broad support to become India's next leader, stock and currency markets fell at the prospect of her governing in coalition with left-wing parties.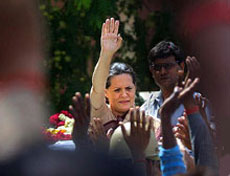 Sonia Gandhi is now set to be India's new prime minister. [AP]

But the Congress party vowed to continue the reforms it started more than a decade ago when it broke India out of socialist-style economics and which were continued by the ousted Bharatiya Janata Party-led coalition.

She would be the first person not born in India to hold the job. Gandhi would also follow in the footsteps of her husband Rajiv, assassinated in 1991 and her mother-in-law Indira, slain in 1984.

The political maneuvering came after incumbent Prime Minister Atal Behari Vajpayee resigned in a stunning election turnabout, ending nearly six years in power.

The 79-year-old prime minister gambled by calling elections six months early, confident that campaigning on the country's economic progress -- "India Shining" -- would carry him to a fourth term.

But Gandhi, along with her popular children Rahul and Priyanka, revitalized the Congress party, which was able to galvanize support among millions of poorer Indians in rural areas who have yet to benefit from Vajpayee's reforms.

About 300 million Indians live on less than a dollar a day.

The election was a mammoth undertaking. Balloting was conducted in four stages over three weeks to accommodate more than 650 million eligible voters.
Today's Top News
Top World News

Taiwan leaders at crossroad: peace or war




Nine die in wine poison case, 12 arrested




Divorces rise as rules more flexible




US Embassy issues new visa schedule




Crime stories disappear from prime time




US trade approves duties on Chinese TV sets