US Embassy issues new visa schedule
By Guo Nei (China Daily)
Updated: 2004-05-17 08:25
The US Embassy in Beijing released a new schedule of visa application procedures on Sunday, indicating officials will accept applications on a walk-in basis.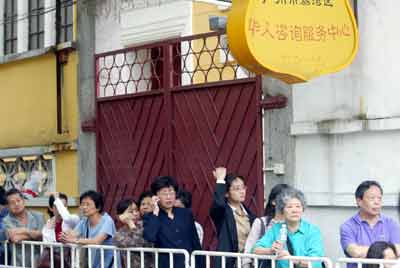 Visa applicants wait for interviews outside the US consulate in Guangzhou, Monday, May 17, 2004. [newsphoto]
With the information Call Centre for US visas still closed due to allegations it was illegally operating, the embassy and four consulates in China will begin to accept applications from all comers, embassy officials said.
The call centre, which was in charge of scheduling visa appointments and providing general information to the public, ceased operations last month after the allegations surfaced about overcharging.
Effective on June 3, the embassy in Beijing will begin accepting visa applicants on a walk-in and first-come, first-served basis, said Sun Bo, an embassy spokesman.
Bo said bearers of ordinary passports applying for business, tourism and other unofficial business can visit the Embassy on Monday, Tuesday, Thursday and Friday starting at 7:30 am.
Public passport holders can approach the embassy on Wednesday from 7:30 am.
Student and exchange visa applicants, and American Chamber of Commerce applicants can receive interviews from Monday through Friday after 12:30 pm.
Sun also advised applicants to check the embassy's website frequently for updates on visa application procedures.
At the moment, US officials are still accepting applications from those who already have scheduled appointments.
Currently, US universities are suffering a decline in the number of applications from international students, owing to the strict visa policies.
Richard C. Levin, president of Yale University, told China's Central Television on Saturday that at Yale, the number of overseas students had decreased by around 30 per cent.
Xu Jie, a senior at the Beijing-based Renmin University of China, said she did not apply to a US university though that country was once her destination.
She was, however, admitted to a university in the Republic of Korea.
Today's Top News
Top China News

Experts: China may raise interest rates




Taiwan leaders at crossroad: peace or war




Nine die in wine poison case, 12 arrested




US lawmakers told of POW abuse months ago




Crime stories disappear from prime time




When romance blooms in classrooms