China to achieve a soft landing - finance minister
(Agencies)
Updated: 2004-05-16 15:36
China reaffirmed on Saturday its commitment to maintaining its exchange rate, saying the current level was vital for economic growth for itself and the rest of Asia.
Finance Minister Jin Renqing said he was confident China's economy would achieve a soft landing, slowing to a sustainable pace without falling into the serious downturn that investors globally are worried about.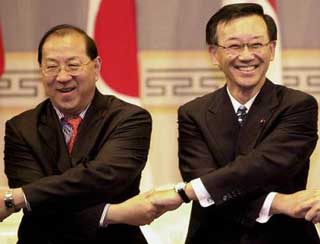 Chinese Finance Jin Renqing, left, hands in hand with Japanese Finance Minister Sadakazu Tanigaki to take a picture during the Press Conference of ASEAN plus 3 Finance Ministers Meeting and Launch of Asian Bonds Online at a hotel in the resort island of Jeju, South Korea May 15, 2004. They are attending the 37th Asian Development Bank annual meeting for three days.[AP]


"We are confident that we have the ability to achieve a soft landing for our economy and to sustain a smooth and rapid pace of growth," the minister told reporters at a meeting of the Asian Development Bank on the South Korean resort island of Cheju.

"As such, preserving the basic stability of the yuan's exchange rate is vital for the future stable growth of China and also for Asia's economy as a whole."

China keeps its currency, the yuan, in a tiny band around 8.28 per dollar, a level that has attracted criticism from the United States and other countries as too low and giving Chinese exporters an unfair advantage.

Investors have speculated that the authorities will lift the value of the yuan, partly because doing so would help the country with its big economic problem -- a powerful boom that threatens to turn to a bust.

It has implemented an array of measures to restrain sectors of the economy that are most experiencing over-investment, such as steel and automobiles, but has resisted raising the exchange rate or interest rates.

Asked if China was considering raising interest rates, Jin said: "Inflation is still under control. The 2.8 percent rise in the CPI that we saw in the first quarter was mainly due to expensive raw materials but the prices of most consumer goods did not rise.

"Of course, the measures that we have undertaken will take time to produce results. But we are starting to see some results. Exports and fixed-asset investment are starting to slow."

Jin cited a drop in steel prices as further evidence that cooling measures were taking effect.

Consumer prices were 2.8 percent higher in the first quarter than a year earlier.

Most countries use interest rates to control demand within their economies, but China has left its official one-year lending rate at 5.31 percent because, analysts say, anything more could kill struggling state firms and also attract more foreign money into the economy, propelling it faster.
Today's Top News
Top China News

Authorities to monitor price shifts before rate decision




Official: China can feed its own people




Shanxi mine blasts kill 24, trap 23 others




Experts: Mainland has seen through Chen




US attacks wedding party, kills 41 Iraqis




New photos depict Iraqi prisoner abuses