Cannes embraces computer cartoons
(Agencies)
Updated: 2004-05-16 11:27
Even the snooty Cannes Film Festival loves computer animation, which has become such the rage in Hollywood that it has virtually displaced traditional hand-drawn cartoons on studio slates.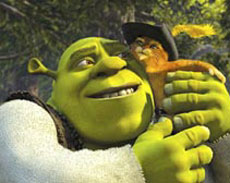 "Shrek 2" screened Saturday in Cannes' main competition. The first "Shrek" was the first cartoon in 27 years to compete in the prestigious main contest. [AP]

The computer-generated fairy tale "Shrek 2" screened Saturday in the festival's prestigious main competition, a rarity for a cartoon flick to compete with serious cinema such as Walter Salles' Che Guevara chronicle "The Motorcycle Diaries" and Wong Kar-wai's time-bending drama "2046."

The 2001 computer-animated hit "Shrek" also played at Cannes, the first cartoon in 27 years to break into the main competition.

Meantime, hand-painted cartoons have taken a backseat amid an onslaught of computer animation that includes "Finding Nemo," the "Toy Story" movies, "Monsters, Inc.," "Antz," "A Bug's Life," "Ice Age" and the upcoming "Polar Express," "Shark Tale," "Madagascar," "The Incredibles" and "Robots."

The slates at leading animation houses Disney and DreamWorks are dominated by computer-generated animation, or CG, and neither studio has any traditional hand-painted cartoon features in the pipeline.

"Ours is a creative choice," said Jeffrey Katzenberg, who co-founded DreamWorks with Steven Spielberg and David Geffen and is executive producer of "Shrek 2."

"We have a series of movies ('Shark Tale,' 'Madagascar') coming that have been very much inspired by 'Shrek.' They are in sensibility that kind of movie in that they are somewhat irreverent, they are somewhat subversive. They're parodies, they're satire, they are very anthropomorphized, and they are best told in CG," Katzenberg said.

Computers allow animators to create simulated three-dimensional realities that appeal to a generation raised on video games with greater visual depth than two-dimensional hand-drawn cartoons.

Only a handful of computer-animated features have been made so far, but sharp and funny stories, bright visuals and talented voice casts have made virtually all of them major hits. Last year's Disney-Pixar adventure "Finding Nemo" passed the hand-drawn "The Lion King" to become the top-grossing animated movie ever at $340 million domestically.

The sole bomb among computer-animated movies was "Final Fantasy: The Spirits Within." The difference: Computer-animated hits such as "Monsters, Inc." and "Shrek" told good stories. "Final Fantasy" didn't.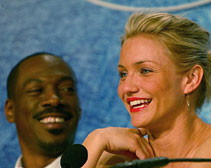 Cameron Diaz, right, and Eddie Murphy recorded voices for two of the characters in "Shrek 2." [AP]

"'Monsters, Inc.' worked because it was such a charming story, and you really bought into the relationship between John Goodman and the little girl," said Jennifer Tilly, one of the voice stars for "Home on the Range." "People didn't flock out to see 'Monsters, Inc.' because you could see every little hair follicle on his back. It's nice that it looks so real, but if you're attached to the story, it doesn't matter."

Filmmakers say it's largely Hollywood's follow-the-leader mentality that has elevated computer animation over the traditional cartoon form, which had ruled since Disney invented feature-length animation with 1937's "Snow White and the Seven Dwarfs." Hand-drawn animation went through a sterile period in the 1960s and 1970s but roared back with a creative renaissance in the 1980s and 1990s.

"CG is the new thing that people are interested in animation, and 2-D had a huge run there. It had about a 17-year golden age that it's kind of coming off of," said Kelly Asbury, co-director of "Shrek 2." "Now there's a new form of animation. There's going to be a CG film that doesn't succeed, and people are going to say, 'Oh no, people aren't interested in CG anymore.'"

"Lilo & Stitch" in 2002 was the last certified hit among hand-drawn animated movies. Recent flops and box-office underachievers that include "Home on the Range," "Sinbad: Legend of the Seven Seas" and "Treasure Planet" seem to have cooled interest in the format.

Hand-drawn animation continues to thrive outside the United States with growing international interest in Japanese anime and with such smaller flicks such as last year's Cannes offering, "The Triplets of Belleville," a runnerup to "Finding Nemo" for the animation Academy Award.

DreamWorks' Katzenberg, who as a Disney executive in the 1980s and '90s oversaw the revival of the studio's animation division, said hand-drawn cartoons are simply awaiting another reinvention to inject "something fresh and new."

Will Smith, voice star of DreamWorks' computer-animated "Shark Tale" due out this fall, said the animation debate reminds him of the music scene in the 1980s.

"That same question was posed to me probably about 15 years ago in the music business when everything started moving to drum machines and synthesizers and all of that," said Smith, at Cannes to promote "Shark Tale." "There's a period where you go the digital or CG route, but I think it will always come back to the human flaw that pleases the eye. ... I don't think traditional animation will ever disappear totally."
Today's Top News
Top Life News

Taiwan leaders at crossroad: peace or war




Nine die in wine poison case, 12 arrested




Divorces rise as rules more flexible




US Embassy issues new visa schedule




Crime stories disappear from prime time




US trade approves duties on Chinese TV sets